I made up this recipe because I couldn't find one that was exactly what I wanted. I wanted banana bread – but as muffins. I wanted cinnamon and nutmeg and nuts in the muffins. I wanted them to taste good and sweet and be a little healthy, but not overly so. I also wanted to use up 2 bananas.
I like big muffins, so I made only 10 muffins in my 12-muffin pan. Make 12, if you like, just shorten the baking time a few minutes.
My Banana Muffins
makes 10 or 12

1 3/4 cup flour (can use part all-purpose and part whole wheat pastry flour)
1/2 cup oatmeal (quick cooking)
1 teaspoon baking powder
1 teaspoon baking soda
1/4 teaspoon salt
1 teaspoon cinnamon
1/2 teaspoon nutmeg (preferably freshly grated)
1/2 cup chopped walnuts
1 cup total volume of a mixture of plain yogurt and milk (it's your choice as to how much of each you want to use)
1 egg
1/2 cup brown sugar
1/4 cup oil
2 bananas
Preheat oven to 375˚. Get your muffin pan ready. (Line with cupcake papers, or spray with non-stick spray, or do neither, depending on your pan.)
Combine the dry ingredients and the nuts and set aside. (Do not consider the brown sugar a dry ingredient; according to Alton Brown, sugar is a "wet" ingredient.)
Combine the yogurt/milk mixture, egg, brown sugar, oil, and bananas. Mix well with a mixer or an immersion blender, until the bananas are mashed and mixed well with the other wet ingredients
Quickly combine the dry and wet ingredients. Do not over mix! Fill muffin cups (12 for sedate and small muffins, 10 if you like them over the top).
Bake for 18-22 minutes, until golden brown.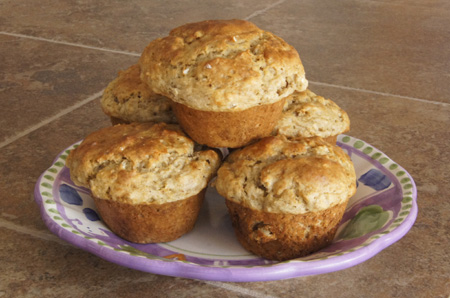 These are my over the top muffins.