Cookbook #220: McCall's Cook Book, by the Food Editors of McCall's, McCall Corporation and Random House Inc., 8th printing, NY, 1963.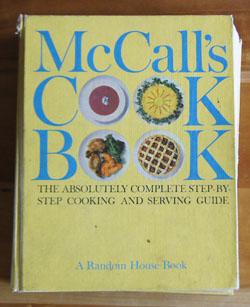 This treasure is my mother's copy of my book of the same name, as covered in my 2016 blog post. The cover on her book is yellow, and mine green. She took better care of her copy – didn't have to tape the back binding together.
Inside the front cover, she scotch-taped several bits of useful information. One is a newspaper clipping from a Q/A article on can sizes. In the early twentieth century, cans were sold by sizes "No. 2, No. 10, No. 203" etc. Her clipping translates those values into weight and volume values. (Of course, nowadays we just google for an answer.) She also clipped  a table of weights and measures for fruits and nuts, and a table of food volumes before and after cooking. And tucked in with these tables is a "how much equals how much?" for fruits and vegetables.
Yup, she used this cookbook as a reference. I remember that she always put the exact amount of each ingredient called for in a recipe. If she had a couple tablespoons from a can of olives left over after measuring, those olives did not go into the bowl.
Mother inscribed these words on the page opposite the title page:

I page through the book looking for more of her notes. I come to the Quick Breads chapter, which begins:
"It's hard to buy these sweet breads, so if you want to serve them, you'll have to make them. Use them when you entertain, particularly at afternoon teas or luncheons when a fruit salad is the main course."
Today we can buy quick breads in coffee shops and markets. Like banana bread. Mother marked "Banana Bread" in her edition of McCalls Cook Book.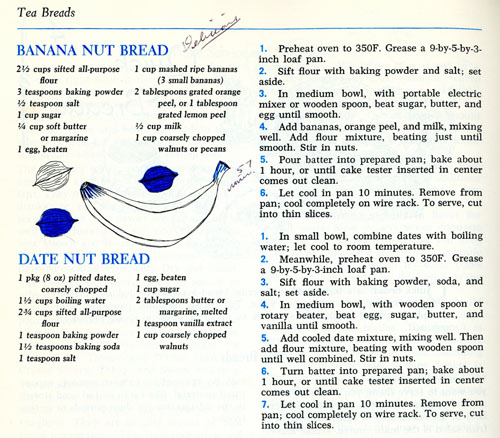 I have about 3 or 4 banana bread recipes – I rotate through different versions, but most of my recipes call for vegetable oil – this one uses butter or margarine instead. Might be interesting to try. Seems I often have ripe bananas to use up!
The next recipe she marked is for "Perfect Muffins". I like the introduction to muffns: "These are absurdly easy to make. What is known as the 'muffin method' – that is, adding all the liquid ingredients to all the dry – is often used for other quick breads and for simple cakes, as well." Perfect Muffins is a basic recipe that can be modified – eight different suggestions are listed on the following pages. I like the way she circled "11" on the number of muffins to make; she also changed the baking time and temperature.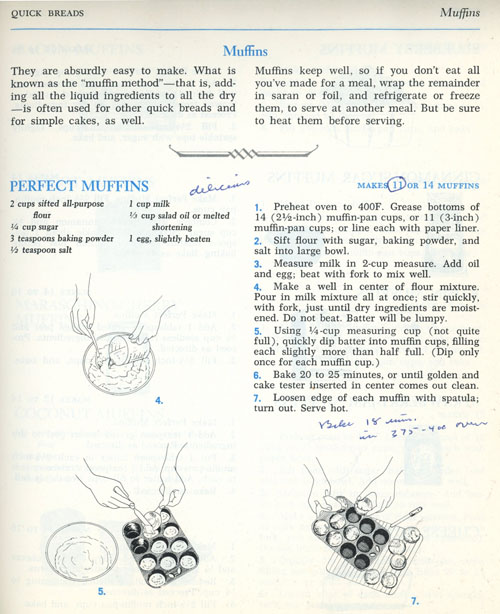 I continue paging through. My goodness, her book is in such better condition than mine! She put a red check but no comments next to a recipe for sour cream in pancakes – I'd like sour cream in pancakes too. The recipe pages for "McCalls Basic White Bread", a yeast bread, look well used. She thought the Honey-Whole-Wheat Bread was delicious. Mother must have made homemade pizza, although I never remember her cooking it. She liked the McCalls recipe for homemade crust. Plus, she tucked several magazine-clipped recipes for pizza sauce inside the book. These sauce recipes are similar to the ones I found on SeriousEats a few weeks ago.
She thought the Old-Fashioned Applesauce Cake was "delicious". I've used this recipe too; I sometimes made this cake into cupcakes, too. In fact, I think I'll make it again soon, it is a very good cake. Especially with icing! Peanut Butter Pinwheels sound really, really good (she marked them "delicious"). I never remember having one of these cookies: a peanut butter dough rolled out, spread with chocolate, rolled into a log, sliced into cookies.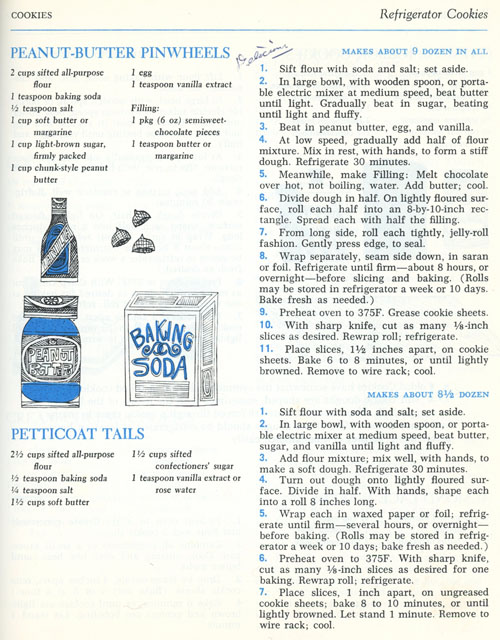 On the recipe Chili Con Carne in Red Wine, she commented it was "Pretty good, kinda runny". I think she served it with the suggested Polenta Squares, a recipe later in the book, because she commented at the polenta squares "Good – I like it". This makes me chuckle. I too like tomato-based sauces over polenta. I just discovered home-cooked polenta a few years ago. My dining partner sort of likes it, and I can imagine my father felt the same way. So her "Good – I like it" is a sort of rebellion. (I had no idea she ever tried a polenta dish.) She liked the deep fried Corn Fritters, but thought the Chili Con Carne only "fair".
Now we get to desserts. Looks like she tried the Chocolate Roll with Mocha Filling. Not enough filling, she wrote, and suggested to double the recipe. She thought the French Apple Cobbler "delicious!".
In the Eggs, Omelets and Souffles chapter, she tried the Scrambled Eggs a la Suisse and thought them "pretty good – but not great". This is a brunch egg dish. I had another surprise when I found that she made and liked the cheese souffle. Just like pizza, I never remember her making souffles. Eggs Benedict get a "delicious".
Pickled beets get a "delicious", and Rolled, Stuffed Flank Steak gets a "delicious!" written in red and underlined. She made some changes in the Corned Beef and Cabbage recipe.
The Pies and Small Pastries chapter comes next. Why it is not with the "Dessert" chapter reminds me that this cookbook has an odd organization (I noted this when I covered my own copy). She tried the Fresh Apricot Pie and has notes on the number and size of apricots she used, plus a note that she cut them in quarters instead of slicing.
In Salads and Salad Dressings, she liked the Raw-Spinach Salad. In the Sandwich and Sandwich Filling chapter, she thought the Hot Crabmeat-Salad Sandwiches "just so-so". In Sauces and Gravies, she marked "Mock Hollandaise Sauce" as "very good". This sauce is used for Eggs Benedict in an earlier chapter. In Vegetables and Potatoes, Eggplant-and-Tomato Casserole is marked "very good" and "Paul likes". She liked Amelia's Potato Pancakes and Honey-Spice Acorn Squash. And in the Leftoverschapter, Pork Chop Suey is marked "Very good", and she adds "Serve with dry Chinese noodles".
This brings me to the end of the book, and all of the recipes she marked. I certainly enjoyed going through this cookbook of hers. Brought back lots of memories.
And now, what to make for this blog? I decide on the "Perfect Muffins" (a scan of the recipe is above). I make a lot of muffins, but don't pay exact attention to the proportions of flour, sugar, liquid, and shortening. Perfect Muffins gives just that: correct proportions. You could use this recipe to make any flavor of muffin – though I doubt it will work when large amounts of wet fruits (like bananas or apples) or vegetables (like carrots or sweet potatoes) are added. But if you want to add dried blueberries, or maraschino cherries, or nuts or spices, or some other interesting ingredient that catches your eye, Perfect Muffins is a great start. I consider it part of my ever-growing knowledge of muffin making.
I choose the variation of Perfect Muffins that adds raisins and oranges. I made them just like the recipe, except I took Mother's advice and used her altered baking temperature and time.
Perfect Muffins with Raisins and Orange
makes 11
2 cups flour
1/4 cup sugar
1 tablespoon baking powder
1/2 teaspoon salt
1/2 cup raisins
1 cup milk
1/3 cup vegetable oil
1 egg
1 tablespoon grated orange peel
Stir together the flour, sugar, baking powder, salt, and raisins in a large bowl.
In another bowl, combine the milk, vegetable oil, egg, and orange peel; whisk to combine.
"Make a well" in center of flour mixure (I rarely "make a well", but this is the way the traditional directions for combining wet and dry ingredients read). Pour in milk mixture all at once, stir quickly, just until the dry ingredients are moistened. Do not overmix! Batter will be lumpy.
Fill muffin cups just slightly more than half full.
Bake at 375˚ for 20 minutes, or until they test done with a toothpick.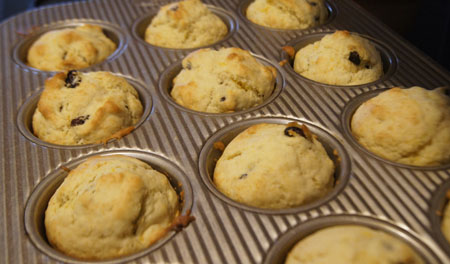 These muffins are cake-like, or cupcake-like. The muffins I make are usually packed with bananas or apples or carrots, or whole grains, so to us, they tasted "less-healthy-than-usual". Although, after my first bite of one of these muffins, I just wanted . . .  more!