Cookbook #75: Favorite Brand Name Cookie Collection, Publications International, 1992.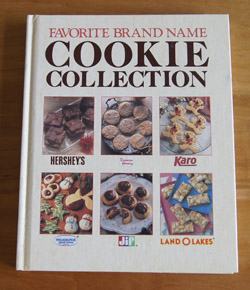 This is a great cookie book. Hmmm, guess that's why I chose to give it to my mother in 1996! Even today, in 2014, I can find many recipes I'd like to try. There must be over 700 recipes in this cookbook.
"Brand Name"? I usually don't like "brand names" because it usually means a lot of pre-packaged mixes are used. Plus, this is not a "personal" cookbook, with interesting notes from an author. But most of the "brand names" in this cookbook can be substituted with any brand, and many are from-scratch recipes. Can't judge a book by it's cover.
The chapters are arranged by cookies with chips in them, brownies, bar cookies, drop and shaped cookies, fancy tea-time cookies, cookies for kids, and holiday cookies. My mother marked a couple recipes as "delicious" but didn't seem to use this cookbook a lot. Not surprising, as her cookie repertoire was pretty full.
I decided to try "German Chocolate Oatmeal Cookies" for this blog. As per the "brand name" theme, it calls for "Butter Flavor Crisco". It also calls for "German chocolate", but not by brand.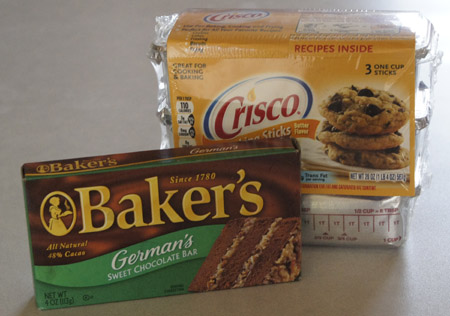 If you decide to make these cookies, regular vegetable shortening will work fine! I used rolled oats from a "natural" store, but substitute any non-instant oatmeal.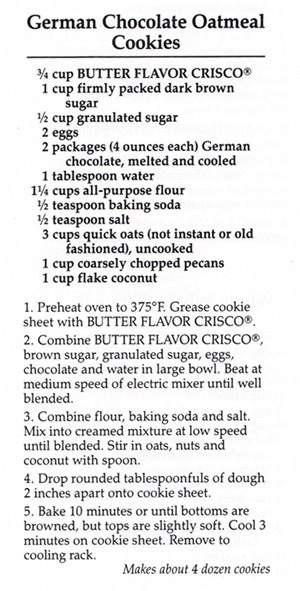 German Chocolate Oatmeal Cookies
makes 4-5 dozen
3/4 cup solid vegetable shortening
1 cup brown sugar
1/2 cup granulated sugar
2 eggs
8 ounces German chocolate, melted and cooled
1 tablespoon water (this is odd! but I did use it)
1 1/4 cups flour
1/2 teaspoon baking soda
1/2 teaspoon salt
3 cups oatmeal (quick, old fashioned, or rolled oats)
1 cup chopped pecans
1 cup flaked coconut
Combine shortening, sugars, and eggs; beat with mixer until well blended ("creamed").
Combine the flour, baking soda, and salt. Mix into the creamed mixture at low speed until blended, then stir in oats, nuts, and coconut.
Drop dough by rounded tablespoons onto parchment-lined or greased baking sheets. Bake at 375˚ for 10 minutes.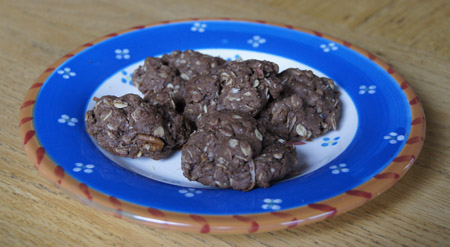 Comments
I tried these just out of the oven and was sort of disappointed. But later that night, and the next day, these tasted excellent, and were a big hit! For nutrition reasons, I like the large proportion of oats in these cookies, as well as the pecans. For flavor reasons, I love the chocolate and coconut.
A keeper!