Cookbook #250: Two Hundred Toasts, Mlle. Mixer, New York City, Osborn Printing Co., Los Angeles, Ca, 1905.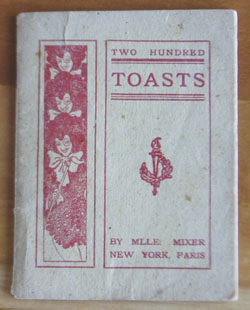 Let's toast! To life, love, and the end of this "250 Cookbooks" blog! I began this section of my cooking blog back in October 2012 – here is my introduction. Now it's June 2018. It's been a long journey.
Two Hundred Toasts is the oldest of my "cookbooks". It is actually a book of "toasts", as in words said with the clinking of glasses. But I entered it in the database, and here we are.
1905. This book is 113 years old today. Is it worth a lot of money? A search revealed that I could purchase other publication years (1906 and 1917) for just $50. It is worth a lot more than that to me. It belonged to my grandmother – my mother's mother – and I can remember many, many family dinners that began with a toast. And ended with one of Grandmother's fantastic desserts. She always said "I only eat dinner to get dessert", although she never gained weight, and she also enjoyed her cocktails. And her sherry, but that's another story. My mother grew up on their large orange grove ranch in Southern California, where she ran free and loved her horse and went to school in Covina. Her older brother was friends with my father, they all went to school together, and that's how my parents met and eventually fell in love and married and had the three of us.
I'm going to do something a little different with Two Hundred Toasts. There are no recipes in this book, so I have no recipe to cook. But the book is a delight, so I'll scan in all the pages for us all to enjoy.
Here are the title and facing pages.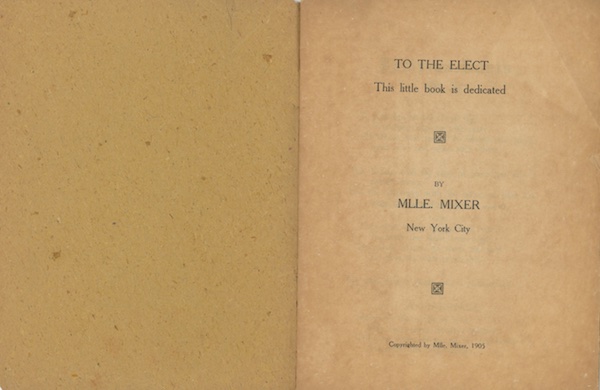 Next comes the first page of toasts, "Parisian Tosts". Oops, a misspell. The first of many, I find. Mlle. Mixer is French (the front cover says "New York, Paris) so English must be her second language, or she was a bad typist. Google Books has digitized the 1906 version of this book. It's different from my 1905 edition: all of the misspellings have been corrected. My edition is sort of endearing, typos and all. No spell checkers in 1905!
This size of scan makes it hard for us to read. I'll leave the following one "as is" because I want to illustrate the facing page with the "Osborn Printing Co." on it. But after these first two pages, I'll scan them in as half-pages.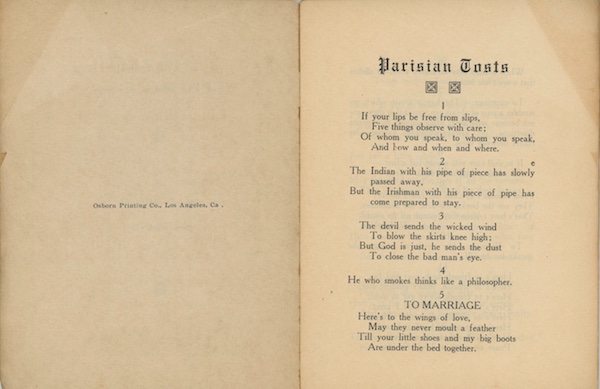 My favorite of the above toasts? The last, especially the line "Till your little shoes and my big boots are under the bed together".
Here's the next page. I like "When a man says he has a wife, he menas [sic] that a wife has him."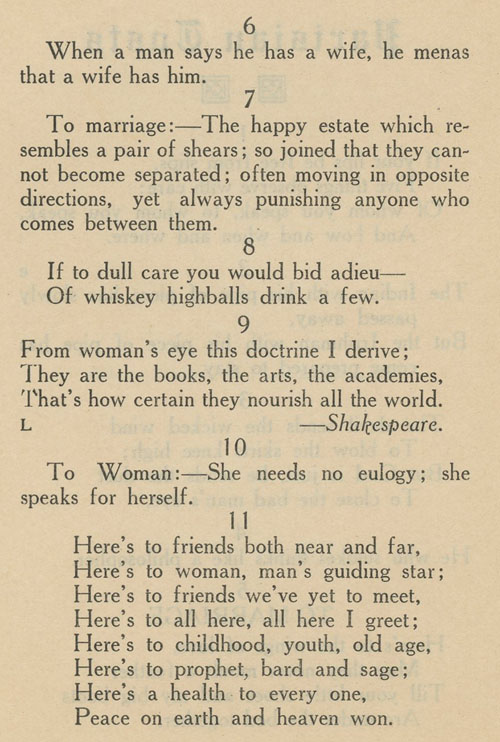 "Since man is dust, it would appear, 'Twere well to water him with beer."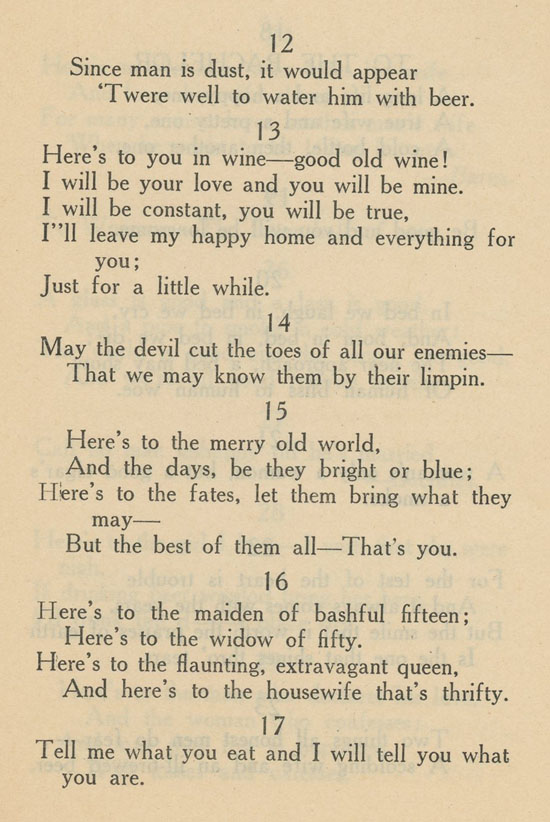 "Be good and you will be lonesome."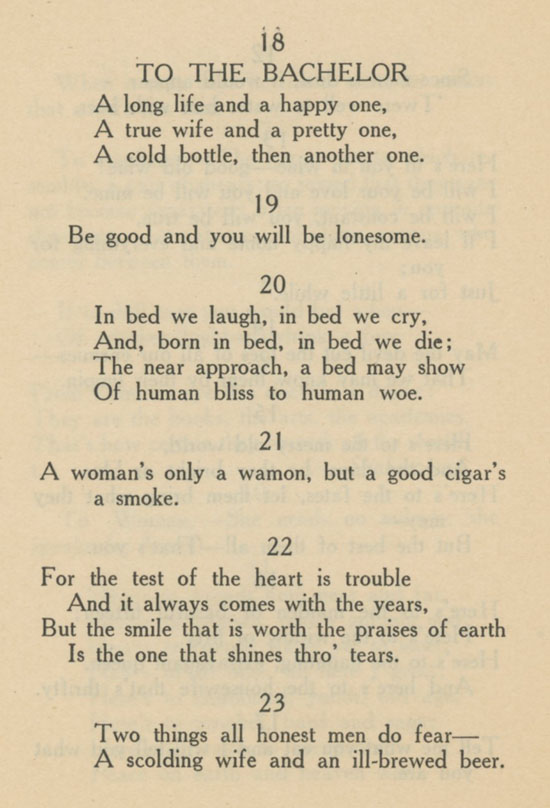 Oh my! Such an attitude: "To Woman: the bitter half of man" and "Call no man unhappy till he's married."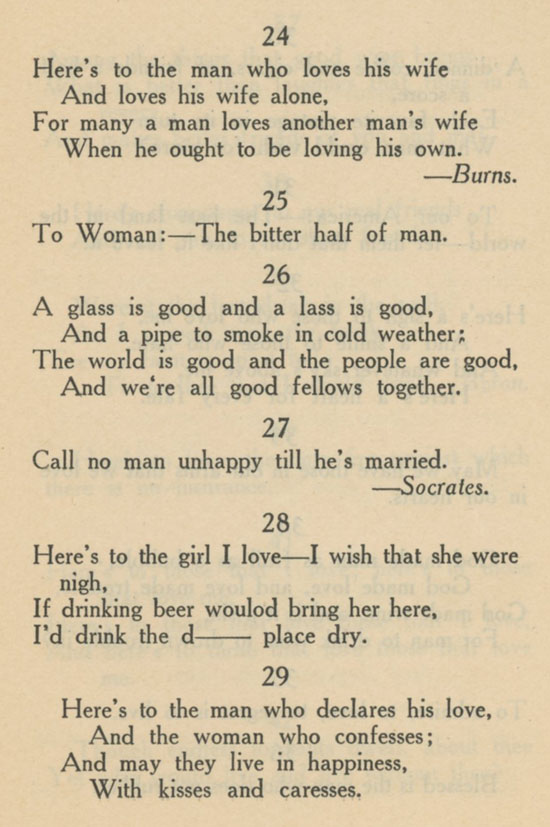 "To our America: The best land in the world – let them that don't like it, leave it."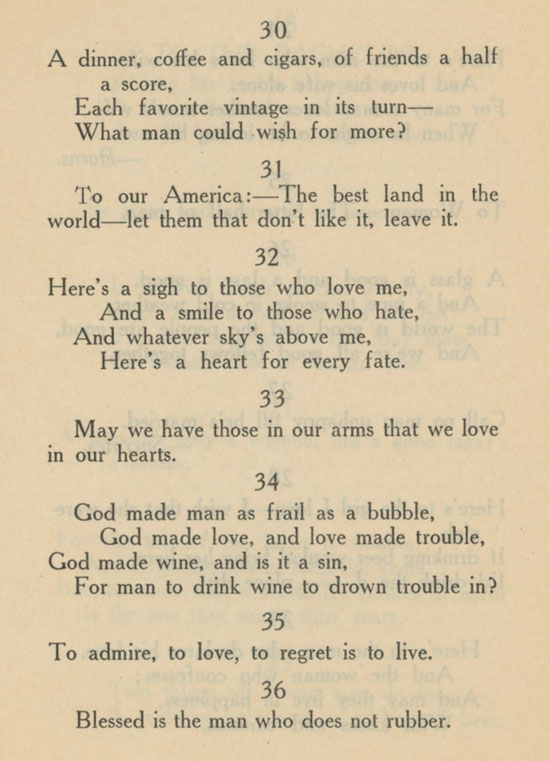 "Among the things that good wine brings, what is better than laughter that rings in a revery and makes better friends of you and me!" I like the one about champagne too.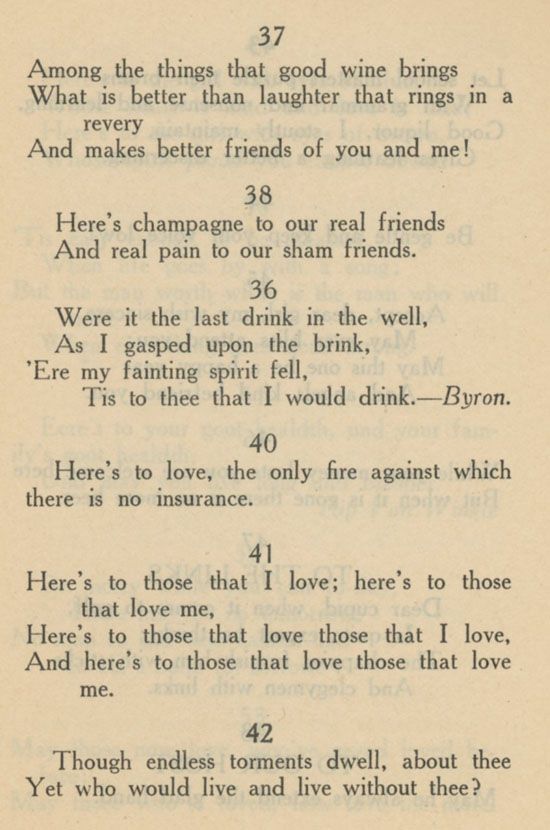 "Good liquor, I stoutly maintain, gives learning a better discerning!"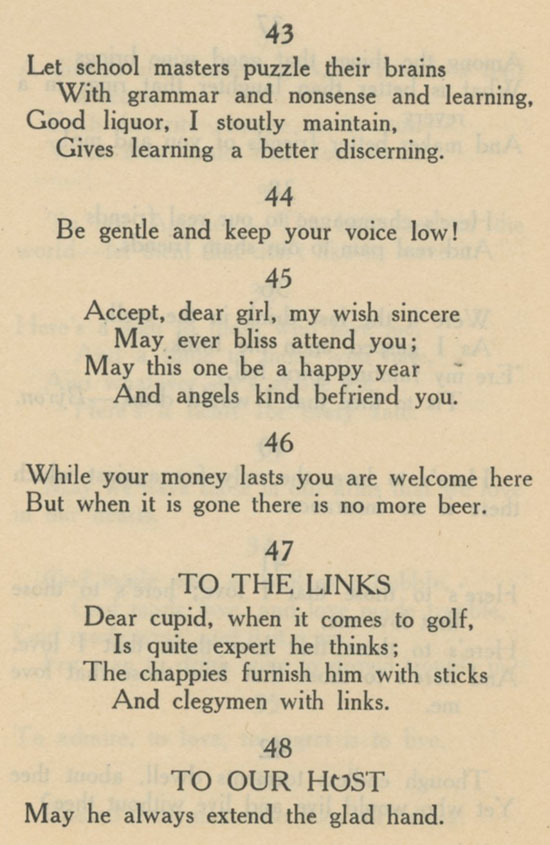 "Tis easy enough to be pleasant, when life goes by with a song; but the man worth while is the man who will smile when everything goes dead wrong."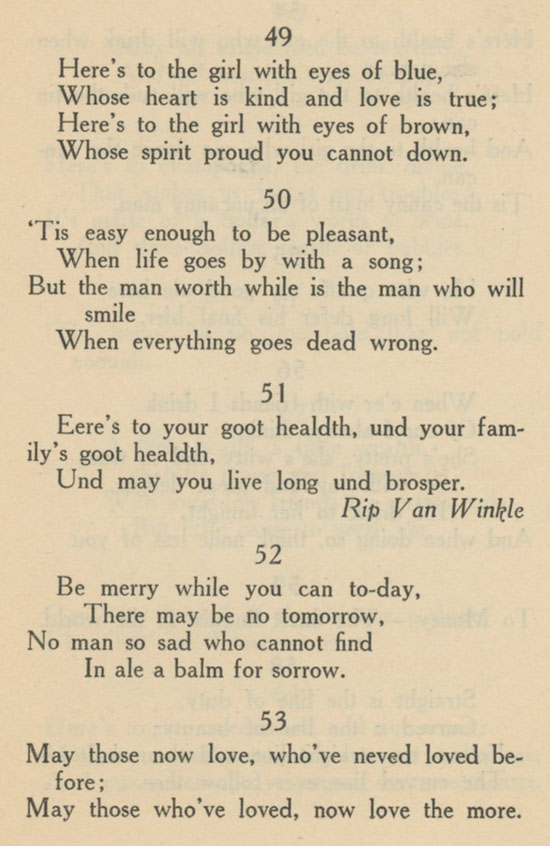 "Here's health to the girl who will drink when she can, and health to the girl who can dance the can-can."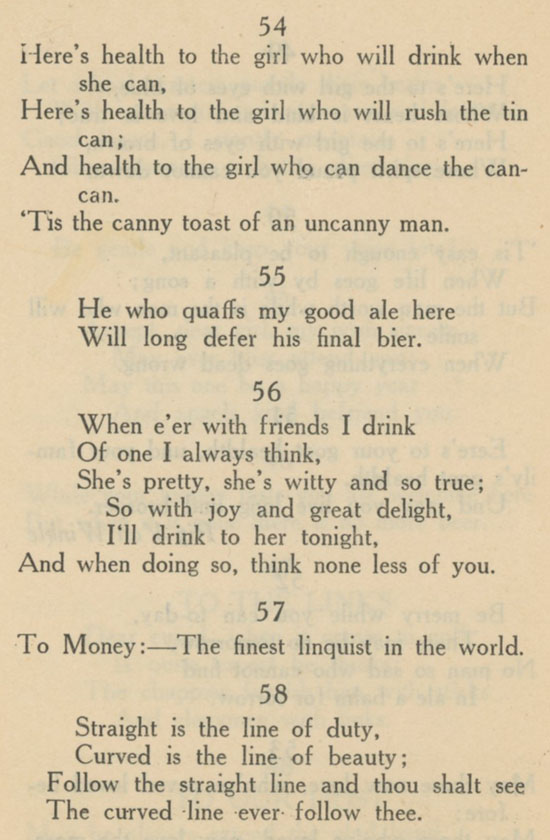 "Here's to champagne, the drink divine, that makes us forget our troubles; it's made of a dollar's worth of wine, and three dollars worth of bubbles."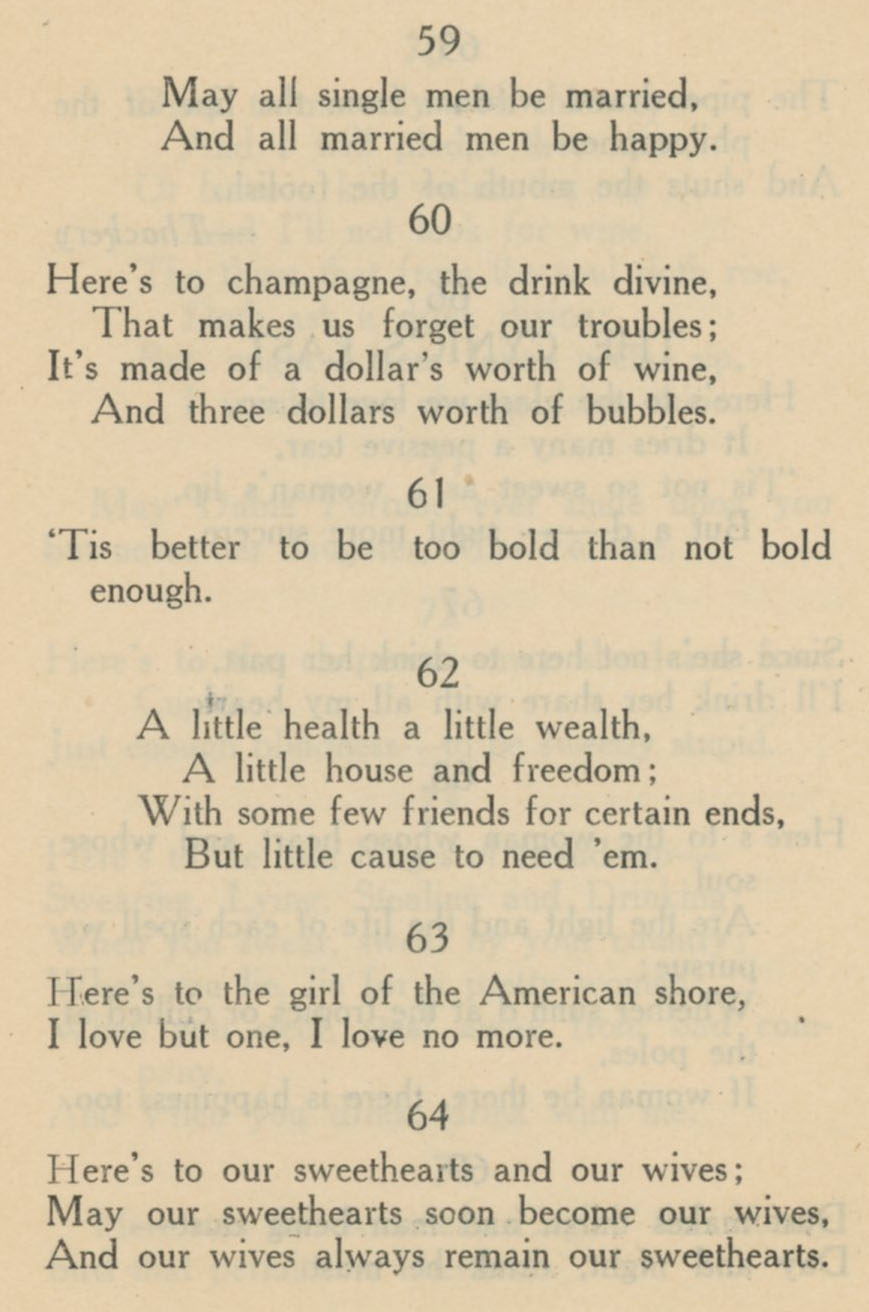 "Since she's not here to drink her part, I'll drink her share with all my heart."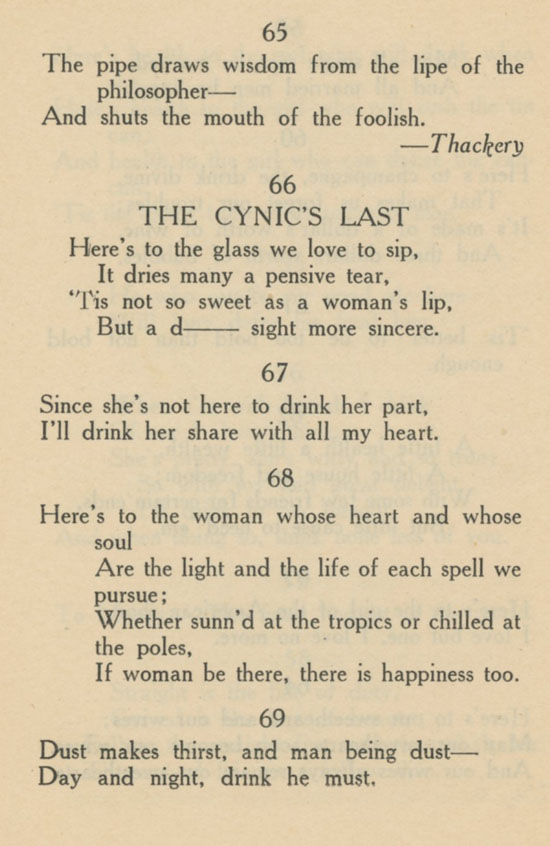 "May Dame Fortune ever smile upon you but never her daughter, Miss fortune." And also: "Here's to the chaperone – may she learn from Cupid. Just enough blindness – to be sweetly stupid."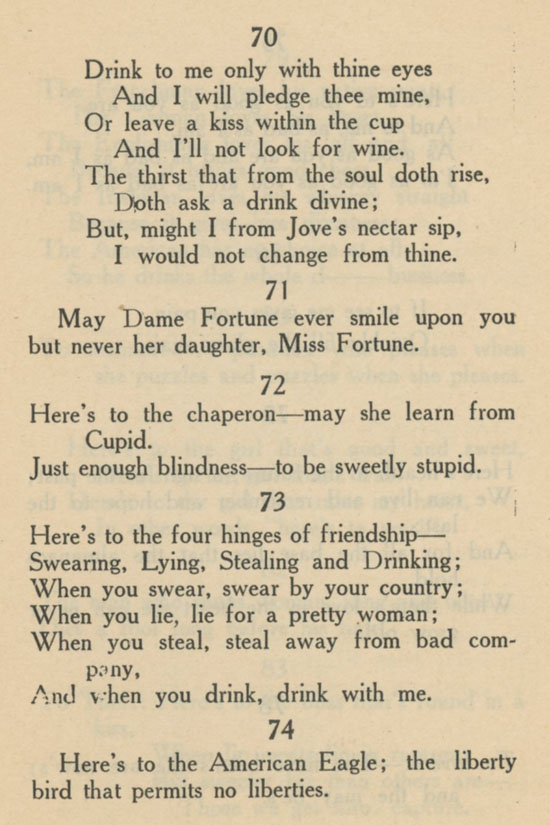 "To Home: – The place we are treated best and grumble most."
Number 88 is a racial slur, but I guess it wasn't in 1905. We might not have come a long way here in America, but at least we have come a little ways.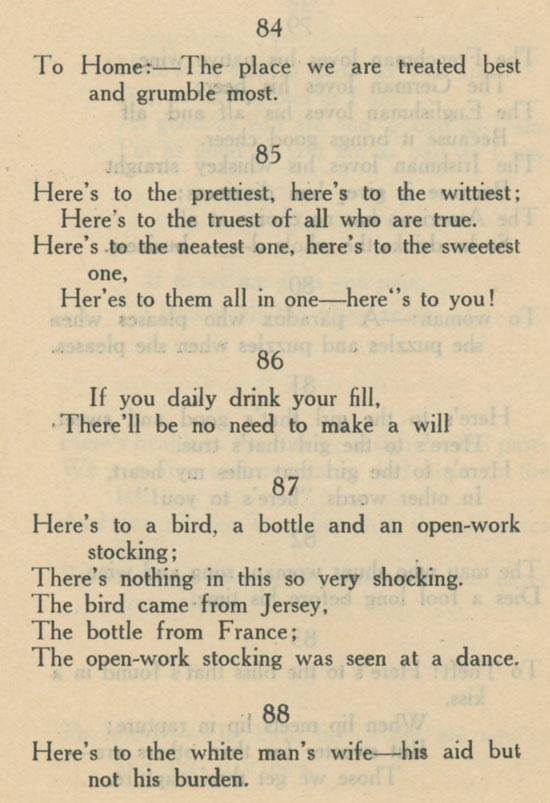 "Here's to the light that lies in a woman's eyes; And lies! And lies! And lies!"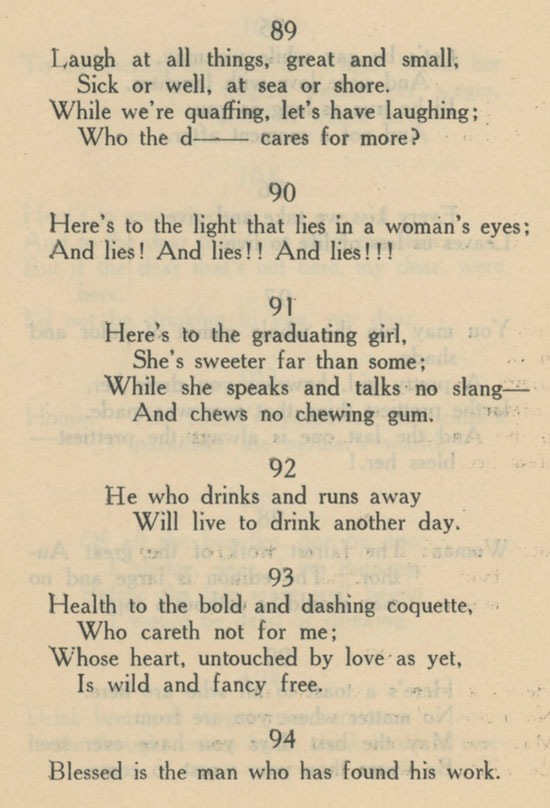 "Woman: The fairest work of the great Author. The edition is large and no man should be without a copy." And "May the best days you have ever seen be worse than your worst to come."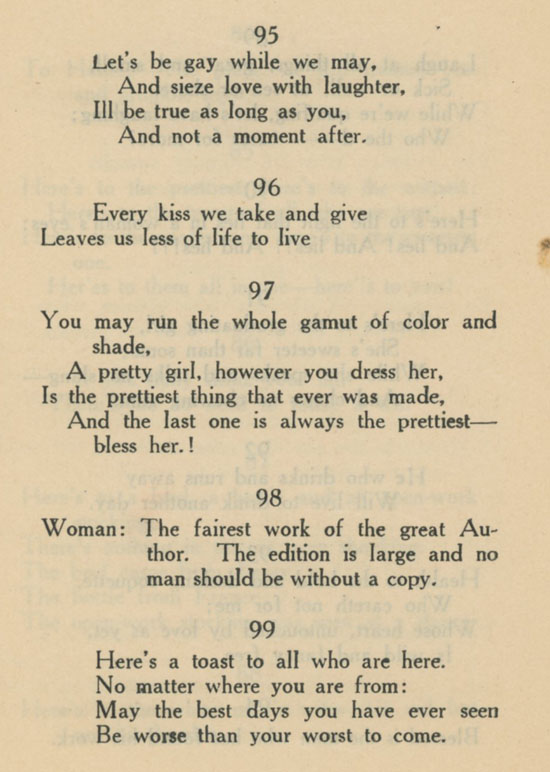 "Drink beer and forget your sorrow; if the thought comes back, drink more to morrow." I also like number 100, about the servant and her wages.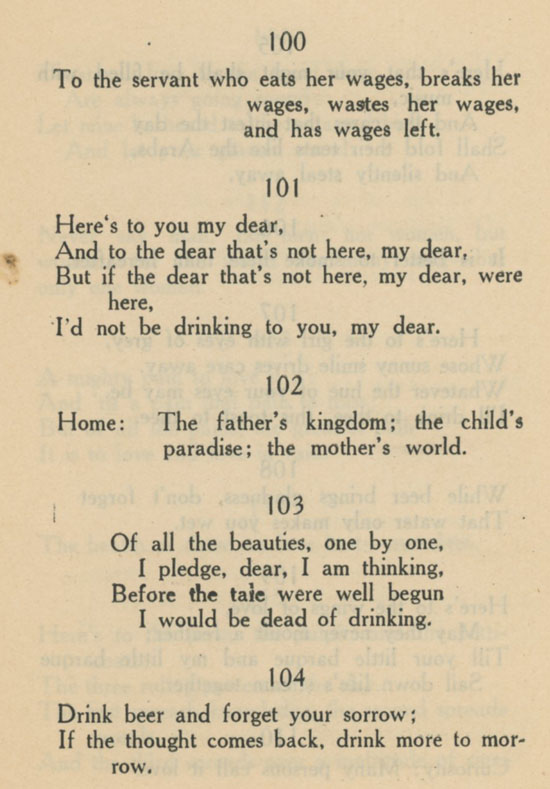 "While beer brings gladness, don't forget that water only makes you wet."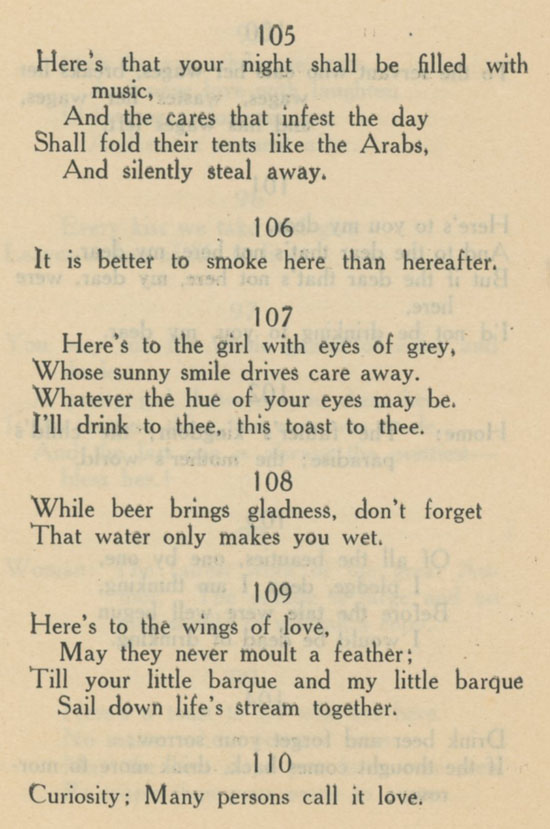 "The health of those we love best – ourselves."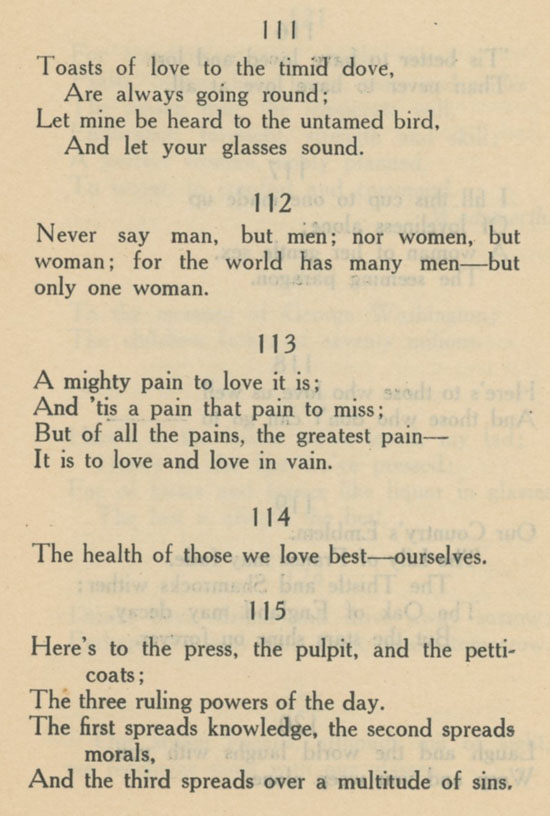 The classic: "Tis better to have loved and lost than never to have love at all."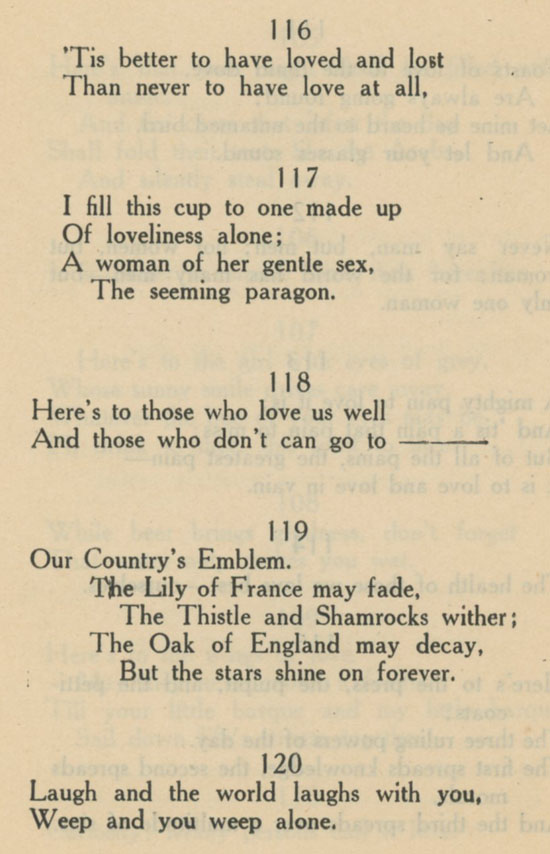 "Our absent friends, although out of sight, we recognize them with our glasses."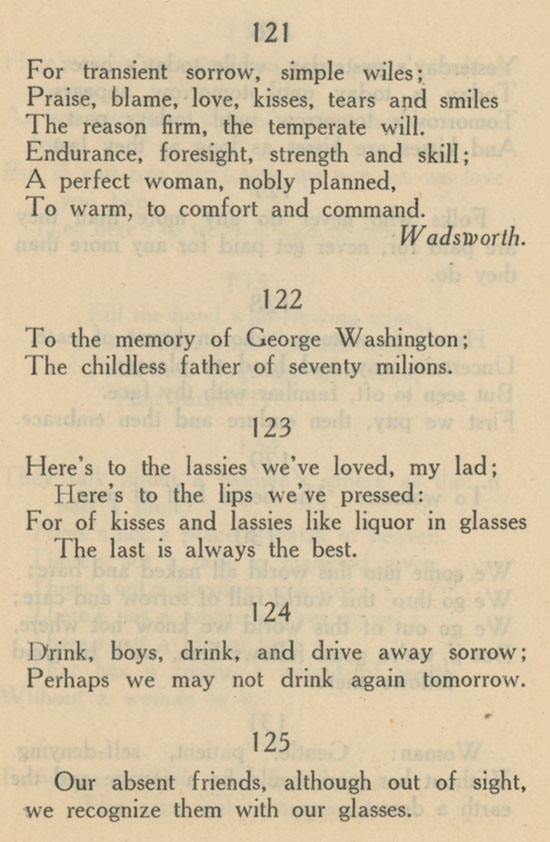 "Woman: Gentle, patient, self-denying. Without her man would be a savage and the earth a desert."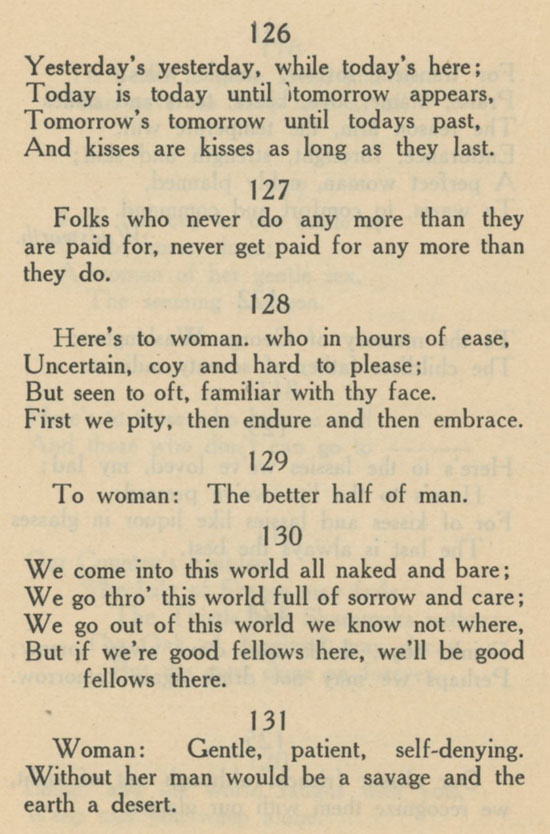 "Fill the bowl with flowing wine, and while your lips are wet, press their fragrance unto mine, and forget!!!!"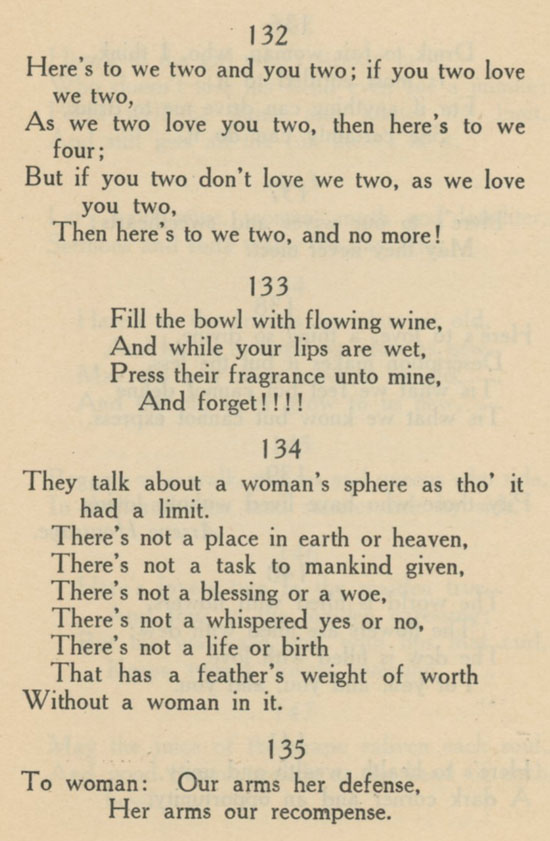 "Here's to our wives and sweethearts; may they never meet."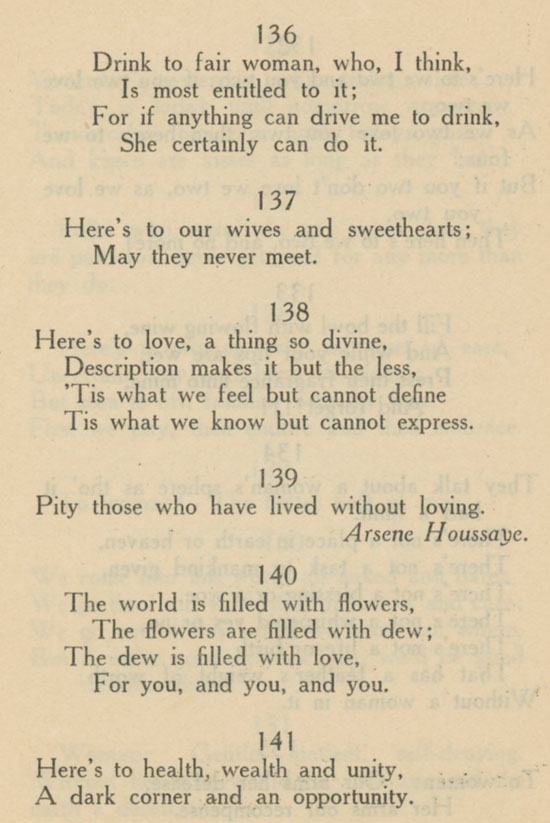 "Let's have wine, women, mirth and laughter, sermons and soda water the day after."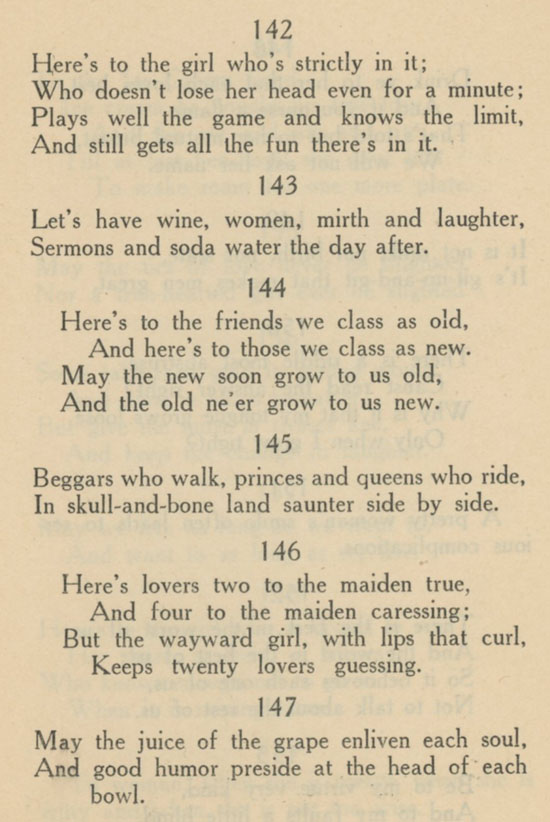 "It is not rank, nor birth, nor state, it's git-up-and-git that makes men great."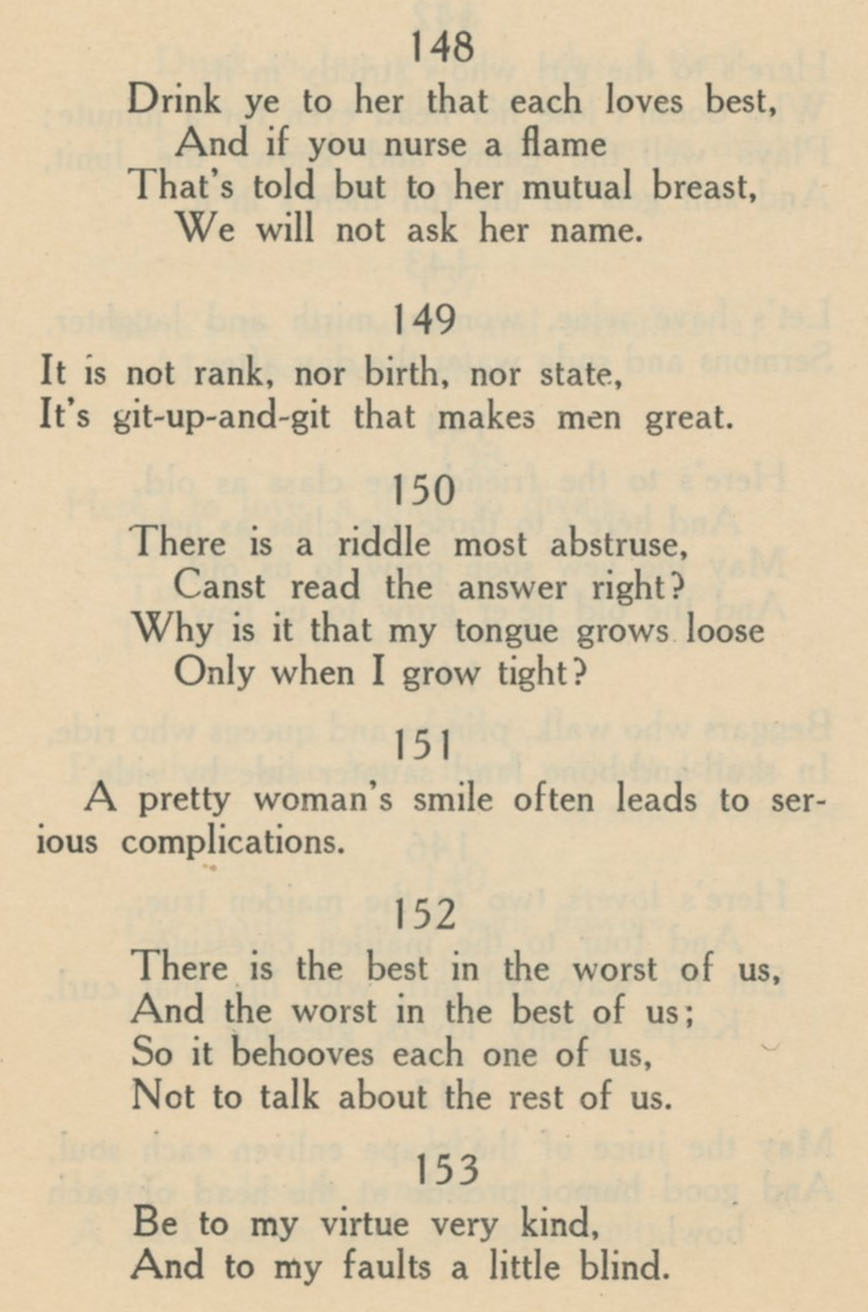 May we live as long as we want to, and want to as long as we live."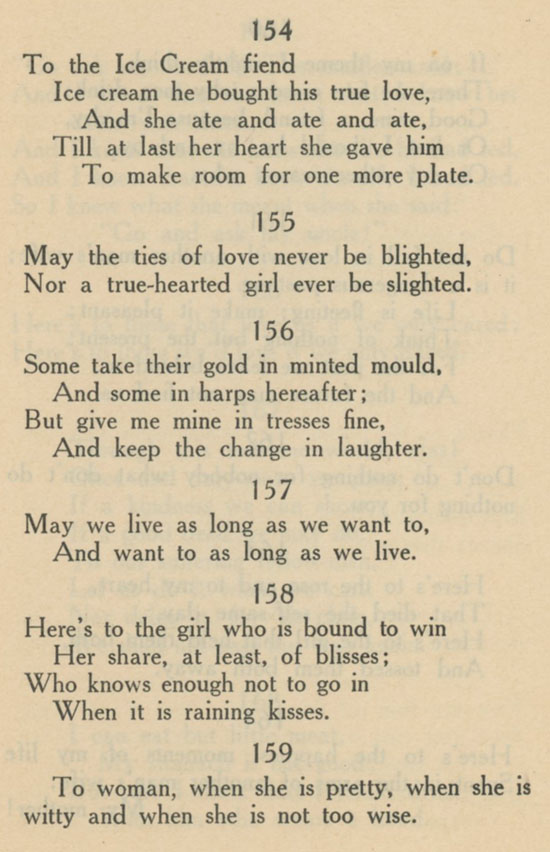 "Don't do nothing for nobody what don't do nothing for you."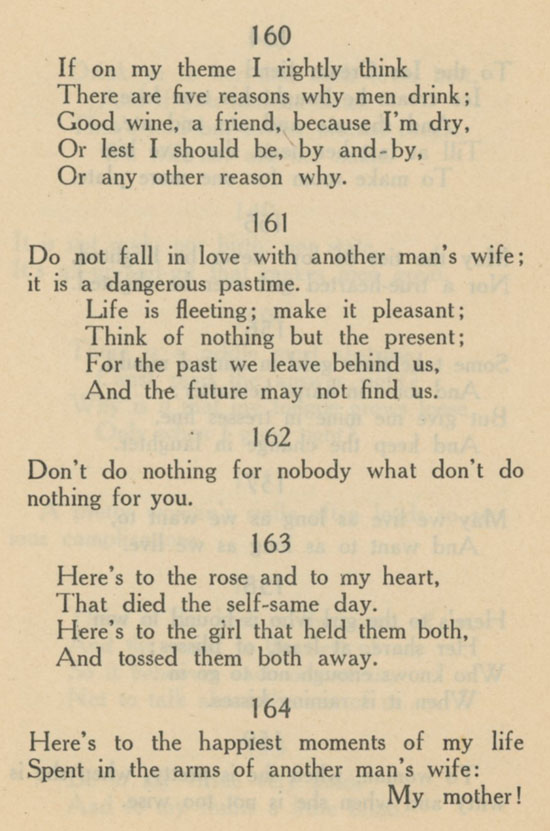 I like number 167, that ends: "We shall not pass this way again."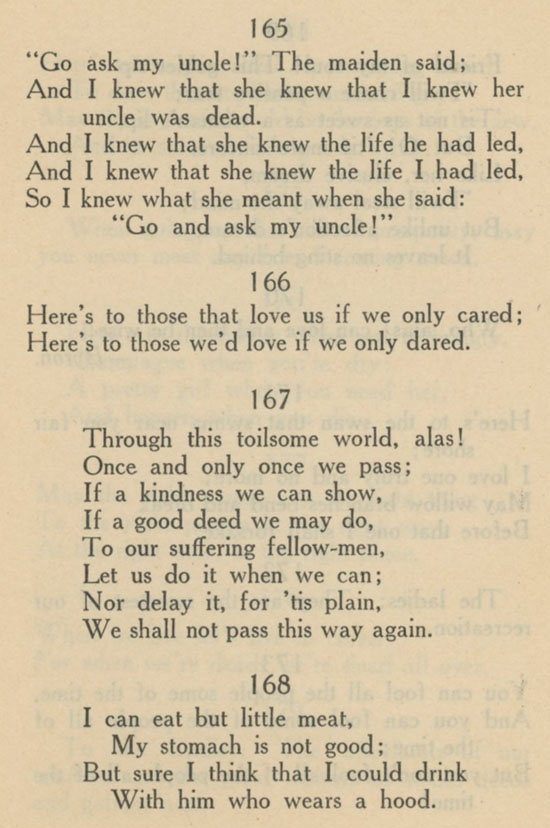 "You can fool all the people some of the time, and you can fool some of the people all of the time; but you can't fool all of the people all of the time!"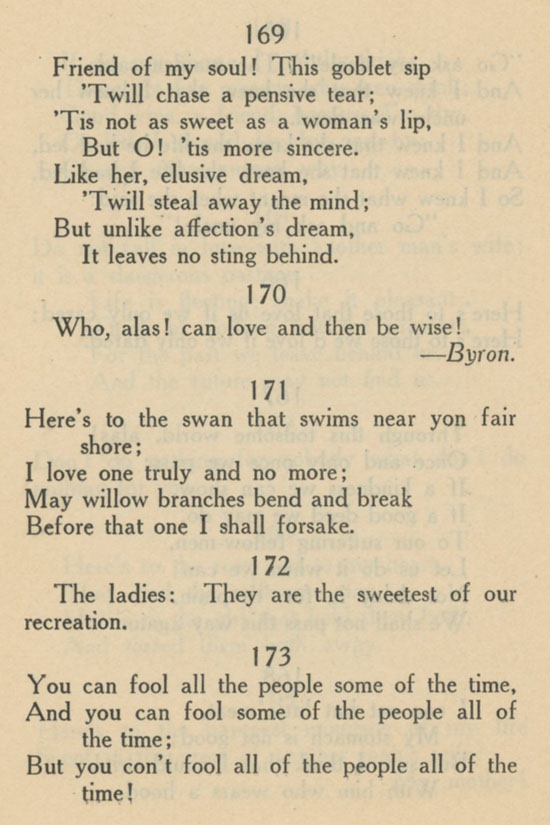 "When going up the hill of prosperity, may you never meet any friend coming down."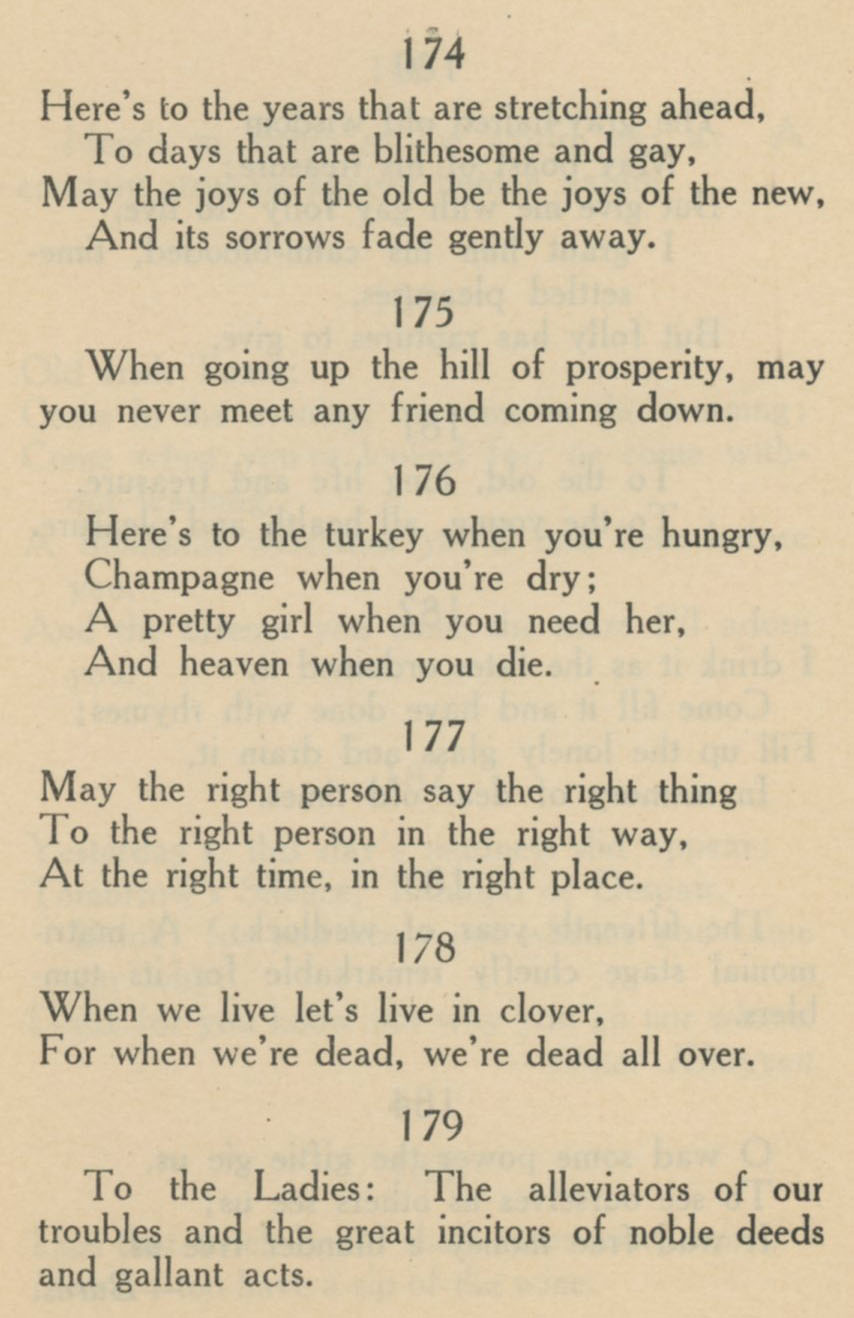 "To the old, long life and treasure. To the young, all health and pleasure."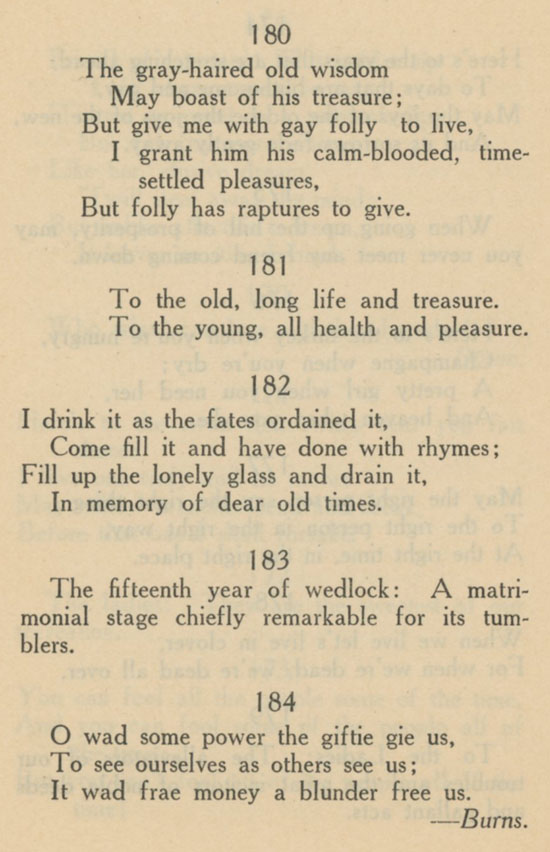 "Here's to virtue as the world sees it: A constant struggle against human nature." And "Lips that touch liquor shall never touch mine, unless I too have a sip of the wine."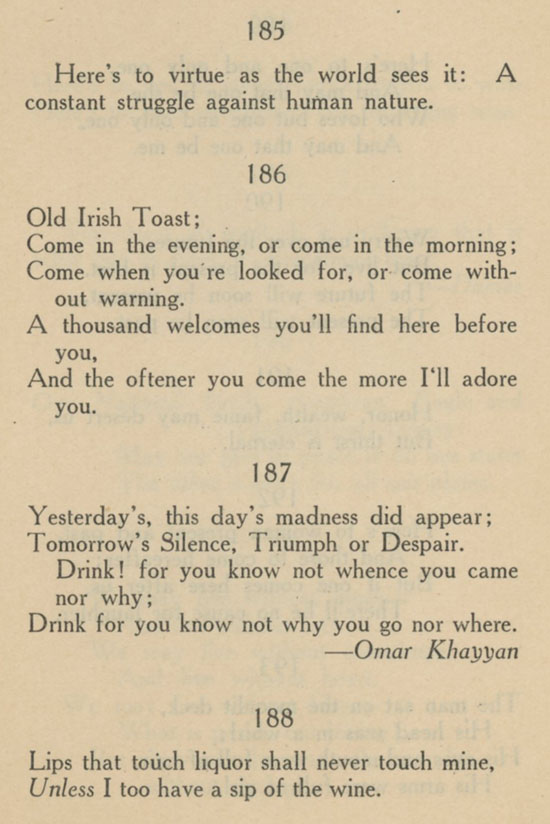 "Honor, wealth, fame may desert us, but thirst is eternal."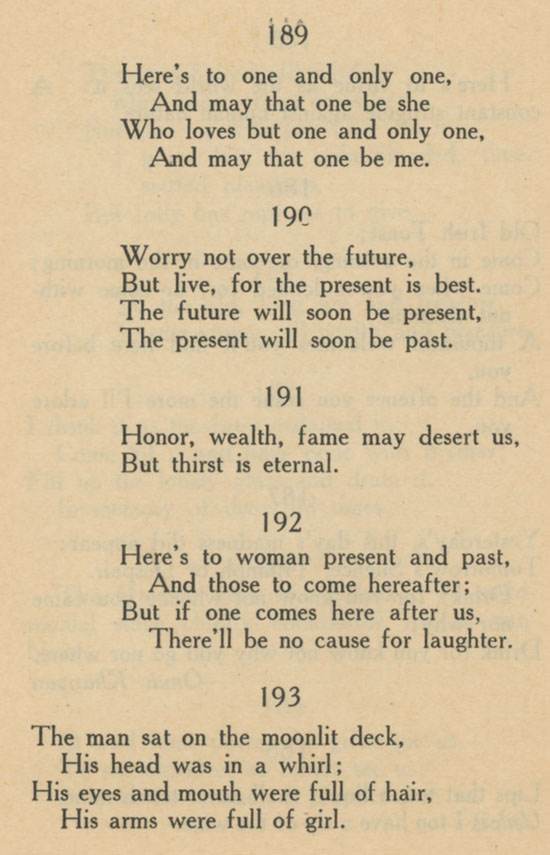 "Here's to you in water, here's to you in wine, here's to your sweetheart, not forgetting mine."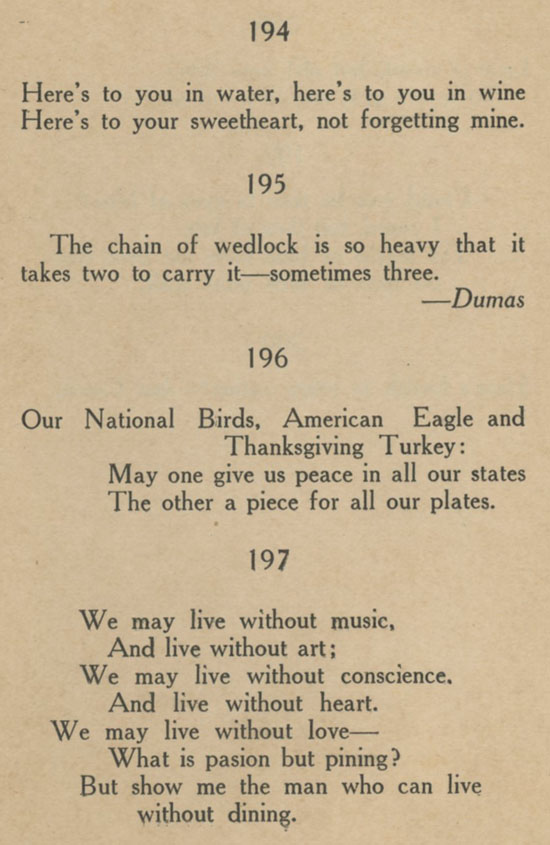 "Love is sweet, but oh! how bitter to love a girl, and then not git her."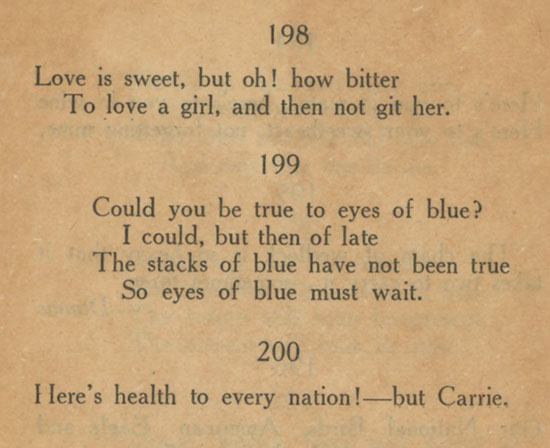 And so we come to the end of Two Hundred Toasts by Mlle. Mixer. I hope you found a few toasts that you liked.