Freekeh
Blue Apron introduced me to freekeh. I tried Blue Apron off and on for a year or so. Why? Just to learn some new things, I guess. And it was so cute and convenient to get little packages of herbs and sometimes unusual and hard to find ingredients. Plus, they sent just the right amount of food for two people, so no leftovers. Last year, when I learned that "freekeh" was in the next week's Blue Apron shipment, I got all excited. Something new! And I remember the meal being pretty good. Why did I end up stopping the Blue Apron service? Too much packaging to recycle.
Freekeh, like farro, is an "ancient grain". Freekeh is sometimes spelled frikeh or called farik. It is a wheat – green durum wheat. The "green" denotes that it is picked early. Traditionally, freekeh is first roasted, and then cracked or crushed to make it into smaller pieces. So freekeh is still a whole grain with nothing removed, but it is in small pieces. It is also sold "uncracked", but I haven't tried that type yet. I found cracked freekeh, Bob's Red Mill brand, in a local store. The package claims freekeh to be "the traditional grain of the Middle East", and states that it is still used in Middle Eastern and northern African cuisines. For more information, I like Two Healthy Kitchens discussion of the history of freekeh.
Below is my photo of uncooked, cracked freekeh. The size of the pieces varies quite a bit. Note how some of the pieces are slightly green.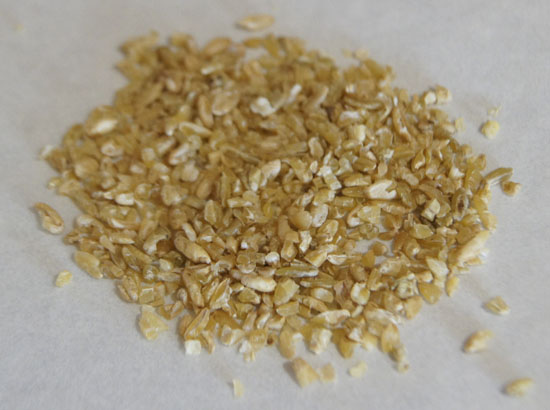 For a size comparison, freekeh next to medium brown rice: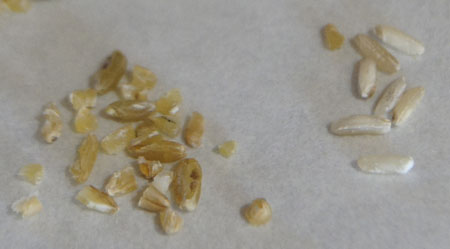 Taste
Freekeh has a nutty taste – the roasting probably brings out this flavor. It's also pleasantly chewy.
Nutrition
1/4 cup dry has 170 calories, 8 g fiber, 7 g protein, some calcium, iron, magnesium, and a lot of manganese.
Glycemic Index: 43 if whole, 55 if cracked.
Two Healthy Kitchens has links to several sites with more information on the nutrition of freekeh.
Cooking
| | | | | |
| --- | --- | --- | --- | --- |
| | water | time simmering | time standing | |
| 1 cup cracked freekeh | 2 1/2 cups (boiling) | 20 minutes | 5 minutes | draining might not be necessary |
1 cup dry yields about 3 cups cooked. I added a bit of salt to the cooking water. When I cooked it here in Colorado (about 5500 in altitude), it was cooked perfectly when I used the method above. After the 20 minutes cooking and the 5 minutes standing, there was barely any water left to drain off.
Cooked freekeh: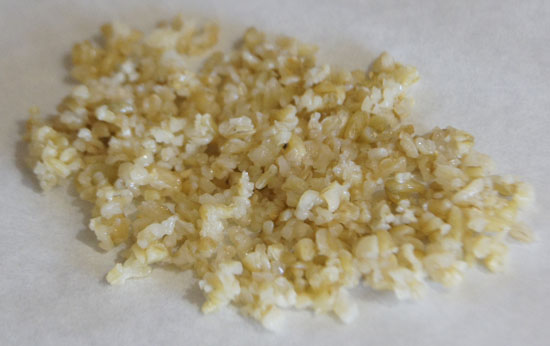 Recipes
Freekeh is pretty much like farro in usage: as a substitute for rice and in hot and cold salads. I don't think it would be good in soups, at least not the cracked freekeh. Since cracked freekeh is already roasted, toasting it is not really necessary to bring out the flavor.
The Bob's Red Mill package suggests serving freekeh as a salad with garbanzo beans, bell peppers, tomatoes, dressed with an herb pesto made from mint, lemon zest and juice, pine nuts, and olive oil. (Lemon Mint Freekeh Salad, more freekeh recipes on the same site.)
Using my own ingredients, I tried Blue Apron's "Orange Chicken Thighs with Cherry Salsa and Green Wheat Freekeh Salad". The warm freekeh salad is made by adding cooked freekeh, arugula, and almonds to the orange sauce used to cook the chicken. I liked it a lot, but hubby wasn't as enthusiastic.
Online recipes: