Cookbook #37: Salsas, Sambals, Chutneys and Chowchows. Chris Schlesinger and John Willoughby, Hearst Books, 1993.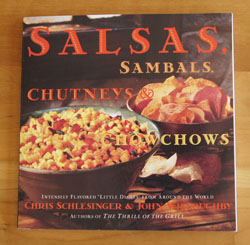 This is a great cookbook, one of my newish favorites. I was surprised that the publication date was 1993, since this is a very contemporary book. I bought it sometime in the 2000s for myself, probably at Peppercorn. It's still for sale, new, on Amazon. Because of copyright issues, I'm just going to take a photo to show you the lovely layout of the book instead of scanning in a recipe.
All the recipes in this book are "little dishes of intense flavor". I've used the salsa section more than any other section of this book. The authors define salsa as a Mexican/Latin American version of a little dish. Salsas are made from different combinations of a variety of ingredients, such as cilantro, oregano, cumin, chile powder, corn, tomatoes, jicamas, pineapples, mangoes, black beans, tomatillos, limes, and hot chile peppers. "The most important thing to remember about salsas is that, like the Latin dance that shares their name, the best ones are wild, loose, and loud." "Just mix 'em up and enjoy the taste. In this case, everyone can dance."
This book taught me to add fruit to a salsa. Or corn and avocado and black beans. I used to use only peppers, onions, and tomatoes. The authors remind me to toast cumin seeds before use to brighten their flavor. These tricks have given a new world of flavor to my salsas!
Chutneys are a bit harder to define. They originated in India and can be raw or cooked, chunky or grated, and can contain a variety of fruits, vegetables, and spices. Traditionally, they go with spicy foods (like curries). The chutney recipes in this book usually include a sweetener like molasses or sugar, a fruit and/or vegetable, ginger, garlic, and spices such as star anise, mace, coriander, or curry. I like that they cover spices, such as star anise, with a two-page layout of a description, tips, and photos. I've made a couple of the chutneys, but since my dining partner does not like curry, I don't make them very often.
Blatjangs, atjars, and sambals are chutney-type dishes from Africa, East Indies, and Southeast Asia. Chowchows are pickled relishes – mixtures of vinegar, spices, and vegetables. The book includes recipes for chowchows of the American South, a light version of kimchi (Korean), and spicy pickled grapes. I probably won't try too many of these, but the pictures are pretty and the ingredients always fresh and full of flavor.
The title of the book is misleading, because more than salsas, sambals, chutneys, and chowchows are covered in this book. There are also sections on relishes, catsups and other condiments. The final section is "pantry", in which some of the more unusual ingredients are discussed (along with great photos).
Creativity is the theme of this book. In this spirit, I created a salsa based loosely on "Papaya Salsa". I used cantaloupe and mango instead of papaya, green and red bell pepper instead of just red, and added enough red onion so that it "looked right".
about a cup of chopped fruit – I used half cantaloupe and half mango, but use papaya, peaches, pineapple or any fruit you have around
about a quarter of a red bell pepper, sliced into short, thin slices
about a quarter of a green bell pepper, sliced into short, thin slices
about half of a medium-sized red onion, sliced into long, thin slices
1/4 cup chopped fresh cilantro
1 clove garlic, minced (more or less to taste)
1/4 cup pineapple juice (or orange or any other type of sweet juice)
1/4 cup of fresh lime juice (more or less to taste)
1/2 of a jalapeno pepper, very finely chopped (you can include the seeds)
salt and pepper to taste
Mix all the ingredients together well. Taste and adjust seasonings and/or amounts of onion and jalapenos. It keeps 3-4 days in the refrigerator.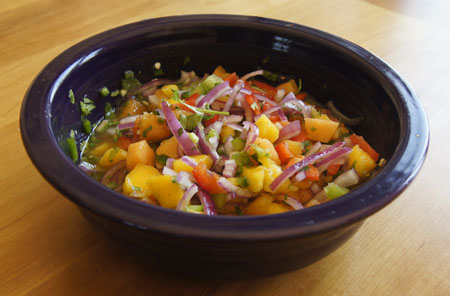 Salsas are great in the summer. On a hot night, they perk up a taco, wrap, sandwich or grilled meat or fish. I used this Fruit Salsa on pulled pork, folded inside some thick pita breads from the Mediterranean Market in Boulder. Yum!
This photo is an example of the layout of this book.