Cookbook #36: Light Cooking – Low Fat, Low Calorie, Low Cholesterol. Publications International, Lincolnwood, IL, 1994.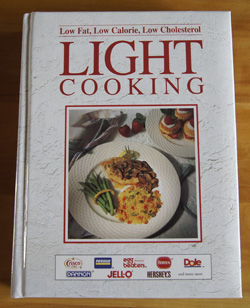 Well, dang. This is a big book that takes up a bit of space on my shelf. I picked it up thinking I could get rid of it, but I paged through it and wrote down about ten recipes that I wanted to try. So, I'll have to keep it. Oh well.
This is a "brand name" cookbook. Right on the cover is Crisco, Dannon, Jell-o, Perdue, Egg Beaters, Borden, Dole, and Hershey's, all with the ® next to them. I bought it from a check-out display at Safeway for I think $20. The introduction is only two pages, just a short guide to healthy eating. The recipes have no personal notes from an author. I've always felt that the main purpose of this cookbook is to advertise their products, since recipe ingredients often include brand names. But in its 515 pages of recipes there are some very good ideas for cutting calories and fat and controlling portion size.
Most of the recipes in this book are plain, simple, and easy to prepare. Each recipe has calorie, fat, cholesterol, and sodium content. Other than the brand name issue, the recipes rarely call for odd ingredients. It's a very "American" cookbook.
The recipes that I marked now to try include muffins, fruit crisps, beef, pork tenderloin, and chicken recipes. Common menu items that I cook a lot, with just enough twists to make me keep this book. I found a lot of pages marked with slips of paper from the last time I used it, probably over a decade ago. I still like those recipes.
Guess I have re-discovered a useful cookbook!
For this blog, I decided to try Banana Yogurt Muffins. Seems I always have an old banana laying around, and great non-fat Greek yogurt. They call for Special K® cereal, one I used to eat often but it somehow fell off my radar. Time to buy a box and try it again, both in the muffins and as a breakfast cereal.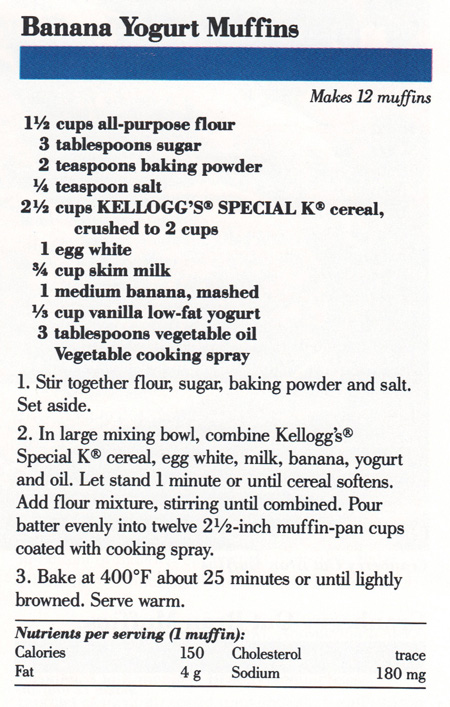 I plan to make these pretty much like the recipe. I don't have vanilla yogurt, so I'll use plain yogurt and add some vanilla. And cinnamon, I think these need a little spice in them.
1 1/2 cups flour
3 tablespoons sugar
2 teaspoons baking powder
1/2 teaspoon cinnamon
1/4 teaspoon salt
1 egg white
3/4 cup milk
1 banana (or more: I used 1 1/2 bananas)
1/3 cup plain yogurt (or use flavored and skip the vanilla)
1/2 teaspoon vanilla
3 tablespoons vegetable oil
2 1/2 cups Kellogg's Special K® cereal, crushed to 2 cups (I used a rolling pin)
Stir together the flour, sugar, baking powder, cinnamon, and salt.
Using a mixer, blend the egg white, banana, yogurt, vanilla, and oil. Mix until there are no longer big chunks of banana in the batter. Add the cereal and let stand about a minute until the cereal softens.
Combine the dry and wet ingredients just until combined. Fill 12 muffin cups, either paper-lined or use a non-stick pan.
Bake at 400˚ for 25 minutes.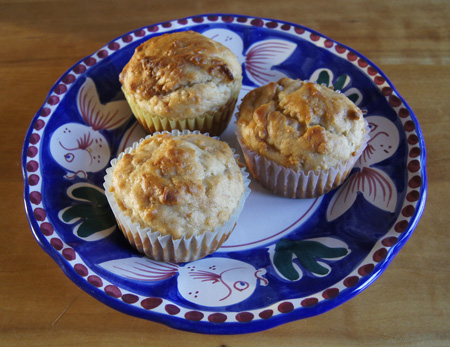 These turned out pretty good, for a low-calorie muffin. I'd make them again – it's a good way to use up aging bananas and have a tasty, healthy weekday breakfast treat.