Cookbook #50: 1989 Best-Recipes Yearbook. Better Homes and Gardens, Meredith Corporation, Des Moines, Iowa, 1989.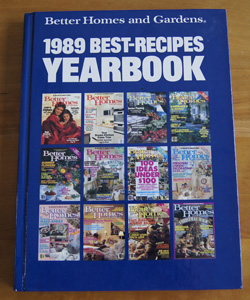 Admissions of a recovering recipe clipper . . .
I bought this cookbook in 1989. Back then I loved to buy women's magazines and pore over the recipes. But I could not just let the magazines go straight to the recycling bin, I held onto old issues until I first clipped recipes to try. Eventually it got done. Eventually I read each clipped recipe and entered its information into a database. Eventually the cut up magazine went into the recycling bin. The clipped recipe went into a file folder. I still have these file folders and the database. That project is now finished.
Tired of my compulsive recipe-clipping addiction, I vowed never again to buy a women's magazine. That was in about the early 1990s. I have stayed true to my vow. But, as a leftover, I have this book of Better Homes and Gardens magazine recipes.
I will now recycle this book. In the whole dang book, not a single recipe is marked by me. Although I did have a post-it with a seafood dinner plan on it, tucked on a page with a recipe for shrimp in a tarragon, garlic, sun-dried tomato vinaigrette recipe. I now have a much better version of a shrimp vinaigrette in my repertoire, so I can let this go.
The layout of this book glares at me like the glossy magazines I used to pore over. Promises of great food shown in fancy dining layouts with happy people. But the recipes in this book are mediocre. Today I saved only a couple recipes, one for a sweet-potato-chocolate swirled quick bread, and one for a seasoned ground meat mixture over home-cooked polenta.
And what did I decide to cook from the pages of this soon-to-be-discarded cookbook? "Orange Streusel Muffins". I'm always up for another muffin recipe. Muffins are part of my daily eating plan! And these are a tiny bit unusual, with a jammy surprise inside.

The above version says to make 12 muffins. As I was filling the muffin cups, I felt that I needed to fill them a little fuller, so I only made 8 muffins. My new 12-muffin tin from King Arthur Flour is great – it does not require any grease or paper liners and does not complain when I leave a few of the muffin cups unfilled. Next time, I'll add more marmalade, so I incorporated this, too, into my version, below.
Orange Streusel Muffins
makes 8 muffins
Muffins
1 3/4 cups flour
1/4 cup sugar
2 1/2 teaspoons baking powder
1 egg
3/4 cup milk
1/3 cup oil
1/4 cup (or more) orange marmalade
Streusel topping
2 tablespoons flour
2 tablespoons brown sugar
1 tablespoon softened butter
1 teaspoon cinnamon
2 tablespoons chopped pecans
Stir together the flour, sugar, baking powder, and salt. Set aside.
Beat together the egg, milk, and oil. Combine wet and dry mixtures, stirring just until moistened.
Spoon a generous tablespoon of the batter into 8 muffin cups, then put a generous teaspoon of marmalade on top of each. Next, spoon another generous tablespoon of the batter atop the marmalade in each cup. Finally, sprinkle with Streusel topping.
Bake at 400˚ for 20-22 minutes or until golden. Cool in the pan a few minutes, then remove to a wire rack to cool completely.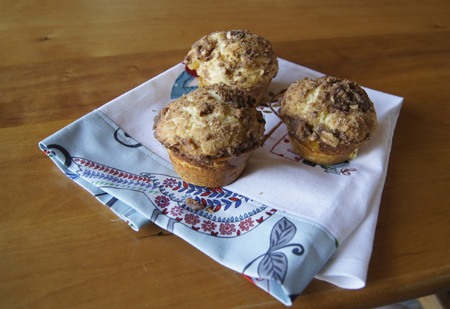 Yes, these are good. My dining partner loved the built-in jam. I liked warming them briefly in the microwave so the marmalade was warm. We both wanted: More marmalade!
My breakfast, awaiting only eggs and coffee: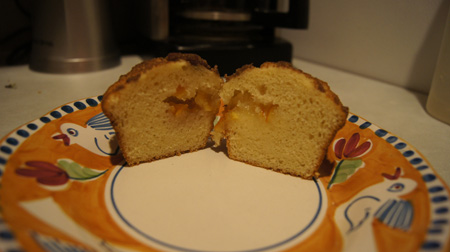 These satisfied my New Year's resolution: Everyday, I should eat something that makes me say "wow, I just have to have another bite!"
My kitty helping me to set up the shot: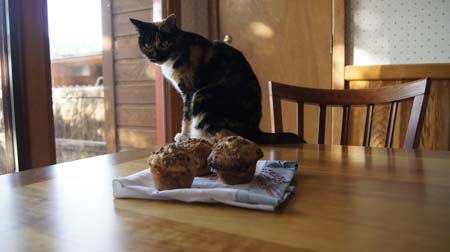 Hey, this is my 50th cookbook! I'm 20% of my way through this project!