Cookbook #62: A Homemade Life. Molly Wizenberg, Simon & Schuster, NY, 2009.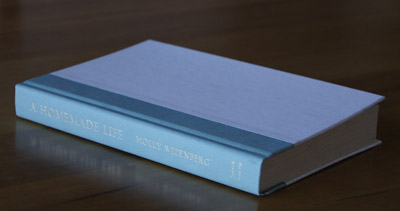 A Homemade Life emerged from Molly's blog, Orangette. I discovered Orangette from necessity. I had this container of the cutest little artichokes that I had bought on a whim from Whole Foods. I had no idea how to cook them. So like many modern-day cooks (this was 2008), I googled "baby artichokes" and came to Molly's blog.
I love the way she writes. Always a story begins a chapter or a blog entry. Eventually she gets to the recipe, but by then the how-to-cook-it is almost an afterthought. Don't let that statement fool you, since I've never been disappointed with any of her recipes. I made the Braised Baby Artichokes with Garlic, Thyme, and Parmesan and they were wonderful. I have made them many times since (see this entry from my other blog). Sometimes I make them with a slight variation, but that's what her recipes are all about: you can make it exactly like the recipe, or not. "Whichever way you like." (Page 205 of A Homemade Life.)
I purchased A Homemade Life because I just couldn't get enough of Molly's writing. This book resides in my "reading" room, not on my cookbook shelf. Her writing reminds me of some of the articles I have enjoyed in Bon Appetit and sure enough, she is one of their contributors.
One more thing: her photos in the blog are wonderful. Molly used solely a film camera until just this last year, and she has such an fine eye for photography. (Photos, food, writing – hmm, sounds like my interests. But I'm more scientific and techie than creative. I just dabble in a bit of all of my interests.)
I was following Orangette daily until about a year ago, when Google Reader was discontinued. I took a break from RSS feeds for awhile. But then, The Old Reader came to my attention, and I came back to Orangette and my other favorite feeds. I was hooked again. Reading her latest entries, I just had to pull A Homemade Life from the shelf and read it again. And try a recipe. I chose: "French-Style Yogurt Cake with Lemon".
Out of respect to Molly Wizenberg's copyright: I am not copying or scanning this recipe into my blog. Here is her entry for French-Style Yogurt Cake in her blog. The recipe in the book is pretty much like that blog entry. Except she also suggests "replacing the vegetable oil with a fruity, round-flavored olive oil; it brings a subtly richer flavor and wonderful fragrance."
I made this cake using meyer lemons, one of her variations. I also substituted 1/2 cup of ground almonds for 1/2 cup of the flour, and I used a mixture of canola and extra virgin olive oil for the 1/2 cup of oil. Here is my cake: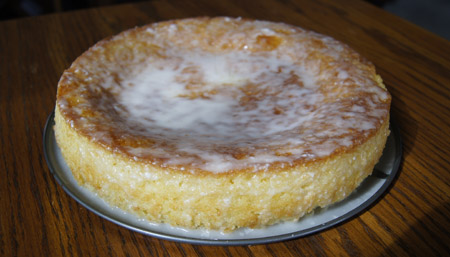 I was hesitant to serve this for Saturday night dessert. I usually serve a fruit crisp or a cobbler, or ice cream and strawberries, or something chocolate. A plain lemon cake? Am I going to get boos?
We finish dinner and our wine. Time for dessert. I cut a small wedge for each of us. "Here you go."
My first bite. I let out a huge sigh. Heavenly. Subtle. Absolutely wonderful.
I cautiously look over to my husband. Yay! He is also reveling in the taste! Yes, this cake is that good. Fancy-bakery quality good.
Molly's book and blog remind me: Cooking is an experience, an exploration. I will add in "experiment" (ever the chemist). What a wonderful difference in attitude from my last entry, The Busy Lady Cookbook.
I'll end with a quote from Molly: "That's the beauty of a repertoire: that in drawing from a whole world of recipes, you wind up making your own."
p.s.
My lemon cake fell a bit in the center. That's because I live at 5300 feet and had made no adjustments to the recipe. (This post prompts me to add a reference to high altitude baking recipe adjustments.) I made this again a few weeks later and made the following very successful adjustments to get a slightly domed cake:
1 3/4 teaspoon baking powder (instead of 2 teaspoons)
1 cup less 1 tablespoon sugar (instead of 1 cup)
baked at 365˚ for 35 minutes (instead of 350˚)
p.p.s.