Cookbook #73: Low Fat and Fit, Betty Crocker, General Mills, Inc., Minneapolis, Minnesota, 1996.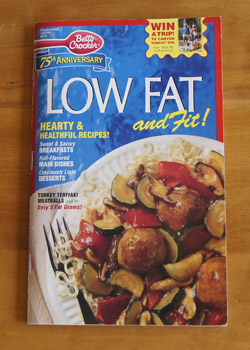 Low Fat and Fit is one of those small booklets that tempt you as you wait at the supermarket check-out stand. I paged through this one in 1996 and took it home for $2.99.
This booklet includes a good selection of breakfast, main dish, salad, and dessert recipes. Typically, the recipes shave calories by using low-fat dairy products, small amounts of oil or margarine (1 teaspoon to brown 4 chicken breasts), and egg whites or egg substitute instead of whole eggs. Lean meats and portion control also trim calories. Lifestyle choices such as physical exercise is recommended to help maintain a healthy weithy. Four pages are devoted to what is essentially an ad for a health and fitness ranch spa.
Yada yada yada. Nothing very new or exciting in this cookbook. I decided to try "Chicken Breasts with Sun-Dried Tomato Sauce" for this blog.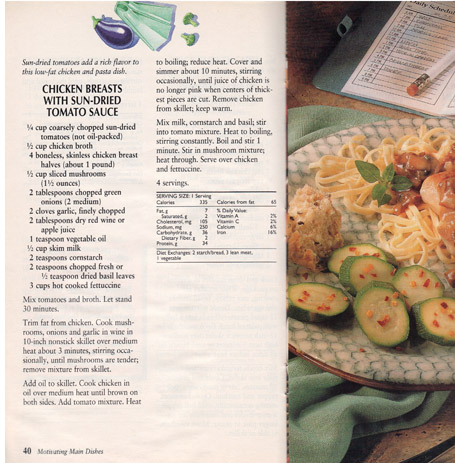 Note that the recipe calls for sun-dried tomatoes that are not oil-packed. I think the only reason for this choice is to save calories. The oil-packed ones I used only had 10 calories per piece. It's kind of ridiculous the way they trim calories off the recipes.
These chicken breasts were not good enough to make again. Even my photo is pretty terrible. My dining partner picked out the sun-dried tomatoes, saying they tasted like the briny olives that he hates (and I love). I cleaned my plate, but was not "wowed" enough to copy the recipe in as a "keeper".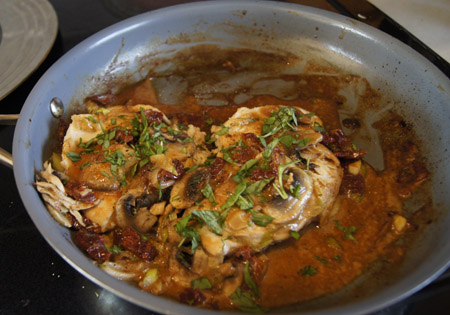 I was about to recycle Low Fat and Fit, but a few of the breakfast items made me hesitate: Crunchy Oven French Toast, Oatmeal Pancakes, Ricotta-Banana Crepes, and Poppy Seed Drop Scones. I'll keep it around for awhile just in case.
Since this sauced chicken recipe was not a hit, I'll share a keeper of a recipe that I make a lot. I call it "Chicken With Veloute Sauce and Veggies". I like the sauce because it is easy, semi low-fat, and has wine in it. The original recipe called for artichoke hearts, but I use whatever I have on hand.
Chicken With Velouté Sauce and Veggies
serves 2
scant 2 tablespoons butter and 2 tablespoons flour (this depends on how obsessive you are feeling about too many calories)
1 cup chicken stock
2 boneless chicken breast halves or chicken tenders (about 9 oz. for 2 people)
1 egg
flour seasoned with salt and pepper (enough to coat the chicken pieces)
extra-virgin olive oil to barely cover bottom of pan (you can use a different vegetable oil)
1/3 cup dry white wine
vegetables: canned or frozen artichoke hearts (NOT the marinated ones), sautéd or gently cooked mushrooms, julienned zucchini, celery, carrots, onions, or whatever else comes to mind
Melt the butter in a small sauce pan, then stir in the 2 tablespoons flour and cook for 2–3 minutes; do not allow to brown. Stir in the chicken broth and some freshly ground black pepper; boil and cook about 3 minutes until thickened. Set aside. (It might get scummy, so cover top with plastic wrap if you are worried about it.)
If using chicken breasts (rather than chicken tenders), pound them to 1/2-inch thick. Whisk the egg with a little water. Dip the chicken in the egg mixture, then in the salt-and-peppered flour.
Heat a fry-pan until it feels hot when you hold your hand a couple inches above it. Add the olive oil and tilt to cover the pan. Set to medium high heat. Cook the chicken about 5 minutes on each side until golden brown and nearly cooked through. Remove from pan and set aside.
With the skillet at medium-high heat, add the wine, stirring to de-glaze the pan. Add reserved sauce and cook a few minutes, stirring constantly. Stir in the vegetables. Add the browned chicken breasts to the sauce and cook them for a few minutes. Sometimes the breasts are larger and need a few more minutes to cook, sometimes smaller pieces like tenders only need a brief time to warm up to serving temperature.
I usually serve this over rice, but pasta or about any grain would work too.
Enjoy!