Cookbook #142: Appetizers, Hors d'Oeuvres to Light Meals, Sunset Books, Lane Publishing Co., Menlo Park, California, 1984.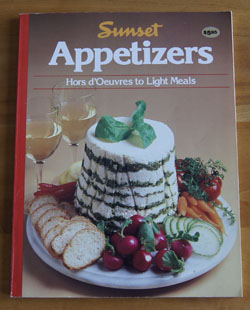 My recipe repertoire is wanting in the appetizer category. Usually I focus on a full meal, and don't want people filling up on snacks and killing their appetites. But some appetizers are dang tasty! How can I fit these into a balanced eating plan?
How about a whole meal of different small plates or appetizers? Some protein, some vegetables, some richness. I've done this a time or two and it is fun. This holiday season, in the limbo area between Christmas and New Years, I decided to entertain with just such a meal.
I pulled Appetizers, Hors d'Oeuvres to Light Meals from the shelf for ideas. A bit hesitant at first with a 30 year old appetizer book in hand, to my surprise I actually like the recipes in this cookbook! I don't think I have ever looked at this book before (it came from my mother's collection). The photographs in this Sunset book are great, too.
The chapters are:
"Light Bites" (Simple crisp nibbles, marinated vetetables, bite-size vegetable and fruit combinations)
"Dips, Spreads and Pates" (Hot and cold dips, meat, seafood and cheese spreads, meat and vegetable pates and terrines)"Appetizers from the Oven" (Breads and pastries, tarts, turnovers and quiches, baked vegetable appetizers)
"Substantial Snacks" (Meats, poultry, fish and shellfish)
"Salad, Soup and Pasta" (Composed and mixed green salads, hot and cold soups, fresh, light pasta combinations)
I marked many recipes to try: mini bagels, cheese twists, cheese herb pretzels (all these are from-scratch doughs), spinach dip, sugar snaps, chili peanuts (from raw Spanish peanuts), shitake spinach soup, carrot soup, potato pancakes with apples and goat cheese, dried tomatoes (how to make your own dried tomatoes), shrimp avocado salad, crab puffs, baked shrimp, and falafel meatballs and mushrooms.
Mother only marked one recipe: "Shrimp Dip", made from cream cheese, sour cream, greeen onions, and cooked shrimp (she used canned shrimps). She called it "Delicious". My parents often got together with their friends for cocktail parties, and these sour cream-cream cheese based dips were popular in that era. My favorite was a clam dip.
One more plus for this cookbook. A lot of the recipes can be made ahead or at least a lot of the prep work can be done the day before. I find this book friendly and helpful!
I decide to make Appetizer Mini-Quiches for this blog.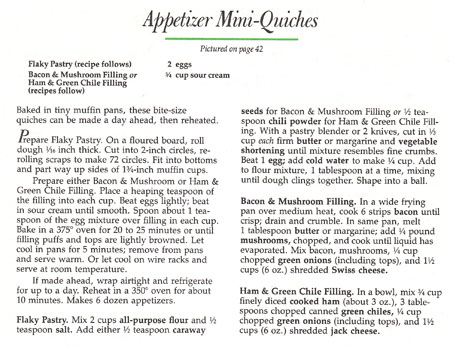 These should smell wonderful coming out of the oven, bacon and cheese in a home-made pastry. Yes they will take a little fuss, but I'll use the help of my "girls" (daughter and daughter-in-law) and it will be fun. I made the filling the day before, and cut the recipe in half. Below is my version.
Filling:
3 strips bacon
2 ounces mushrooms, chopped
2 tablespoons green onions, chopped
3 ounces grated Swiss cheese
1 egg
3/8 cup sour cream
Pastry:
1 cup flour
1/4 teaspoon salt
1 1/3 ounces butter, chilled and cut in chunks
1 1/8 ounces solid vegetable shortening, chilled and cut in chunks
1/4 teaspoon caraway seeds
1 egg, beaten and mixed with a tablespoon water
Cook the bacon; remove from pan and crumble. Leave a little of the bacon fat in the pan, then cook the mushrooms in it. Combine the bacon, mushrooms, green onions, and Swiss cheese.
Beat the egg and add the sour cream. Set the bacon mixture and the egg mixture aside while you prepare the pastry.
Put the flour and salt in a food processor and pulse a couple times to mix. Add the butter and shortening and pulse 6-10 times, until the mixture resembles fine crumbs. Pour into a bowl, then add the egg-water mixture a little at a time, mixing into the dough with a fork or your hands until the dough clings together. (You probably won't need all of the egg-water mixture.)
Have ready a muffin pan – or "pans" if you have more than one. The bottom of each of my muffin tins measures about 1 3/4-inches. I did not grease the pan.
Roll the dough about 1/8 to 1/16-inch thick. Use a 2-inch biscuit cutter to cut circles of dough, and put the circles in the muffin pan cups. Continue re-rolling scraps of dough until the pastry is used up.
I had help rolling these out! We made about 28 cut-outs.
Divide the bacon mixture on top of the pastry in the pans. Then, spoon about 1 teaspoon of the egg-sour cream mixture on top of the bacon mixture. Here they are ready to bake.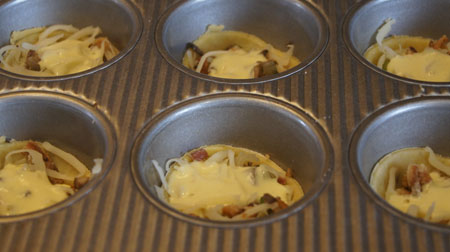 Bake at 375˚ for 20-25 minutes, until the filling puffs and the tops are lightly browned.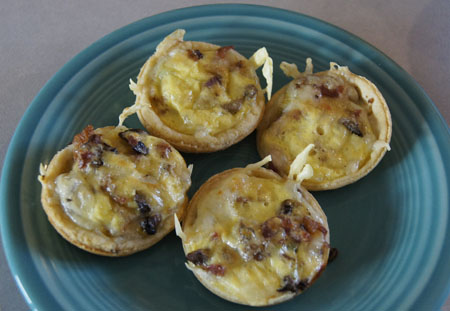 These were so good it was hard to get them onto a serving plate before they were all eaten! A winning recipe.
Note that these can be varied easily, for instance, the original recipe has a variation of ham, green chiles, green onions, and jack cheese. You can make these ahead of time and reheat in a 350º oven for 10 minutes.