Cookbook #240: Nabisco's Snack Book, The Pillsbury Company, 1970.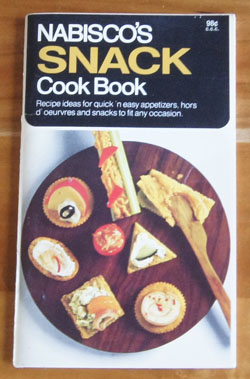 "Dear Homemaker,
Snacking today certainly is a great pastime. With the leisure time we have, one really can relax and enjoy a tasty snack."
So begins Nabisco's Snack Book. It continues: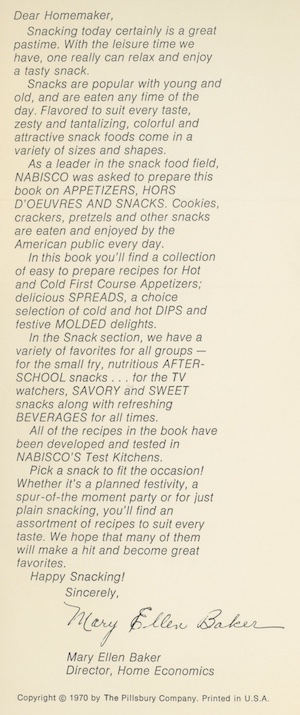 Note the author of the introduction – Mary Ellen Baker, Home Economist. "Baker"? Really?
Her signature is right there. Web searches pulled up nothing about her.
Like so many appetizer books of the sixtie and seventies, most recipes in Nabisco's Snack Book call for cream cheese, sour cream, various cheeses, packaged meats, and condiments. And, in every recipe in this book, there is a Nabisco brand-name ingredient: Triangle Thins Crackers, Chippers Potato Crackers, Triscuit Wafers, Dromedary Pitted Dates, Flaked Coconut Snack Crackers, Sociables Crackers, Waverly Wafers, French Onion Crackers, Premium Saltine Crackers, Mister Salty Veri-Thin Pretzels, Snack Mate Pasteurized Process Cheese Spread, Whirligigs Caramels, Nabisco Rice Honeys – to name just a few!
Nabisco makes me feel so . . . American.
I find Nabisco's Snack Book for sale online. On Amazon, today it goes for $3.50. But on this site, the asking price is $25! And to think, Nabisco's Snack Book originally sold for 99 cents. I really don't think this cookbook is vintage enough or has enough good recipes to be worth $25. But one reviewer on the referenced site loves this book – SHOUTS about it:
"Here for your delectation is the SPECTACULAR & RARE–NABISCO'S SNACK COOK BOOK by Mary Ellen Baker. TERRIFIC RECIPES for DELICIOUS SNACKS using NABISCO PRODUCTS!! PLUS—-there are L-O-A-D-S of gorgeous, mouth-watering FULL-COLOR photos!!
This book was my mother's. She did not comment on any of the recipes, and it's in very good condition. If I keep it, it will be for nostalgia: it is a classic style of 60s and 70s manufacturer's cookbook. Or I'll keep it because any item that can go from 99 cents to 25 dollars . . . might be a good investment!
Here is an example of recipes in this book. Note the Stuffed Grape Leaves – more exotic than I expected. Note that it calls for "75 Cheese-NIPS Crackers". Can you see counting those out? Or even "18 Triangle Thins Crackers" in the Stuffed Pimiento Slimmers. Note too that the "Slimmers" recipe includes a calorie count. A handful of recipes throughout this book include this data for dieters.
Here are some more pages from this book.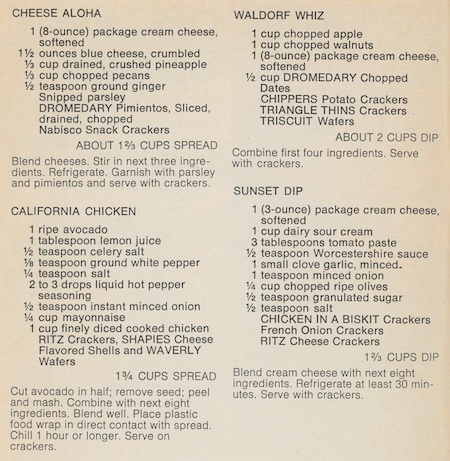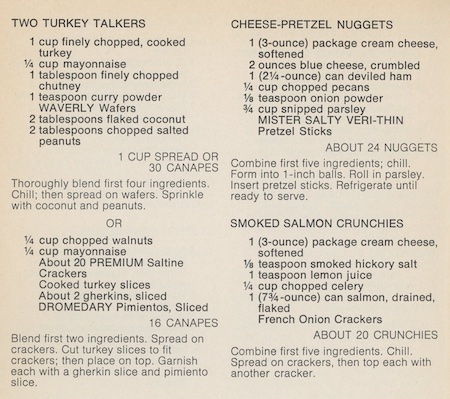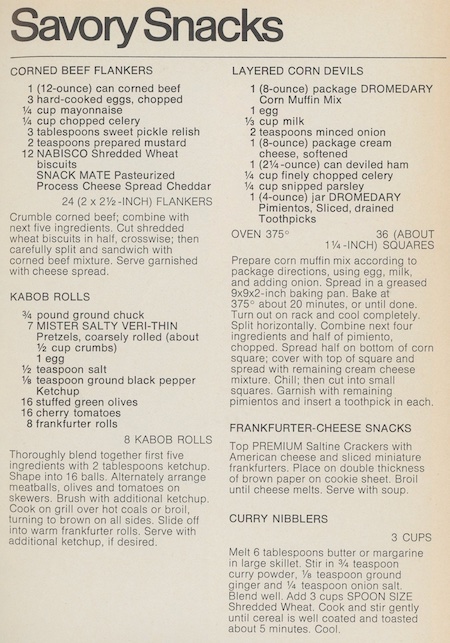 Sweet Snacks include Coconut Orange Dreams (stacks of three vanilla wafers layered with frosting – count out those 54 Nilla Wafers!) and Apricot Coconut Pixies.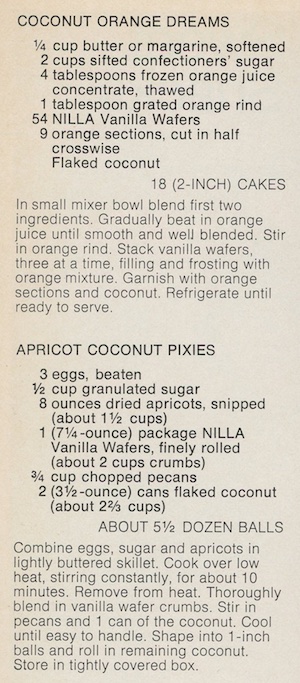 Below is "Shimmering Party Pate", with a cream cheese-liver pate mixture embedded in jello: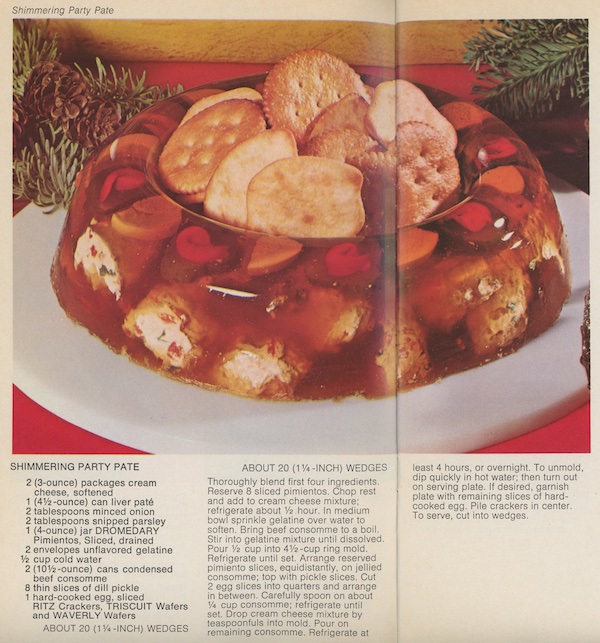 Cheese Neapolitan, pictured below, has 3 layers. The bottom layer is cream cheese and Parmesan cheese colored with tomato paste, the middle layer cream cheese and ricotta cheese, and the top layer cream cheese and Bel Paese cheese covered with parsley.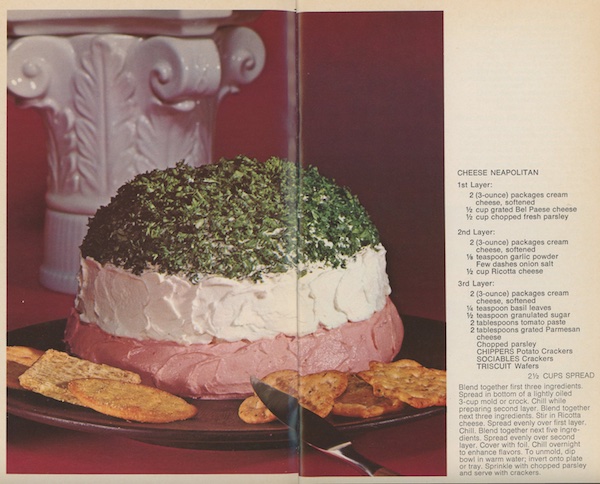 And one more, Curried Chicken Tidbits.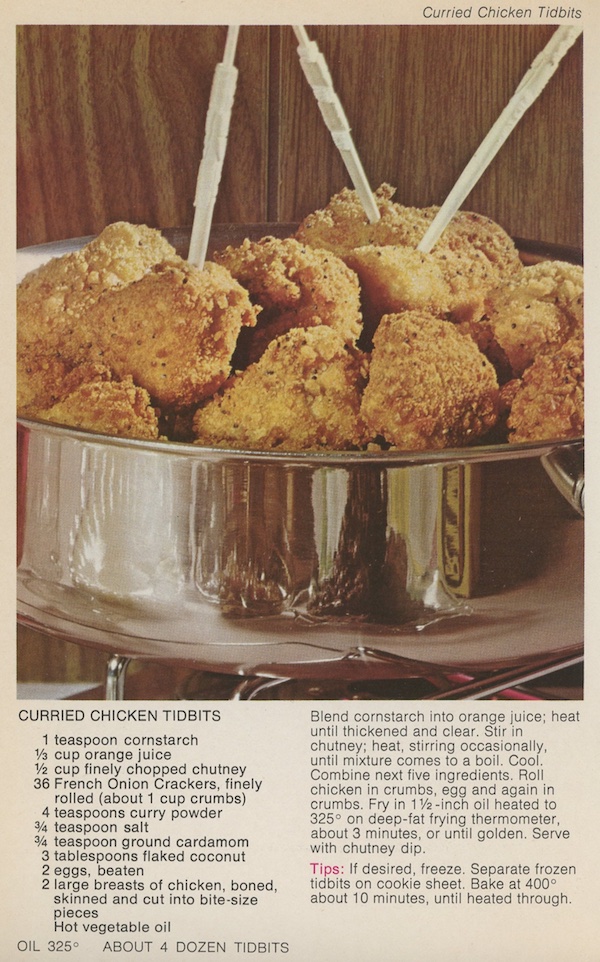 I decide to make "Cuke 'N Tuna Rounds" for this blog: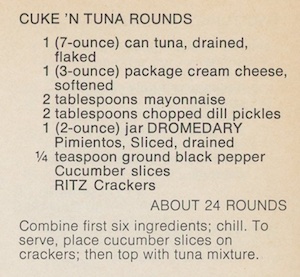 Mine will not be "round", because I don't have Ritz crackers in the house. Maybe Nabisco Triscuits? I have a box of those. (In the end, I leave out the crackers altogether.)
I would (if I had them) substitute fresh red bell peppers for the canned Dromedary Pimientos. I covered pimientos in my post on the Encyclopedia of Cookery, Vol. 9. Here is a quote from me:
"Pimientos are red bell peppers. It is interesting that red bell peppers are actually green bell peppers that have reached a further state of maturity. The pimiento variety of bell peppers are heart-shaped and very sweet. You can find them canned in the markets, often in small glass jars. I usually substitute fresh red bell peppers for pimientos in recipes."
In my opinion, red peppers have more flavor than expensive, hard to find canned pimientos.
Tuna these days comes in 4- to 5-ounce cans (at least that is what I had in my cupboard), so I down-sized this recipe.
1 5-ounce can tuna, drained
2 ounces cream cheese
1 1/2 tablespoons mayonnaise
1 1/2 tablespoons chopped dill pickles
1-2 tablespoons finely diced red pepper (I left this out)
1/4 teaspoon pepper
cucumber slices
crackers of your choice (I left these out)
Combine the tuna, cream cheese, mayonnaise, pickles, red pepper, and pepper. Chill. To serve, place a mound of tuna mixture on a cucumber slice. It would be good with crackers beneath the cucumbers too, but I left those out.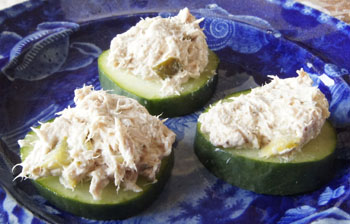 We enjoyed these. In fact, it was our low-carb lunch on a picnic with our grandson to Meadow Park in Lyons. For us, it was "lunch" rather than a "snack"!
For now, I am keeping this cookbook. It's fun to look through old recipes.