Cookbook #183: Extra-Special Crockery Pot Recipes, Lou Seibert Pappas, Bristol Publishing Enterprises, San Leandro, CA, 1975. A Nitty Gritty Cookbook.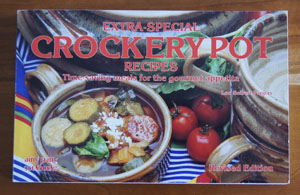 I have 10 crock pot/slow cooker cookbooks! Crazy. I discussed the history of crock pots in a previous post: The Electric Slow Cooker Cookbook.
Extra-Special Crockery Pot Recipes is similar in design and layout to The Bread Machine Cookbook II, another "Nitty Gritty Cookbook". These books are all about recipes – cleanly laid out and easy to follow.
I find lots of different ideas to try in Extra-Special Crockery Pot Recipes. The soups chapter includes the basics (French onion soup) and the slightly exotic (Caldo Xochitl). Next is salads. Salads in a slow cooker? At first I thought: cooked salads? But no, the recipes are for regular lettuce-type salads including leftover slow-cooked chicken or beef. I am often looking for "main dish salad" recipes in the hot summertime.
I'm not tempted by any of the recipes in the fish chapter – fish generally needs only a brief cooking. The poultry chapter includes the basics (poached chicken) and the unusual (Chicken and Cherries Jubilee). "Meats and Casseroles" has lots of ideas. It's the longest chapter in the book, and I like a lot of the recipes: a wide range from the basic (Meat Balls Stroganoff) to the unusual (Choucroute Garni).
"Breads and Cakes"? Why bake bread in a slow cooker? "There are sometimes occasions when you may prefer not to heat the oven or perhaps you are at a location without an oven, when having a crockery pot makes baking possible." I remember our relatively recent family reunion in California where the oven in the rental did not work, so we cooked a cake in the barbecue. But hey – we could have looked for a crock pot instead!
The fruits chapter gives recipes for cooked fresh fruit to be used in desserts or for breakfast. "Preserves" has a recipe for apple butter (already made it!) as well as orange marmalade and apricot pineapple jam and a couple chutneys. Beverages? Hot Spiced Cider, Swedish Glugg, and Hot Mulled Wine.
I decide to make Savory Swiss Steak for this blog. Wikipedia says "Swiss steak is meat, usually beef, prepared by means of rolling or pounding, and then braising in a cooking pot of stewed tomatoes, mushroom sauce, or some other sauce, either on a stove or in an oven." That's a pretty broad definition – and the recipe in Extra-Special Crockery Pot Recipes definitely falls within it. (I have made Swiss Steak for this blog before, but it was not a slow-cooked version.)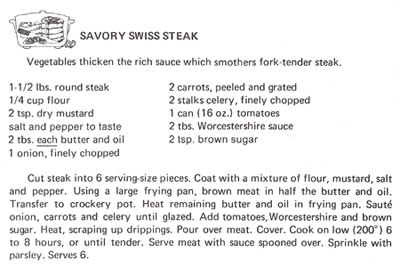 Round steak is a very lean meat (nice when you don't want a fatty gravy) but it can be flavorless or tough. Hopefully this recipe makes it tender and tasty! I think I've tried this recipe before, since this page was marked when I pulled the book off the shelf.
Slow Cooker Swiss Steak
serves about 4
1 1/2 pounds round steak
1/4 cup flour
2 teaspoons dry mustard
salt and pepper to taste
2 tablespoons butter (or less)
2 tablespoons oil (or less)
1 onion, chopped
2 carrots, chopped
2 stalks celery, chopped
1 16-ounce can diced tomatoes
2 tablespoons Worchestershire sauce
2 teaspoons brown sugar
fresh parsley (optional)
Cut the round steak into about 6 pieces. Mix the flour, dry mustard, and salt and pepper. Heat a frying pan and add half of the butter and oil. Dredge the steak in the flour mixture, then fry in the hot butter/oil until browned. (You might need to do this in a couple batches, it depends on the size of your frying pan.)
Remove the meat from the fying pan and put it in the crock pot. Put the rest of the butter and oil in the hot (now empty) frying pan, then add the onion, carrots, and celery. Cook until the vegetables are "glazed" or softened. Add the tomatoes, Worchestershire, and brown sugar; heat, scrapping up the fond. Transfer the entire mixture to the crock pot.
Cover and cook on low about 6 hours, or until the beef is tender. Serve over noodles, mashed potatoes, or rice, with some fresh parsley sprinkled on top (if you have it).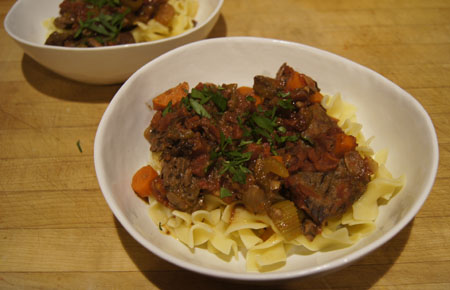 This was excellent! I will make it again. Very tasty and the meat was very tender. There was enough for two meals for the two of us (I froze half for later use).