Cookbook #158: American Pie Celebration, Volume II, Crisco, 1990.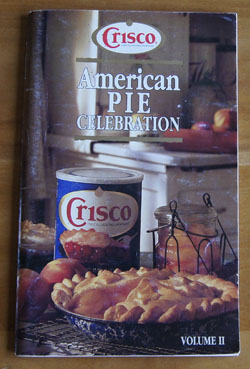 Short and sweet! This little booklet looks to be full of great pie recipes. Here is the intro page, and my mother's note of when she ordered this booklet and her comment "pies look great!"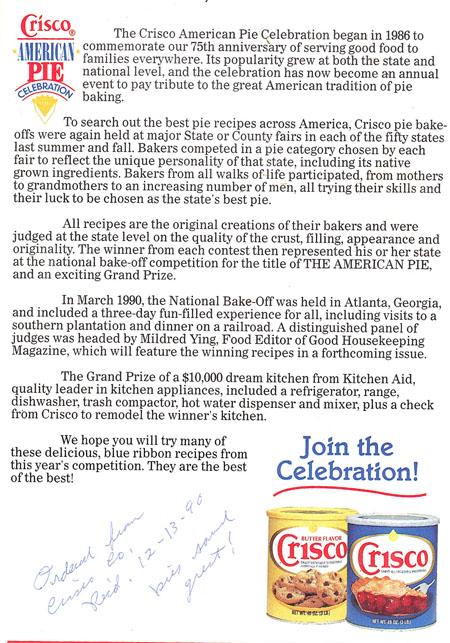 Mother obviously tried the crust recipe on page 6. She was probably honing her skills, since she made the best pie crusts ever.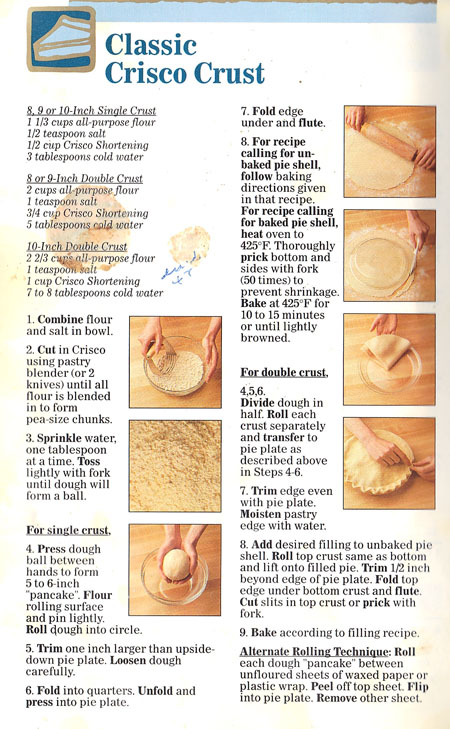 Mother didn't mark any of the pie recipes in this booklet, either as "good" or "don't make again". So I choose to make a strawberry rhubarb pie. So, short and sweet, here is the pie I'll make: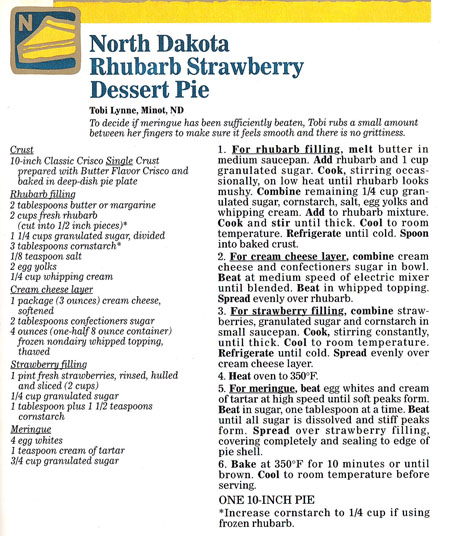 I had an easy dinner planned, so I made my pie crust in the morning, then settled happily in to prepare the filling in the afternoon. Boy, it was a lot of work, or at least, a lot of time! I washed my fresh organic rhubarb and cut it into half-inch pieces and filled my 2-cup measure (10 ounces). Then I put it in a saucepan and added the 1 cup sugar and heated. What? Where is the liquid? It's just rhubarb and sugar. I double-checked the recipe – yup, that's what they said! I kept heating on medium high heat until the sugar melted and the rhubarb released moisture and became mushy. Here is a photo after the cornstarch, egg yolks, and cream was added, and the mixture cooked to thick-ness: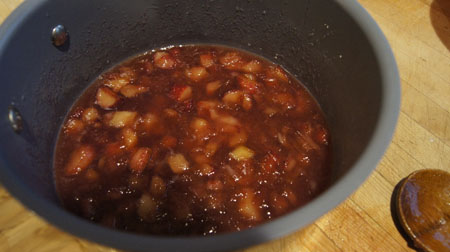 On cooling, it got a little thicker.
Here are the sliced strawberries. I had a 16 ounce package of strawberries; it took almost the entire package to fill the 2-cup measure.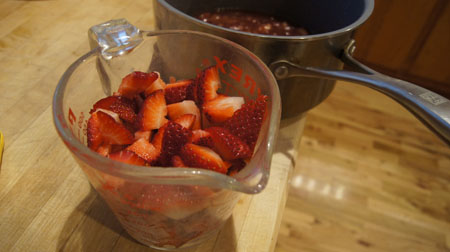 It didn't take long to cook the strawberries, sugar, and cornstarch: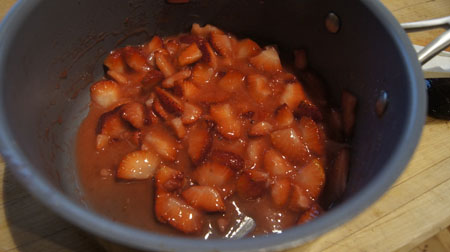 I mixed the cream cheese, powdered sugar, and Cool Whip. I whipped the egg whites and sugar and cream of tartar. Finally, I am ready to assemble the pie. Here are all the prepared mixtures: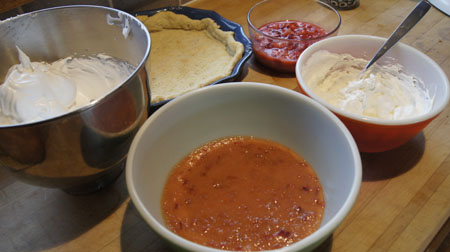 And here is the baked pie: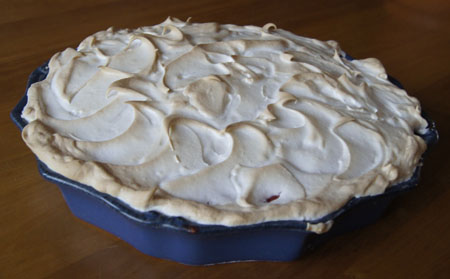 Looks beautiful, doesn't it? But it was a disaster when we cut our pie "slices". It was just a runny mess inside. Not at all like it was supposed to be. And I paid careful attention to each step! We ate our portions – it tasted sweet and fruity and definitely satisfied our sweet tooths. But I tossed the rest of the pie the next day.
This cookbook will be recycled!