Cookbook #167: Cookies, Cakes 'n Muffins, Kraft Kitchens, Chicago, Illinois, circa 1958.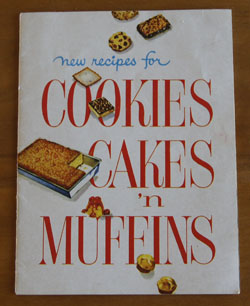 A mystery presents itself as I open Cookies, Cakes 'n Muffins. What is the publication date? All it says is "The Kraft Kitchens, Chicago, Illinois".
Sleuthing-me sets out on the internet. When did "Kraft" first emerge as a company name? Wikipedia tells me that James L. Kraft started a cheese business in Chicago in the early 1900s, and his brothers joined him to form "J. L. Kraft and Bros. Company" in 1909. By 1923, the Kraft brothers company was part of the National Dairy Corporation. In 1969, National Dairy changed its name to Kraftco Corporation. In 1976, its name changed to Kraft, Inc.
This all led me to think that since the booklet was produced by "The Kraft Kitchens", it must have been produced after 1976. But the illustrations are much older-looking than the 1970s era: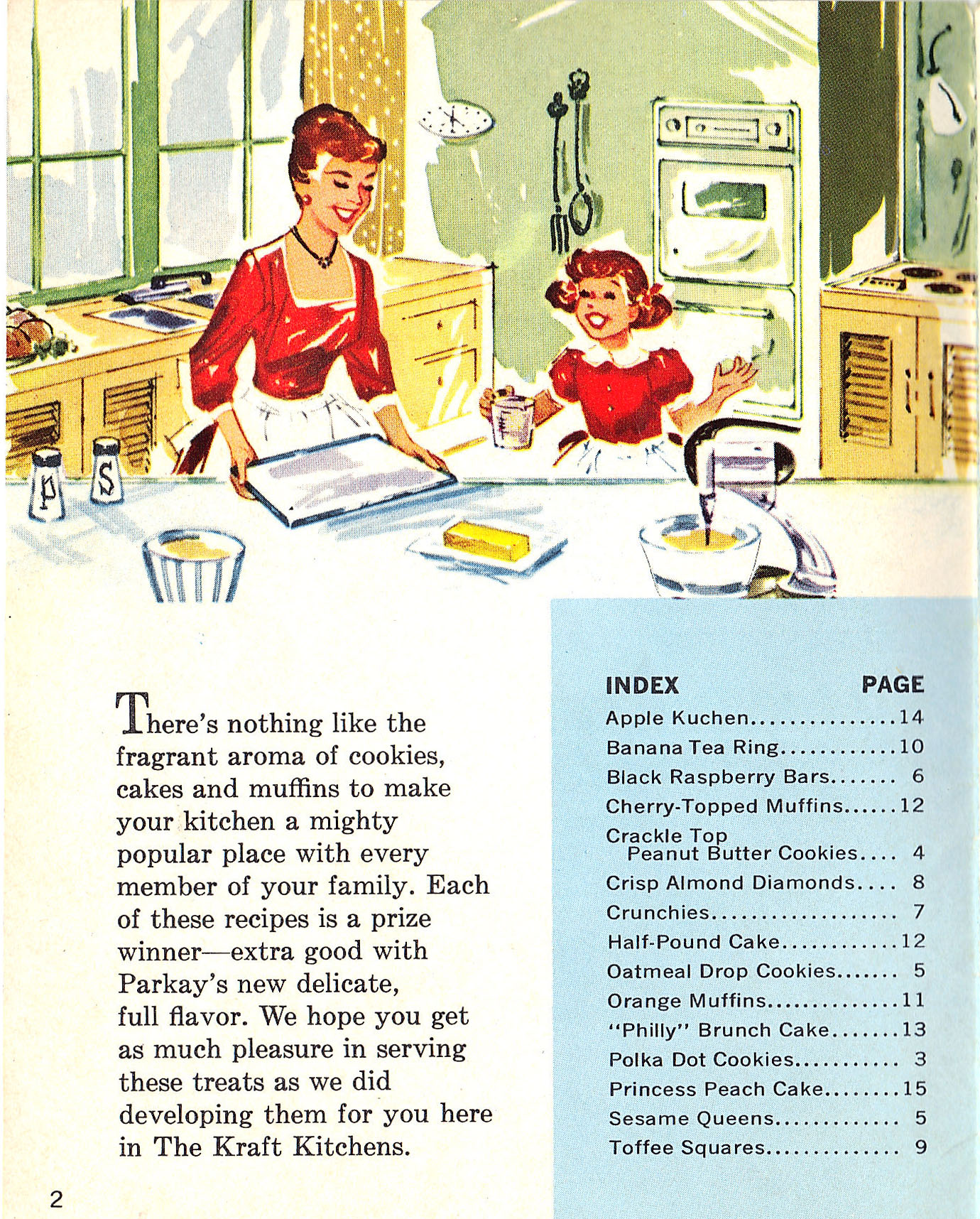 Kind of like the era of the TV show "Father Knows Best". A necklace and all dressed up as the mom works in the kitchen? Definitely the 50s or the 60s. ("Father Knows Best" ran from 1954 to 1960.)
Maybe the phrase "Parkay margarine" will help me figure out the date. No, that clue is no help. Except: the "butter" sales line of the 1973 commercial is not in this booklet. So my booklet must be before 1973.
(An aside: A famous 1973 commercial claims Kraft's Parkay tastes like butter: "A housewife looks at a square box of Parkay in her kitchen and says 'Parkay'. In a rather comical voice the box of Parkay says 'butter', they go back and forth until she tries a taste of it and she says "butter" so the square box of Parkay says 'Parkay!'")
Then this catches my eye:

Kraftco transferred to Glenview, Illinois, in 1972. So I think I am right that this cookbook is pre-1970s. But hey, there is no zip code in the address! Aha, a clue! When did zip codes become part of US addresses? Wikipedia informs me that zip codes were introduced in 1963, became mandatory for 2nd and 3rd class mail in 1967, and thereafter were soon adopted generally. Before zip codes, postal "zones" were used, thus explaining the "Chicago 90″ in the address."
Therefore, this booklet was definitely produced before 1963.
Whew. Now, to the cookbook contents: recipes. They are okay but pretty similar to recipes in other books. And, there aren't many. Also, I like to use butter rather than margarine. The only reason I might keep this cookbook is that it is "vintage".
I decide to make "Orange Muffins" for this blog. I will use butter instead of margarine, and cut down the amount of baking powder – 1 tablespoon just seems like too much! The recipe says it makes 12 muffins, but as I fill my muffin pan with batter to my usual "2/3 full" per muffin cup, 8 good sized muffins was all the batter allowed.
Orange Muffins
makes 8 good sized muffins, or 12 smallish ones
1/3 cup butter (use margarine if you prefer)
1/3 cup sugar
1 egg
1 tablespoon orange rind
1 1/2 cups flour
2 teaspoons baking powder
1/4 teaspoon salt
1/4 cup fresh orange juice
1/4 cup milk
Cream the butter and sugar, then add the egg and orange rind. Stir together the flour, baking powder, and salt. Combine the milk and orange juice. Add the flour mixture alternately with the milk-orange juice mixture, mixing well after each addition.
Fill muffin cups 2/3 full. Bake at 400˚ for 15-20 minutes.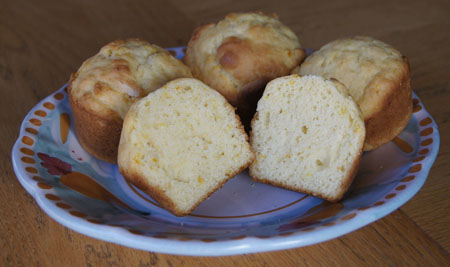 These are very good. Cake-like, but not too sweet for breakfast.