Cookbook #12: 1000 Vegetarian Recipes. Carol Gelles, Hungry Minds, Inc., NY, 1996.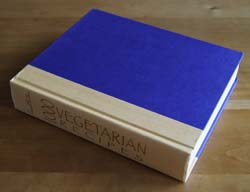 My daughter went through a vegetarian phase, and I believe that's when I acquired this cookbook. She or I bought it and it ended up on my bookshelf. I remember having to search for vegetarian entrees to serve when she came home to visit.
This is a good cookbook, a keeper. It is an ambitious work, one thousand recipes! But each recipe has a personal touch, none feel forced into being just because the author was trying to get to the designated number. Eggs and cheese are included in many but not all recipes. Appetizers, soups, entrees, side dishes, salads, breads, and desserts are all covered. These recipes incorporate a wide variety of grains and vegetables, and encourage me to branch out of my food comfort zone.
I decided not to choose an entree recipe to try for this blog. I cook for two, and my partner in eating likes his meat and potatoes. "Cabbage and Mushroom Curry"? No way. I have to save my favorite curry dishes for times when I have only myself to cook for. Would he eat "Szechuan Shredded Vegetables with Pressed Tofu"? No way. "Spinach and Dill Savory Bread Pudding"? No.
So I turned my focus to the side dish section of this cookbook. I found that it has an excellent section on whole and processed grains. Barley, kamut, millet, oats, quinoa, rice, rye, spelt, wheat, wild rice, bulgur, couscous, grits, cornmeal, buckwheat, and kasha are discussed, along with handy cooking tables. The recipes including these grains look tasty and interesting. Grains are among my favorite foods, and if I serve them with a serving of meat, I might get my dining partner to eat them too.
Although I'm choosing a side dish, I was tempted by many of the bread and muffin recipes. I plan to keep this book downstairs a while and explore it some more!
The recipe I am trying is "Quinoa with Shredded Vegetables". I keep quinoa on hand, but haven't cooked it very often. The vegetables are carrots, zucchini, and rutabaga. I haven't cooked a rutabaga in . . . well, maybe never! I have snuck parsnips into soups, but never rutabagas. I even had to look them up before I went to the store, so that I'd know what they look like. I'll just not mention to my husband what's in the dish. Shredded, who will be able to tell?
Here is the original recipe:

I made it just like the recipe. I used vegetable broth, but I didn't have any fresh or boxed on hand, so I dissolved a vegetable bouillon cube in a cup of water. This brought a lot of flavor to the dish, so I don't suggest using just water. And do use a rutabaga, it added a subtle, earthy flavor. I liked it more than my dinner partner, but since I served it with Fish Cakes, I was able to serve this interesting side dish and have a successful dinner.
Quinoa with Shredded Vegetables
1/2 cup quinoa
1 tablespoon butter
1/2 cup chopped onions
1 cup vegetable broth
3/4 cup coarsely grated carrots
3/4 cup coarsely grated rutabaga
3/4 cup coarsely grated zucchini
salt to taste
Put the quinoa in a bowl and cover with water, mix, then drain through a fine strainer. Do this about 4 times, or until the water no longer looks soapy.
Melt the butter in a medium saucepan over medium high heat. Add the onion and cook, stirring, until they are soft. (I always salt onions a little at this point, to sweat them.) This takes just a few minutes. Then add the quinoa and heat "until it makes popping sounds." [This may or may not happen. I've had dry quinoa pop, but cooked in butter just after rinsing, it is reluctant to give off any good "pops". Just stir the butter, onion, and quinoa mixture a few minutes, even if it doesn't pop.] Add the broth and bring it to a boil.
Add the grated vegetables, lower the heat and cover and simmer 15-30 minutes, until all the liquid is adsorbed and the quinoa is done (soft). You might need to add more broth if the liquid is adsorbed but the quinoa is not yet done (I needed to).
The grated vegetables are pretty: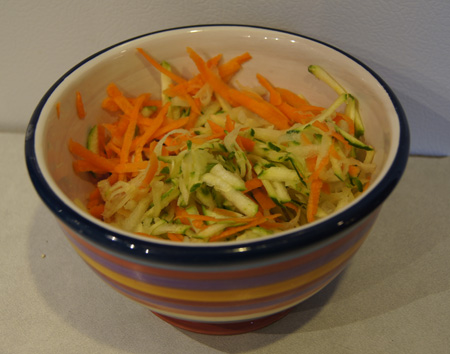 And here is the completed dish: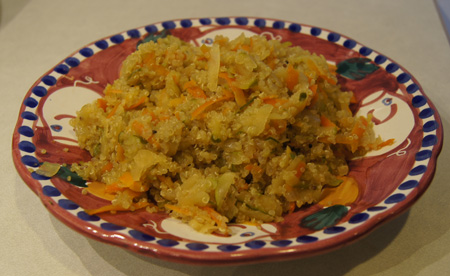 I liked this, and will make it again!