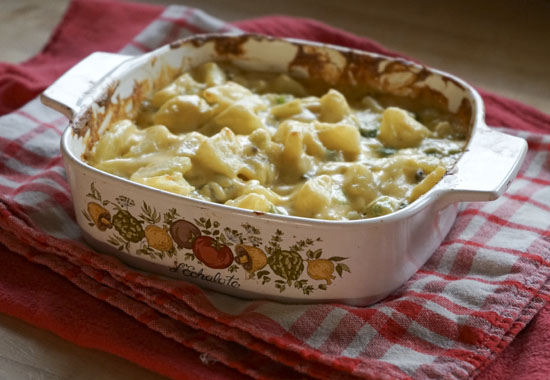 Weekends in my youth were often spent with our grandparents and aunts and uncles and cousins. Everyone would bring a dish to share, and we would gather around a cozy table and laugh and talk and enjoy the food. The kind of event we just cannot do today in pandemic times. But I have my memories.
Much of the food was fifties-style casseroles. Canned soups and sour cream were very popular ingredients in these casseroles, as in this one for Cheese Potatoes. It's on another one of the seven recipe cards I pulled out of my old recipe box a few weeks ago.
Next to the recipe title is "Werdie" in parentheses. That's my Aunt Werdie. She was the youngest of my father's three sisters, and the one I knew best, the one I called "my favorite aunt". Werdie's given name was Werdna, which is Andrew spelled backwards – Andrew was my grandfather's name. She lived to her late nineties and kept her mind and her pluck to the end!
So today I'll make these memory-filled, comfort-food Cheese Potatoes. And enjoy every rich bite!
Cheese Potatoes
10 medium potatoes, boiled and chopped into 1/4-1/2 inch chunks
1 can cream of mushroom soup
1 1/2 pound sharp cheddar cheese
1/2 cube butter (4 tablespoons)
1/4 cup chopped green onion
1 pint sour cream
Melt butter, add cheese and soup. Add to the potatoes along with the onions. Fold in sour cream. Bake at 350˚ 45 minutes.
Note: For the two of us, I made one-third of a recipe and baked it in an 6×6-inch pan. I had leftovers – no problem!