Cookbook #198: The Heinz Book of Meat Cookery, H. J. Heinz Company, Pitsburgh, Penna., 1937.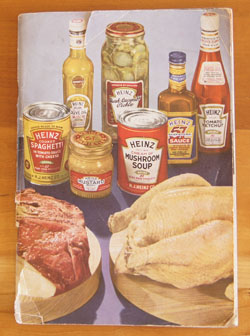 Wow, this is another vintage booket! I didn't have the publication date – 1937 – entered in my cookbook database so I thought it was one of my mother's 50s-era booklets. And I thought it was missing the cover. But I found the publication date when I carefully searched the booklet, and by comparison with photos online, I find this booklet is not missing the cover. Here it is laid open, with both front and back covers showing: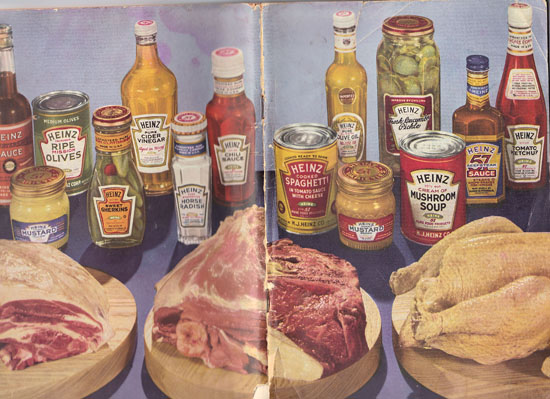 Henry J. Heinz established the Heinz company in 1869. In 1937, 68 years later, this excerpt from The Heinz Book of Meat Cookery shows that the company is proud of its reputation: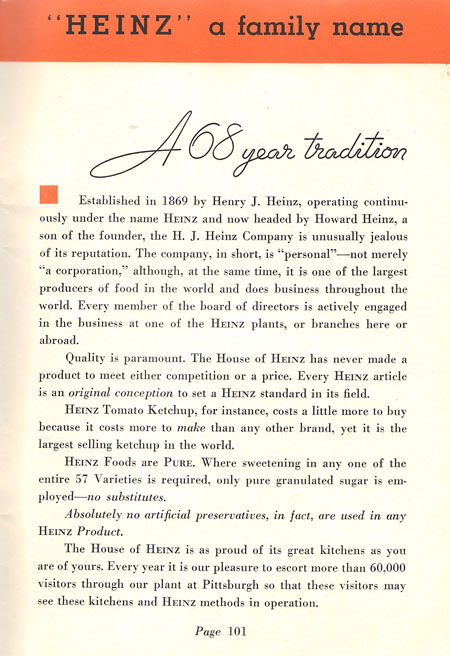 Note: "Heinz Foods are Pure. Where sweetening in any one of the entire 57 varieties is required, only pure granulated sugar is employed – no substituties. Absolutely no artificial preservatives, in fact, are used in any Heinz Product."
Sounds like today's natural food claims. Let's see, does the bottle of Heinz ketchup (I always choose Heinz ketchup!)  in my cupboard still lives up to this claim? Judge for yourself – here is the list of ingredients for Heinz Tomato Ketchup ("grown not made"): tomato concentrate from red ripe tomatoes, distilled vinegar, high fructose corn syrup, salt, spice, onion powder, natural flavoring. No preservatives, but high fructose corn syrup instead of pure granulated sugar.
Heinz is one of the longest-running food companies in the US. (I've covered quite a few of the American brands because a large portion of my cookbook collection is manufacturer's cookbooks.) Established in 1869, Heinz remained a company under that name until 2013, when it was purchased by Berkshire Hathaway and 3G Capital, resulting in the Kraft Heinz Company. Accoding to Wikpedia, this company is currently one of the 5 largest food companies in the world.
Heinz brand products have a "57" on the label – the Heinz "57 Varieties" slogan. Excerpted from Wikipedia, accessed 2017: "Henry J. Heinz introduced the marketing slogan '57 Varieties' in 1869 [although over 60 varieties were offered at that time]. He later claimed he was inspired by an advertisement he saw while riding an elevated train in New York City (a shoe store boasting '21 styles'). The reason for '57' is unclear. Heinz said he chose '5' because it was his lucky number and the number '7' was his wife's lucky number. However, Heinz also said the number '7' was selected specifically because of the 'psychological influence of that figure and of its enduring significance to people of all ages'." Now, "57 varieties" is a general term for a mixed bunch, like a mutt dog.
The Heinz Book of Meat Cookery, 1937, lists these 57 varieties: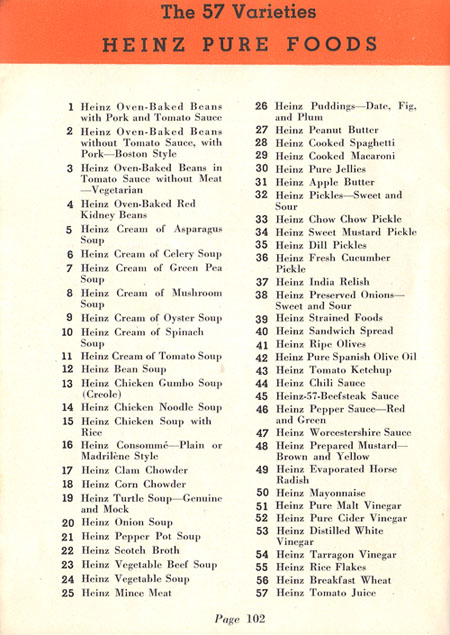 A good proportion of the varieties are canned soups. The "cream of" varities are asparagus, celery, green pea, mushroom, oyster, spinach, and tomato soups. (I think their "cream of tomato" variety is what we now call canned "tomato soup".) Other soups are chicken soups, clam chowder, turtle (!), onion, pepper pot, and vegatable beef. Only some of these soups are available today, and they are no longer Heinz brands.The above list also includes baked beans (several varieties), mincemeat, puddings, olives, cooked spaghetti and cooked macaroni, peanut butter, breakfast wheat, and jams. Most of items in the above list, except Heinz condiments: ketchup, chili sauce, steak sauce, mustard, and vinegar. (I only buy Heinz ketchup and chili sauce, and I keep them in my pantry at all times!)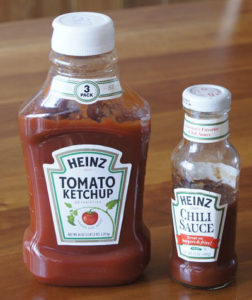 What to cook from this book? The recipes are not my style of cooking. Here are some typical examples (the notes on these are my grandmother's writing):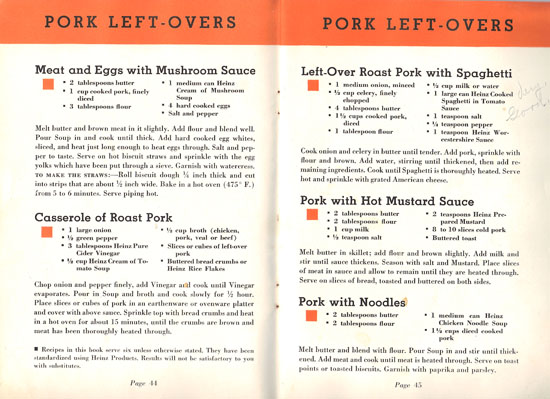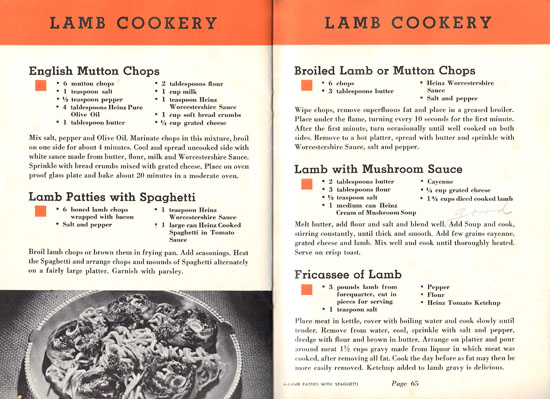 Note the "Left-Over Pork Roast with Spaghetti". It calls for "Heinz cooked spaghetti in tomato sauce". Even if I could find canned spaghetti, I would not make myself eat it.
Near the end of the book I find some sauce recipes: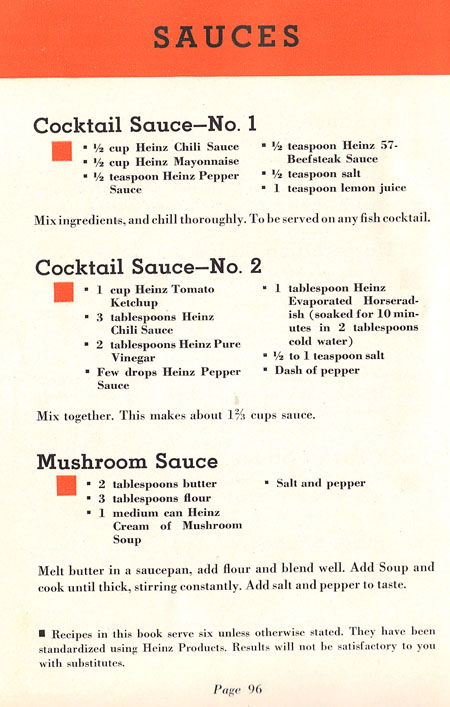 I like the "Cocktail Sauce–No. 2". This is how I usually make cocktail sauce, except I use lemon instead of vinegar (and I never measure anything!). I like to add a little Lea and Perkins Worcestershire sauce, a current Heinz brand, so I'll add a few drops. I'm not sure "evaporated horseradish" is available; I'll use prepared horseradish.
This is a good sauce for dipping shrimp. I don't keep bottled cocktail sauce in my pantry, because it is so easy to make. In the below version, I've halved the above recipe, and it made enough to dip about 2 pounds of cooked shrimp.
1/2 cup ketchup
2 tablespoons chili sauce
1 tablespoon vinegar (or use lemon juice)
a few drops of hot sauce (like Tobasco) or some cayenne pepper
1 tablespoon horseradish
a few drops of Worcestershire sauce
salt and pepper to taste
Mix all the ingredients. Taste, and adjust seasonings if desired.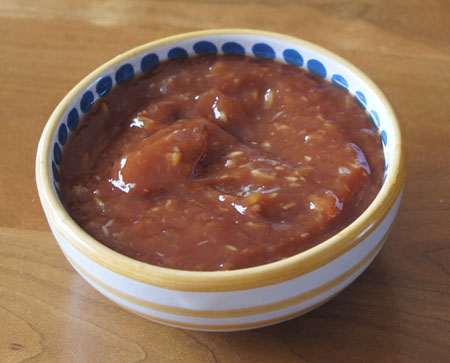 Yummy, as usual! Nice excuse to get some cooked shrimp from Whole Foods.
I'll keep this cookbook, but this time I will shelve it with my other "vintage" cookbooks!