This is a popular cookie, I'm sure lots of readers already have the recipe. It's another favorite from my childhood that I baked for my own kids, included in Christmas packages, and took to TA meetings. If you have never made these classic cookies, go out and get a package of Hershey's Kisses and start right now.
Peanut Blossoms
1/2 cup margarine
1/3 cup peanut butter
1/2 cup white sugar
1/2 cup brown sugar
1 egg
1 teaspoon vanilla
1 3/4 cups flour
1 teaspoon baking soda
1/2 teaspoon salt
chocolate kisses
Cream the butter and peanut butter. Gradually add the sugar and the brown sugar, creaming well. Add the egg and vanilla, beat well. Combine the dry ingredients, then mix them in gradually.
Shape dough into balls using a rounded teaspoonful for each. Roll balls in sugar and place on baking sheets. Bake at 375° for 8 minutes. Remove from oven. Top each cookie with a chocolate kiss, pressing down firmly so cookie cracks around edge. Return to oven; bake 2-5 minutes longer or until golden brown.
This recipe makes about 30-36 cookies: you might as well go ahead and double it and if you have too many, give them away or freeze them. Each 14 oz. package of Hershey's Kisses has about 90 kisses. Be sure to allow for kisses to be paid out to whomever you ask to unwrap them for you. [This is my note to myself in my personal recipe document.]
Update February 2014
I found this recipe in Cookbook #54: A Treasury of Bake Off Favorites, The Pillsbury Company, 1969 (blog entry). It may not have been the first time this recipe was printed, since this cookbook was a collection of favorite recipes from older cookbooks. But it's where my mother got the recipe, see her "delicious!" note: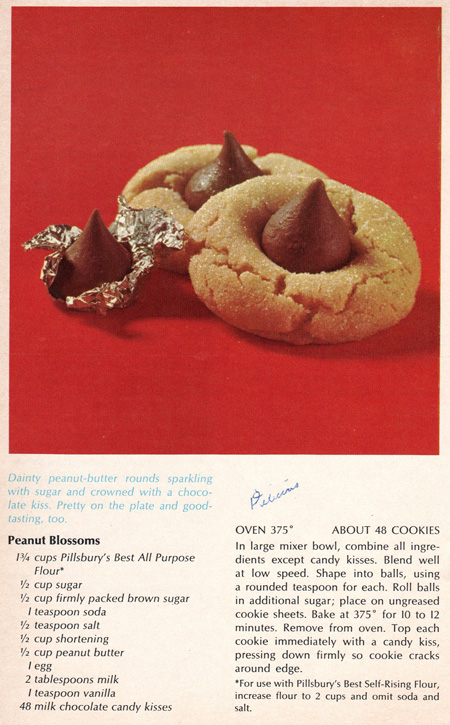 Please refer to my Cookie Recipe Basics to make sure your cookies turn out!
Read the introduction to my 1990s cooking blog for background information.