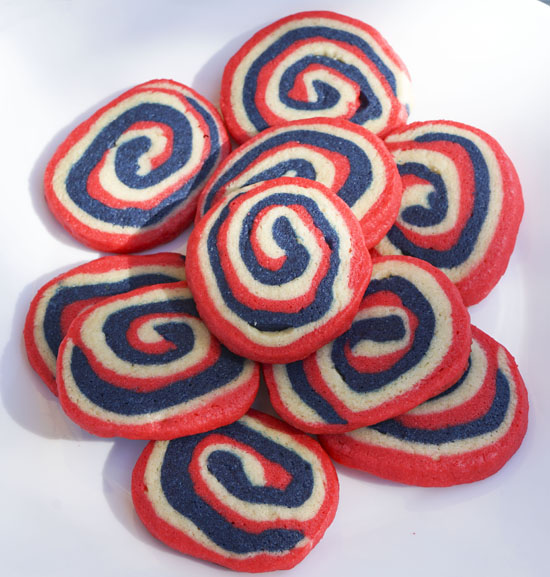 John and I spend most of our days in our home six miles from Lyons, just the two of rattling around in our big house and yard. That's why we got really excited when our daughter and her husband and two young children told us they were coming out for a CoVID-style visit on the Fourth of July. For a few hours, our social status will be raised from "isolation" to "distancing".
The six of us enjoyed the outdoors: on the deck, in the pool, in spaced chairs under the trees. We cooked hot dogs and had chips and cold beers and sodas. We had a grand old time!
For the kids (and the adults!) I made cookies and parceled them out in pre-wrapped small bags. These were not everyday cookies, no, they were colorful red-white-and-blue Fourth of July cookies!
These cookies begin with a really good buttery-sugar dough. Then you divide it into three parts and mix red food coloring into one and blue to another. I had a fun swirling in the colors! I used a lot of food coloring to get the colors dark.
Red, White and Blue Pinwheel Icebox Cookies
adapted from the recipe on the Just a Taste website
3 cups flour
1/2 teaspoon baking powder
3/4 teaspoon salt (use less if you use salted butter)
1 cup (2 sticks) unsalted butter
1 1/3 cup sugar
2 eggs
2 teaspoons vanilla
red and blue food coloring
Mix together the butter and sugar in an electric mixer. Add the eggs and vanilla and beat well, then add the flour, baking powder, and salt.
Divide dough into three portions. Leave one without food color, and add red and blue to the other portions, respectively. Use as much food coloring as it takes to get the colors you like, and I added a lot! I used the mixer to beat in the food coloring, and cleaned the mixer in between.
Press each of the three colors into a 4 x 4 inch square and cover with plastic wrap. Refrigerate for 30 minutes.
Rolling:
Take a 4-inch dough square and cut it in half, producing 2 rectangles. Do this with each color (blue, red, plain), so you have 6 rectangles.
Create 12 pieces of wax paper, each about 8 x 12 inches. Take rectangle of dough and put it between two pieces of wax paper, then roll the rectangle to about 6 x 10 inches (aim for ⅛ inch thick). The dough is such that you can move it around to make a true rectangle. You will have 6 rectangles between wax paper: 2 white, 2 blue, 2 red.
Take a red rectangle, still in the wax paper. Carefully pull the top layer of wax paper off. Peel the wax paper off one side of the white dough and lay it on top. Remove the wax paper.
Grab a blue rectangle and put it on top in the same way.
You can nudge the dough around a bit to get the sides of the colors to match. You may want to lightly roll the doughs to press together.
Start at the longer end of the rectangle and roll up. You will have 2 rolls. Refrigerate about 4 hours, then take them out and roll on the counter so they are round and not square.
Refrigerate again until you bake the cookies.
Slice the roll into ¼ inch thick cookies. Bake 10 minutes on parchment at 350˚.