Cookbook #242: My Party Book of Tested Chocolate Recipes, General Foods Corp. – 4012, USA, 2nd Ptg., 1938.
1938. It's amazing this vintage cookbook has lasted this long! One tear in the front cover is the only flaw. I open to the first page:
"Now what can I serve that everyone likes?" you ask yourself when you plan party refreshments. And if you decide on "something chocolate" you're sure to be right. For Chocolate is America's favorite flavor.
As a true American, I do love chocolate, and would love to try every recipe in this cookbook!
Here's the rest of the first page: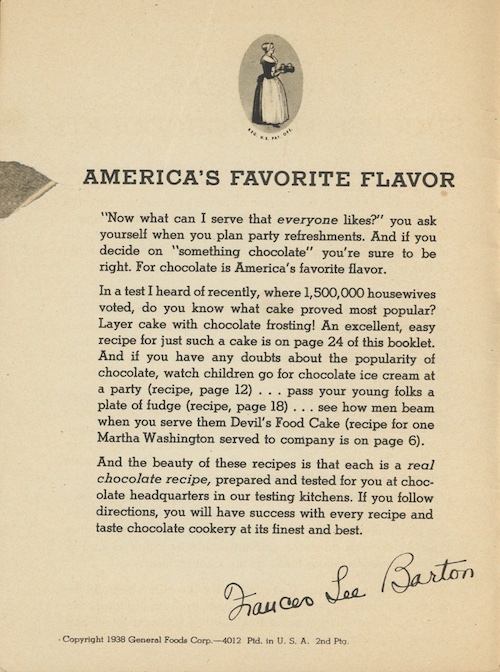 "How to have success with chocolate" is the second page: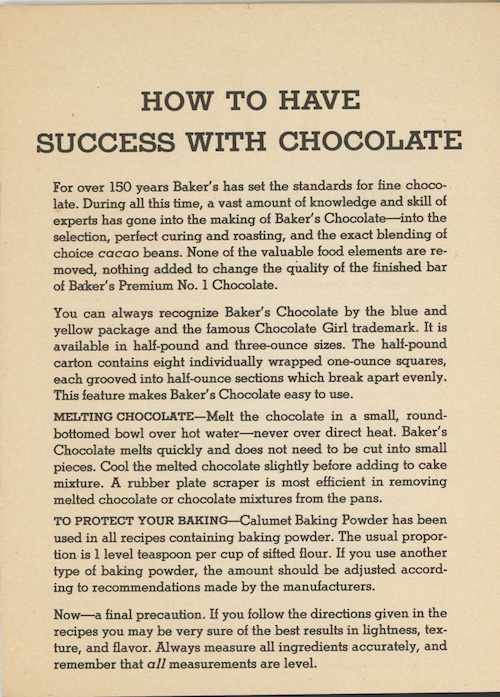 "For over150 years Baker's has set the standards for fine chocolate". Since this book was published in 1938, that  means Baker's Chocolate was formed in 1788 or earlier. Let's check. I pull up Wikipedia's entry for Baker's Chocolate. In 1764, John Hannon and Dr. James Baker of Massachusetts began a business importing cocoa beans from the West Indies. Dr. Baker took over the company in 1780, when Hannon did not return from a sailing trip. Baker renamed the company "Baker's Chocolate". So, the claim is correct. Chocolate itself was discovered in meso-America (Wikipedia's History of Chocolate). The Americas had chocolate before Europe – sometimes I forget that!
The "How to have success with chocolate" page in My Party Book of Tested Chocolate Recipes also asserts "None of the valuable food elements are removed, nothing added.". My current package of Baker's baking chocolate lists "chocolate" as the sole ingredient. And today's package has a nutrition label, so I can check the 1938 claim that it has valuable food elements: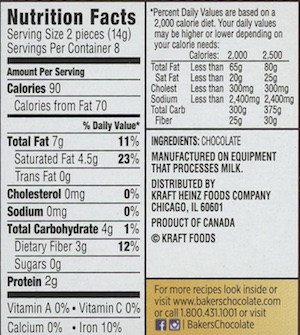 From the above label, we can see that one-half an ounce  of baking chocolate has 90 calories, 78% from from fat, with a small amount of dietary fiber and 2 grams of protein. No vitamin A or C, no calcium, but some iron. Valuable food elements, yes, I guess. But nowadays – unlike 1938 – chocolate, especially dark chocolate, has been found to be chock-full of trace nutrients and antioxidants and more, as in this article on HealthLine.
I learn from a web search that baking chocolate (unsweetened chocolate or bitter chocolate) is cooled, hardened chocolate liquor, which is melted ground cocoa, and it contains between 50 and 58 percent cocoa butter. On the other hand, unsweetened cocoa powder has 46 grams of fat in one-half ounce, 50% from fat. It is made from roasted cocoa beans that are ground into a fine powder.
Baker's unsweetened chocolate is no longer sold in a "blue and yellow package" but the "famous Chocolate Girl trademark" is still on it. Today the package is yellow, orange, and brown. I included this package in the photo I took of the recipe ingredients, below on this page.
Ironically, my package also indicates that Baker's chocolate is now manufactured in Canada.
Just one more comment on the "How to have success with chocolate" page. Baking chocolate used to be sold in eight ounce packages, specifically, each package contained 8 individually wrapped squares of 1-ounce each. This is an important fact, since older recipes call for "1 square of baking chocolate". Current packages are not individually wrapped, but I will remember that "1 square of baking chocolate" means "1 ounce". (This fact is also on the currently-sold packages of Baker's baking chocolate.)
Where did I get this cookbook? I think I got this from my mother's collection, or perhaps it was my grandmothers. No recipes are marked. Today I find it available on several online used-book stores for about 3 dollars. And, full text is available on the Hathitrust website.
Here are some examples of recipes.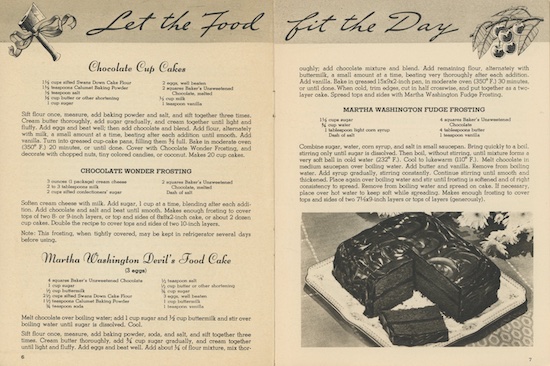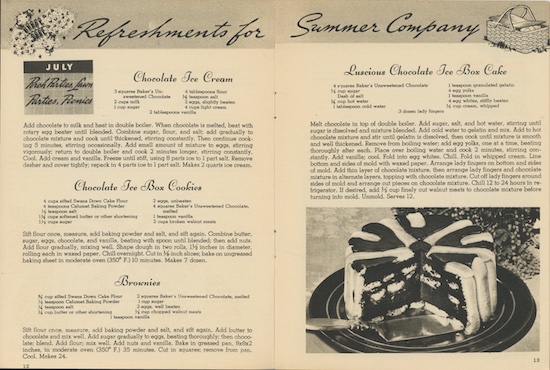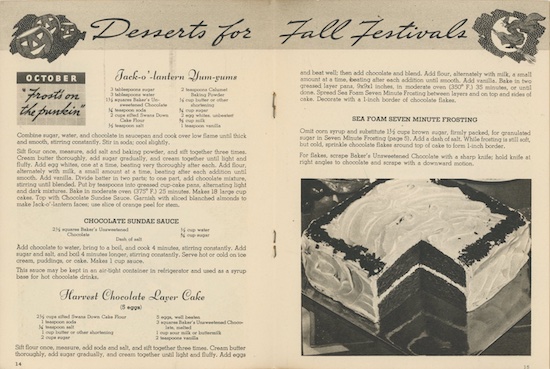 I decide to Chocolate Sundae Sauce for this blog.

This ought to be a good project for my 4 year old grandson to help me with. He loves mixing things! Plus it will be special to have homemade sundae sauce over ice cream for a simple dessert for all of us.
Chocolate Sundae Sauce
1 cup sauce
2 1/2 ounces unsweetened baking chocolate
3/4 cup water
1/2 cup sugar
dash of salt
Put the chocolate and the water in a sauce pan. Bring to a boil and cook 4 minutes, stirring constantly. Add the sugar and salt and boil 4 minutes longer, stirring constantly. Serve hot or cold over ice cream.
We get all the ingredients together: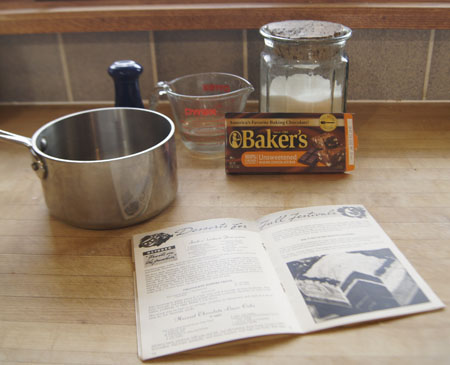 Here's my helper, doing the stirring chores!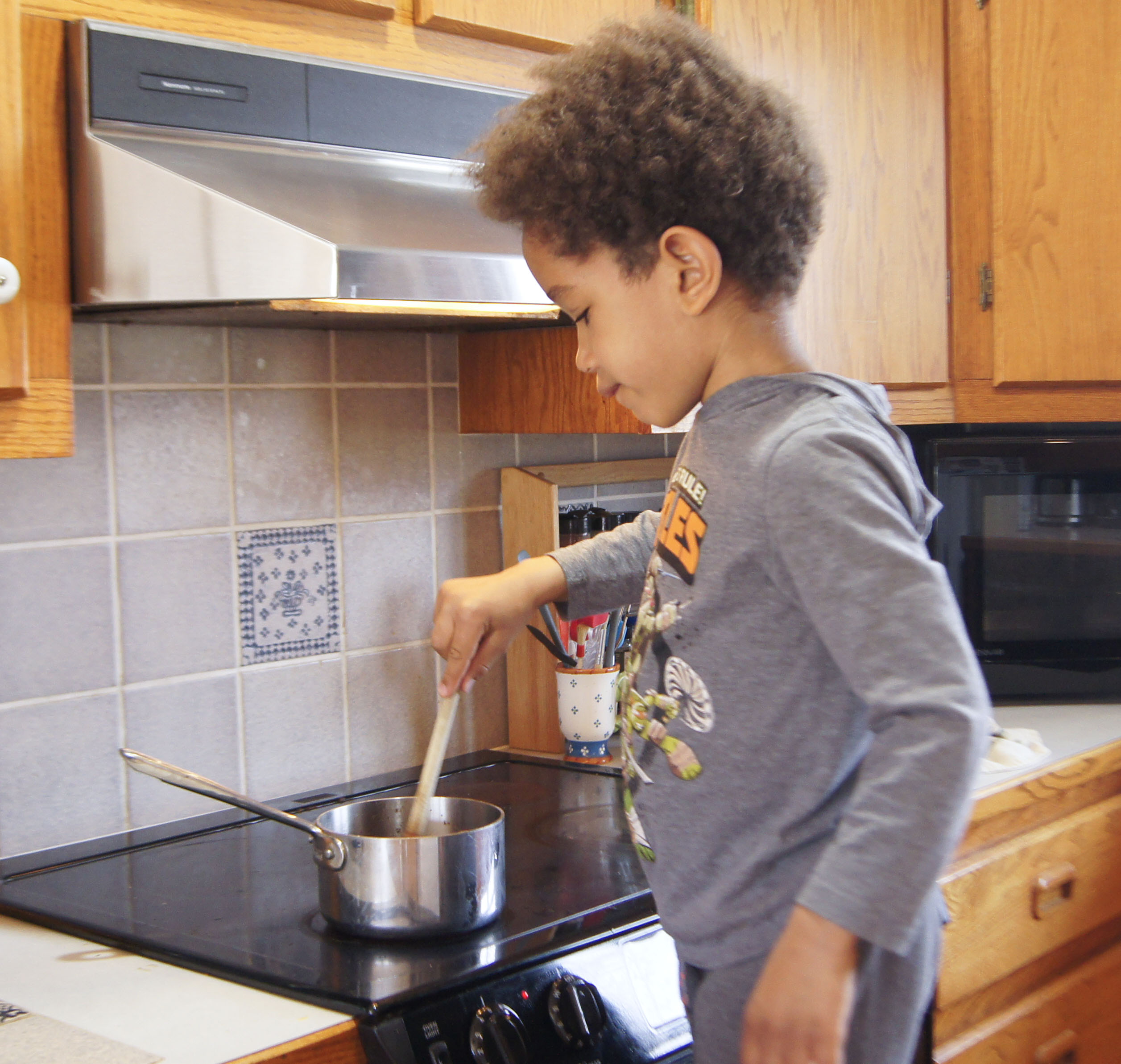 Later, after dinner, we enjoyed the sauce over vanilla ice cream and berries.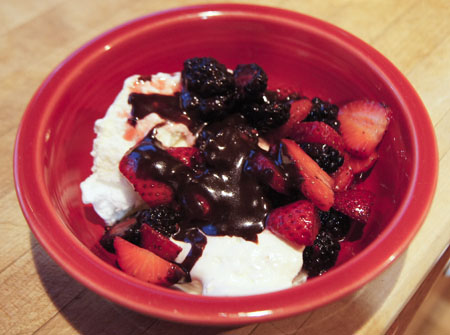 Yum yum yum! It was pretty special to have our own homemade sauce.
This sauce will store – we had a little left over. The next day it was stirrable at room temperature, but pretty thick, and would not pour unless heated. Not a real problem, just heat in a microwave oven – a convenience that was not available in 1938.
Below are scans of the front cover, back cover, and the inside-back cover.