Banana sauce is a Phillipine condiment made from sugar, banana, salt, and spices. It's a lot like ketchup but has a nice little kick. According to Wikipedia, Filipinos use it on about everything. They also state "banana ketchup was made when there was a shortage of tomato ketchup during World War II, due to lack of tomatoes and a comparatively high production of bananas." The banana sauce I bought tastes like a zingy ketchup.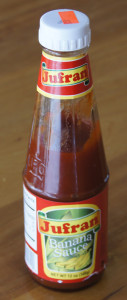 Bean sauce is made from soy beans, sugar, salt, wheat flour, and sesame seed oil. According to the Cook's Thesaurus, it is also known as bean sauce, bean paste, or brown bean paste.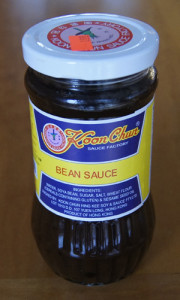 Hoisin sauce is a bean sauce that is both sweet and garlicky. I can find hoisin sauce in just about any large market in Colorado. Like American ketchup, each brand tastes a little different. I have a feeling that the versions I buy are quite Americanized. But pick some up sometime, and try it in my Moo Shoo Turkey, or add it to barbeque sauce, use it on steaks, add to a stir fry. (See the Cook's Thesaurus too.)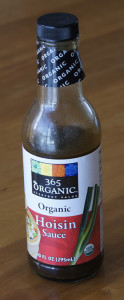 Hot bean paste, an Asian ingredient, can be hard to find. I looked for it at Safeway and Whole Foods but could not find it. I saw hot chile paste and black bean garlic paste. Finally I went to the local Asian market and found a large can of hot bean sauce: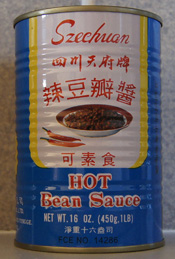 I bought it and brought it home (it cost $2.79). But I worried that it was not the correct ingredient. Luckily, The Cook's Thesaurus has put up a great page explaining the different Asian condiments. Accessed 2012, this quote:
"chile bean paste = chili bean paste = chili bean sauce = chilli bean sauce = bean paste with chili = hot bean paste  Notes:  This reddish-brown sauce is made from fermented soybeans and hot chilies.  It's very hot."
From that great equivalents list, I feel confident that I found the right ingredient.
Red curry paste is listed as "red curry paste = nam prik kaeng daeng" on the same Cook's Thesaurus web page. I found it recently (2012) at either Safeway or Whole Foods in a small jar.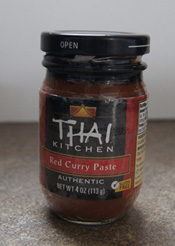 Years ago I found it in bulk at an Asian market in Denver. That was right after I took the "Thai One On" cooking class. In class, we made this paste, but that recipe has 16 ingredients, including possibly hard-to-find lemongrass, galangal, coriander root, kaffir lime zest, and shrimp paste. I'm happy with the little jar above!
Sweet and Sour Sauce is a condiment that all Americans who have ever visited a Chinese restaurant are familiar with. The flavors of this sauce vary a lot depending on the brand you purchase. Or you can make it yourself using one of many recipes available on the internet (for instance, this one on the AboutFood.com site.)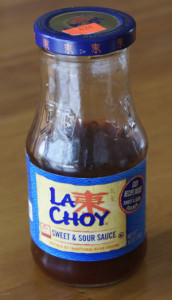 Plum Sauce is also known as Chinese duck sauce, Chinese plum sauce, or duck sauce. According to the label, it is made from salted plums, sugar, vinegar, and peppers. You can make it at home using the Recipe Source's recipe – that recipe uses both plums and apricots.