If my eyes fall upon the bottle of hoisin sauce in my refrigerator, I think of Moo Shoo Turkey and get a hankering to make this for dinner. Moo Shoo Turkey is really just a stir fry in a flour tortilla, why do I like it so much? Dunno. I included it on the short list of main dishes in my 1990s blog, and I still make it today, in 2013. I am not sure where I got the original recipe, must have been from a magazine or newspaper. It is low-fat, and tasty. It takes a little while to pull together the ingredients, so I won't say it's really "simple". But it's worth it.
Hoisin sauce is a "sweet and garlicky bean sauce" (Cook's Thesaurus). I find that different brands taste quite different. I have found it at the Asian Seafood Market, Safeway, and Whole Foods (my current brand). It's essential for this dish.
I sprouted mung beans to make the bean sprouts for this dish. Why? Because I could. Also, I often find that supermarket bean sprouts (1) come only in a large package and (2) are often slimy by the time I go to use them. If you are in Boulder, though, you can drop by the Asian Seafood Market and buy just the right amount of very fresh bean sprouts, as she sells them in bulk.
Photography: I'm finding that cooked entrees often take terrible pictures. So I'm trying something new, a photo of the ingredients for this dish. They take a pretty picture: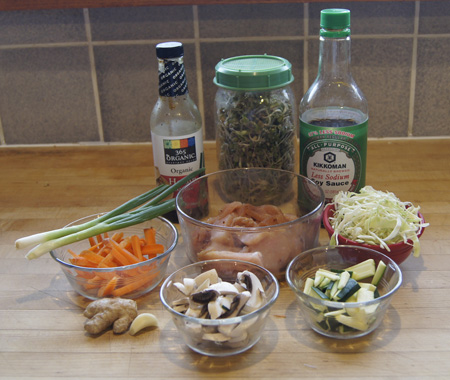 Moo Shoo Turkey
serves 2 (depending on appetites)
Combine and marinate at least 30 minutes (can marinate all day):
3 tablespoons soy sauce
1 tablespoon lime juice
dried hot peppers (a few shakes)
12 ounces raw turkey breast, thinly sliced
Prepare/gather:
1 clove garlic, minced
1 teaspoon grated or minced fresh ginger
1 carrot, julienned
1 cup shredded cabbage
1/2 zucchini, julienned
several mushrooms or shitake, sliced
1 tablespoon soy sauce
1 cup bean sprouts
chopped green onions for garnish
hoisin sauce
3 flour tortillas
Stir fry the garlic, ginger, and carrot for a couple minutes on medium-high heat (use as little oil as possible). Then add 2 tablespoons of water to the pan, cover, and cook for 1 minute.
Uncover the pan and add the cabbage, zucchini, mushrooms, and the 1 tablespoon soy sauce. Cook a few minutes, until the vegetables soften. Then remove the vegetable mixture from the pan and set it aside in a bowl.
Add the turkey with its marinade and cook until the turkey turns white and liquid is slightly reduced. This will take 5-10 minutes.
Add the vegetable mixture back to the turkey mixture in the pan and add the bean sprouts too. Heat through – just a couple minutes. Sometimes I thicken this mixture with 1-2 tablespoons cornstarch mixed with 1/4 cup water.
Spread flour tortillas with 1-2 tablespoons hoisin sauce each. Microwave them a few seconds to heat and soften, then add the turkey-vegetable mixture and some chopped green onions. Serve immediately.
I'm kind of generous with the hoisin sauce: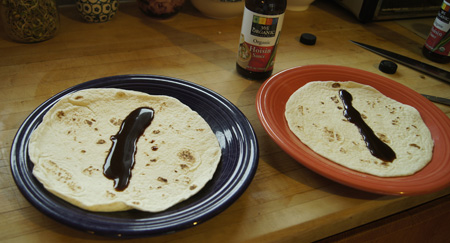 This looks kind of lonely on the plate. I often serve it with Chinese-style stir fried rice.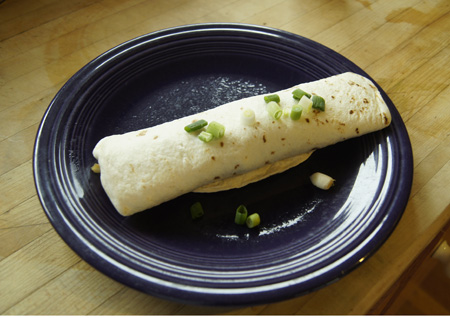 Lonely or not, Moo Shoo Turkey was great once again!