Cookbook #1: Cooking Light Cookbook 1992. Published in 1992 by Oxmoor House.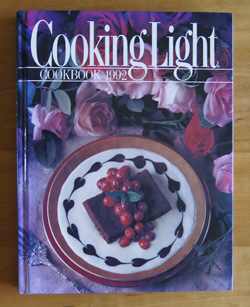 This 1992 cookbook gathers several hundred recipes from the magazine Cooking Light. (The magazine is still in publication in 2012.) The recipes include appetizers, breakfasts, breads, main dishes, and desserts. All are slanted towards a low-calorie, low-salt diet.
I am determined to report on one recipe from each of my cookbooks, and I am determined to follow each recipe as exactly as possible. Even if I don't like the cookbook. Even if I would rather substitute ingredients or amounts. Even if the recipe turns out to be a disaster. This is probably unlike any other cooking blog you will see. Just wanted to state that before I get going.
Okay, Cooking Light Cookbook 1992. I could not find a single recipe in the book that I really wanted to make and for which I had all of the exact ingredients, and I have a brimming pantry. Listen to this partial list in one of its recipes: "3 tablespoons chopped fresh sage, 1 teaspoon white wine Worcestershire sauce, 3 tablespoons vodka." I have a black thumb, so any "fresh sage" would have to be harvested wild from the weeds around my house (or purchased for this one recipe from a store). "White wine Worcestershire sauce", who the heck keeps that on hand? If I could find any buried on a back shelf, I'm sure it would be way past its expiration date. And vodka? 3 tablespoons? I don't keep vodka in the house because it would call to me. Or if I bought a bottle and used 3 tablespoons, the rest would probably go into the cook and then who knows how the dinner would manifest.
Here are more examples of recipe ingredients in this cookbook:
red currant jelly
Montrachet goat cheese
1 tablespoon frozen orange juice concentrate, thawed
low-sodium Worcestershire sauce
low-sodium soy sauce
low-sodium chicken broth
reduced calorie mayonnaise
skim milk
no salt added tomato sauce
The red currant jelly is not used in many other recipes, meaning one would have to purchase it specially for that recipe and then figure out what to do with the rest. Why specify Montrachet goat cheese? What do you do with the rest of the can of the concentrated orange juice? Why bother with low-sodium Worcestershire sauce when it is usually only used by the teaspoon in a recipe? And as to the low-sodium and low-fat products, yes, they might make a difference. But it is tiring seeing "low-fat-low-salt" listed in every recipe. Why not just state once in the introduction: "Always choose low-salt ingredients when possible" and leave it at that?
Why did I buy this cookbook? Probably to get ideas for low-calorie meals. It's an ongoing battle for me, to eat good food but not gain weight. I probably incorporated many ideas from cookbooks like this one into my own cooking and shopping practices. Yes I keep low sodium soy sauce in my pantry, yes I use low-sodium chicken broth (homemade). But the  book talks ad nauseam about how we can all benefit from adopting a plan of good nutrition and exercise to bring about a healthier lifestyle. Yes, we hear this a lot. Some cookbooks deal with it better than others. This one is a bit irritating.
Would I use or read this cookbook again? Maybe. I might check it for an idea for a main or side dish or how to lighten up a dessert recipe, but not much else, and I would not follow a recipe exactly. The cookbook is dated, but not dated enough to be "interesting". It may go into the recycling bin. (Hey, it's selling for $1.99 on Ebay!)
One plus for this cookbook. A couple decades ago, I must have perused this book a lot, because I tucked a lot of light-style clipped recipes into it. One of those is "Stir Fry Shrimp Salad". That one is a keeper, with orzo, shrimp, broccoli, and mushrooms in a cool summer salad. Ask me for the recipe, it's yours.
I decided to try Sweet-and-Hot Scallops because I had some scallops in the freezer and I thought the mix of pineapple and vegetables sounded interesting. And hot bean paste, what's that? An unusual ingredient for a 1992 American cookbook, for sure. I had some trouble finding it in a store (details) but it was a fun search.
A second plus for the cookbook. We liked the following recipe!
Recipe: Sweet-and-Hot Scallops
4 stars


Vegetable cooking spray
2 teaspoons peanut oil
1/2 cup diagonally sliced carrot
1/2 cup sliced onion
1 (8-ounce) can pineapple chunks in juice, undrained
6 ounces fresh snow pea pods, trimmed
1 pound sea scallops
1/4 cup chopped green onions
1/2 cup canned low-sodium chicken broth, undiluted
1 tablespoon cornstarch
2 tablespoons rice wine vinegar
1 tablespoon hot bean paste [see note]
1 teaspoon low-sodium soy sauce
3 cups cooked long-grain rice (cooked without fat or salt)
Coat a wok or large nonstick skillet with cooking spray; add oil. Place over medium-high heat (375˚) until hot. Add carrot, and stir-fry 1 minute. Add onion, and stir-fry one minute.
Drain pineapple, reserving juice. Add pineapple, snow peas, and water chestnuts to wok; stir-fry 1 minute. Add scallops and chopped green onions; stir-fry 3 minutes. Combine broth and next 4 ingredients; add to scallop mixture. Cook until mixture is thickened and thoroughly heated, stirring constantly. Serve over cooked rice. Yield: 6 servings (272 calories per serving).
Hot bean paste note: If you cannot find this, use any other very hot sauce you have, or chop up a teaspoon or less of fresh jalapeno, or a little tobasco. There is nothing "magic" about the bean paste other than the heat it brings to the dish. I often have chili paste (sambal oelek – the link tells you how to make your own) on hand, as it keeps forever in the refrigerator – it would work in this dish.
Comments on recipe
We liked this dish. It was just a little bit different from my usual stir-fries, with the pineapple and hot bean paste. Next time, I'd use double the amount of hot bean paste. I made a half-recipe for the two of us, and it was still a light meal. But tasty!
I never cook just carrots first, I always start cooking a stir-fry with onions. But, I followed the recipe, and was rewarded with something fun. When I added the onions to the cooking carrots, they turned a lovely shade of orange from the beta-carotene in the carrots: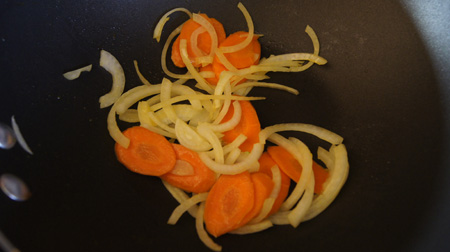 I don't know why the printed recipe states to drain the pineapple and reserve the juice. It isn't used in the recipe, and no explanation for saving the juice was given.
Here is the final presentation: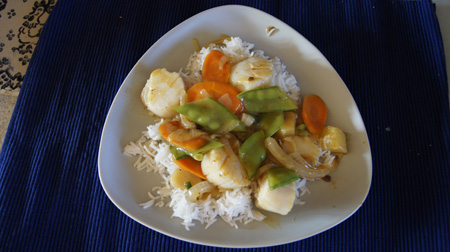 Yummy!