Imagine pork simmered in rich broth with lots of green chiles and cumin and cilantro and oregano and tomatoes and onions, covered with cornmeal oozing with jack cheese. And imagine that in a bowl all your own, and you are tucked back in a chair on a cold night, savoring each spicy bite, taking it slow because it is so very hot but it tastes so good you just can't stop.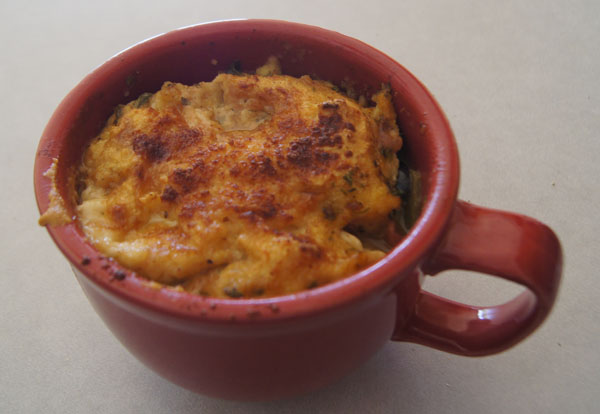 Gosh I love these green chile pot pies.
The inspiration for my Chile Verde Pot Pies came from a recipe clipped from a magazine or newspaper in the 80s or so. I first tried it in 2006, and improved the recipe over the years, added the topping from another old clipped recipe in 2012, and today pretty much stick with the version below.
The pièce de résistance is the topping. It's a cornmeal based batter with big chunks of jack cheese in it. The jack cheese does not bake entirely into the batter – it oozes out and is just delicious.

A few pointers:
I make it in 2-3 bowls, but it could be baked in one medium pot pie.
We usually have a little left over for the next day!
I use random individual-portion ovenproof baking dishes or bowls.
You could make a double batch of the chile (without the cornmeal topping) and freeze half for a later meal.
Do not use grated cheese, especially pre-grated cheese. It simply will not melt properly.
The chile itself can vary a lot, but stay to the recipe with the topping. The chile part is free-form (more like the way I cook!).
Taste the chile after it simmers and adjust the seasonings to your own taste.
Chile Verde Pot Pies
serves 2 (usually with leftovers, we have no problem with that)
Green-chile stew
9 ounces boneless pork, cut in 1/2″ cubes (I use boneless pork loin)
a little oil for the pan
2 cloves garlic, minced
1 small onion, chopped
1/2 to 3/4 cup freshly roasted green chiles, chopped OR about a cup of bottled green chile salsa OR a small can of chopped green chiles OR about a cup of fresh or canned salsa
3 small tomatoes, chopped OR part of a can of tomatoes OR use less of the salsa/green chile ingredients instead and use a can of Rotel®
1/2 teaspoon oregano (use Mexican oregano if you have it)
1/2 teaspon cumin
1 teaspoon red chile powder
salt to taste
half a small can of pinto beans (about 1/2 to 3/4 cup)
1-2 cups chicken stock
1/2 C chopped olives
2 T chopped cilantro
Cornmeal Topping
3/4 cup milk
1 tablespoon butter
1/4 teaspoon red chile powder (or paprika if you want to tame the heat)
1/4 teaspoon salt
1/3 cup cornmeal
1 egg, beaten
1 cup diced Jack cheese
1/4 cup shredded or grated Parmesan cheese
In a medium saucepan, brown the pork in hot oil, then add garlic and onion and cook about 5 minutes. Stir in chiles, salsa, tomatoes, spices, and pinto beans (sometimes I add the pinto beans near the end of the cooking so they don't get too mushy). Add enough chicken stock to cover the mixture and then simmer an hour or two. Stir and check occasionally, and add more chicken stock as necessary. It is done when the pork is tender, but longer cooking only makes it better.
Near the end of the chile's cooking time, prepare the Cornmeal Topping. Combine milk, butter, red chile powder (or paprika), and salt in a saucepan and heat to a gentle boil. On heat, gradually stir in the cornmeal. Heat gently until it thickens, stirring frequently (it cooks fast!). Off heat, fold in the egg and the jack cheese.
When ready to prepare the pot pies, add the olives and cilantro. And, taste and adjust the seasonings. Add a little chicken stock if necessary: make it a little on the "wet" side, as it will bake in the oven and dry out a little. It does not require any thickening (with cornstarch or the like) as it is usually a pretty thick chile on its own.
Divide into 2-3 small individual casseroles. I use any oven-proof baking dish I have that holds about 2 cups of liquid.
Divide the Cornmeal Topping among casseroles, spreading evenly to nearly cover tops. Bake at 375˚ about 25-30 minutes or until the cornmeal is baked through.
Let cool long enough so that you do not burn your tongue, if you can stand the wait!