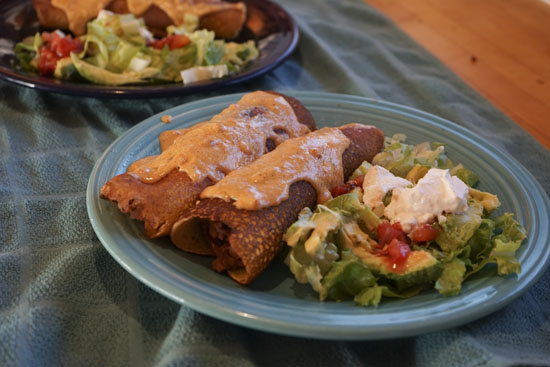 Another card I pulled out of my "antique" recipe box during these pandemic times is the recipe for Hamburger Enchilada Crepes. Gosh, I love these! I used to make them a lot, but somehow they have slipped my mind . . . for years!
I am a fan of crepes. This blog's recipe index includes at least seven crepes recipes. I have my own way of making crepes: a spin in the blender for the batter, an hour rest and then another spin just before pouring a 1/3 cup portion into my old, cheapish crepe pan, and a flip to cook both sides of the crepe. Not traditional, perhaps, but it has worked for me for ages.
Back before I retired, I did a lot of my cooking for the upcoming work week on Sundays. This Hamburger Enchilada Crepes recipe lends itself well to that practice, as the crepes and filling can be made ahead of time and kept either in the refrigerator and probably (I think) in the freezer. The cheese sauce can be made while the stuffed crepes bake.
On a hunch, I checked my personal digital recipe document for Hamburger Enchilada Crepes. Aha! It's there! I noted: "I just have to get this on disc before I lose the index card! I've been making these for years and would hate to lose the recipe." So. My opinions of this great dish have not changed!
And now, I'll share it with you. Happy pandemic cooking!
Hamburger Enchilada Crepes
Crepes
1 1/2 cups milk
2 eggs
1 tablespoon oil
1/4 teaspoon salt
2/3 cup cornmeal
1/2 cup flour
Put the milk, eggs, oil, and salt in a blender. Blend until smooth. Add the cornmeal and flour and blend 60 seconds.
When you are ready to make the crepes, heat a skillet or crepe pan on medium high. (My crepe pan is 8-inches in diameter.) Get the pan hot enough that when you hold your hand an inch above the surface, you can feel a lot of heat. Do not get the pan so hot that it smokes. Re-blend the crepe mixture just before you begin cooking the crepes. (In fact, you have to keep blending between making each crepe because the cornmeal settles.)
Spray some oil on the hot pan, and immediately pour in about 1/3 cup of the crepe mixture and tip the pan to cover the entire surface with batter. In about 20-30 seconds, it will be ready to flip. Cook the second side briefly, then remove the crepe from the pan and start another one cooking. This recipe makes about 6-8 crepes.
Filling
1 pound hamburger
1/2 cup chopped onion
16 ounce can of refried beans
1/2 cup taco sauce (or any type of salsa that you have on hand)
Cook the hamburger with the onion. Drain off any fat and add the refried beans and taco sauce. Stir to combine; remove from the stove.
I often use a can of plain pinto beans instead of refried beans. To the plain beans I add some cumin, chile powder, granulated garlic, cilantro, and salt to taste.
Sauce
1 tablespoon margarine or butter
3 tablespoons flour
1 teaspoon chile powder
1/4 teaspoon paprika
1 1/2 cups milk
1 cup grated cheddar cheese
1/2 cup sliced olives
Melt the butter (or margarine) in a saucepan. Stir in the flour, chile powder, and paprika. Stir and cook this roux until the ingredients are well mixed. Gradually add the milk, stirring constantly. Cook until the sauce is smooth and thick and bubbly. Stir in the cheese and olives.
Assembly and Cooking
Lay a crepe on the breadboard, add some of the filling, and roll it up. Continue until all the crepes and filling are gone. Place the filled crepes in a shallow casserole or glass baking pan. Pour the sauce over the crepes (this can be done after the crepes have cooked awhile; see the *note below).
Bake at 375 degrees for 25 minutes.
*Note: I often make and fill the crepes and refrigerate or freeze them in the pan (without the sauce). Since the crepes may be partially frozen, or very cold, when I first put them in the oven, I bake them without sauce for awhile and add freshly made sauce sometime near the end of the cooking.
The original recipe says to serve with guacamole sauce topping, below. I rarely did, as these crepes are rich without it. You can see in my photo at the top of this post that I put the topping over some lettuce and served it with the crepes.
(Optional) Topping
1 avocado
1/4 cup sour cream
2 tablespoons taco sauce