Cookbook #23: Prize-Winning Beef. The Country Cooking Recipe Collection; Reiman Publications, Mary Beth Jung, editor, Greendale WI, 1993.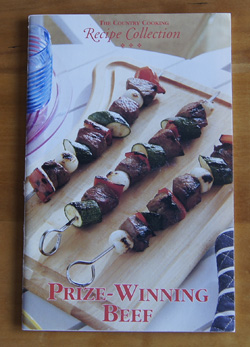 This little booklet of 32 recipes was part of my mother's collection. Most of the recipes sound okay, but they are not very innovative. The recipes seem to be more from the 1950s or 60s than the 1990s. There are recipes for country ribs, beef meatballs, nachos, flank steak, southwest stew, chile, and the like; I already have my own ways of cooking most of these. A couple of the recipes are calorie-laden with the addition of pastry.
My mother marked one recipe: "Pop-up Pizza Pie". She wrote that it was "very good", so I decided to try that recipe for this 250 Cookbooks blog. Last weekend I tried another recipe from this booklet; it was for barbecue beef and it turned out well – I plan to add it to my personal recipe collection and might share it here eventually. But I am going to recycle the booklet itself. It has served its purpose.
The original recipe, below, supposedly serves 10 people. I will cut the recipe in half for the two of us. I expect I will have leftovers!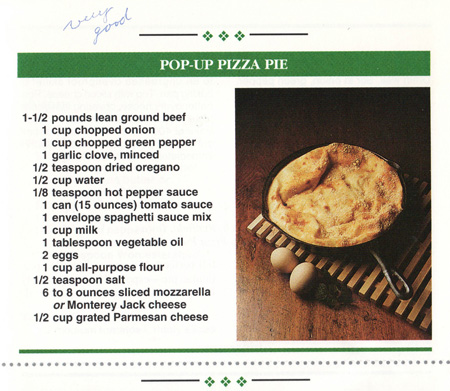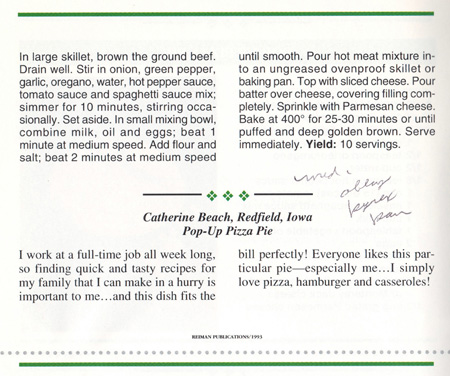 Note that the original recipe calls for "one envelope spaghetti sauce mix". This means one of those small seasoning packets that once were so popular. I don't keep any of these in my pantry. Since I want the dish to taste as close as possible to the original recipe, I searched online and found that several websites have posted recipes for spaghetti sauce mix. Most of these recipes include cornstarch, sugar, herbs and spices. I checked the labels of packaged spaghetti sauce mix in the supermarket and they too include cornstarch, sugar, and spices – I think I am on the right track.
But which spice recipe to follow? Then, just in time, one of the cooking blogs that I follow, Lynn's Kitchen Adventures, posted a recipe for "Homemade Spaghetti Seasoning Mix". Yay! I made up a batch of spice mix following her recipe. I suggest you do too. It's an excellent seasoning mix that puts a spaghetti sauce on the table in a flash.
Pop-up Pizza Pie
3/4 pound lean ground beef
1/2 cup chopped onion
1/2 cup chopped green pepper
1 clove garlic, minced
1/2 cup roughly chopped mushrooms (optional)
1/4 teaspoon oregano
dashes of hot pepper sauce
1 8-ounce can tomato sauce
spaghetti sauce mix (choose one from the following three options:
1/2 cup milk
2 teaspoons vegetable oil
1 egg
1/2 cup flour
1/4 teaspoon salt
4 ounces grates mozzarella cheese
1/4 cup grated Parmesan cheese
Brown the ground beef and drain well. Stir in onion, green pepper, garlic, oregano, water, hot pepper sauce, tomato sauce and spaghetti sauce mix; simmer for 10 minutes, stirring occasionally.
In a small bowl, combine milk, oil, and eggs; beat 1 minute at medium speed. Add flour and salt; beat 2 minutes at medium speed.
Put the hot meat mixture in an oven-proof pan or casserole. A 9-inch round pan or an 8×8-inch square pan works well. Top with the mozzarella cheese. Pour the batter over the cheese, covering the filling completely. Sprinkle with Parmesan cheese.
Bake uncovered at 400˚ for 25 -30 minutes or until puffed and deep golden brown. Serve immediately.
Comments
Well. I was wrong, we hardly had any leftovers! We started eating and I said "I like this!" and my husband said "very good!" Hey, that's what my mother wrote on the recipe! I went back for seconds and wanted more. I will definitely make it again. This is a good "comfort food" entree.