Cookbook #22: Healthy Homestyle Cooking. Evelyn Tribole, Rodale Press, Emmaus, Pennsylvania, 1994.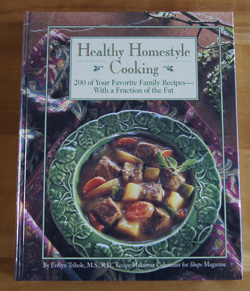 This is another of my low-calorie cookbooks. Several pages are neatly dog-eared, noting recipes that still look interesting to me today, although I've never tried them. A page with a recipe for falafel is marked with a newspaper-clipped recipe for "Hummus Patties". I love falafel (made from garbanzos), but they are usually fried in a lot of oil and so I avoid them because of calories. Both recipes I just re-found call for cooking in a minimum amount of oil in a non-stick pan. A great idea.
This is a useful cookbook, and I ask myself: Why is it that I haven't I used it in ages? I think I know what happens. I buy a cookbook and read it and try recipes for a few weeks or months, then the cookbook gets covered with papers and forgotten and eventually re-shelved. Doing this 250 Cookbooks blog is great for me, personally, because the project is forcing me to re-discover books that have a lot of good ideas.
The good ideas in this book are lower-calorie versions of many common home-cooked meals: pot pies, lasagna, chicken divan, enchiladas, carrot cake, brownies, and lots more. Each recipe has a personal note and pointers on how to reduce calories. And as a bonus, the book is nicely illustrated with many full-page color photos.
I'm going to try "Greek Penne". It's one of the pages that I had dog-eared. This is a vegetarian dish, and I decided to try it on a night when I just have me to cook for. I'm looking forward to this easy-to-prepare dish of penne, tomatoes, spinach, pine nuts, and feta. It's interesting that the tomatoes are just barely cooked: I just took a cooking class at Escoffier Boulder where we made a dish including barely-cooked tomatoes called "Concasse".
The original recipe is below. I plan to change the recipe a little: I'll peel and seed the tomatoes and use fresh spinach, and add a little fresh basil.
Greek Penne

This recipe serves about 6 people, depending on appetites.
12 ounces penne pasta
5 teaspoons olive oil (or to taste)
2 tablespoons pine nuts
5 cloves garlic, minced
10 ounces frozen spinach, thawed and drained (or use fresh spinach, see below)
4 tomatoes, peeled, cored, and chopped
1/2 cup cottage cheese (non- or low-fat for less calories; substitute with feta if you wish)
4 ounces feta cheese
salt and pepper to taste
Cook the pasta; drain and set aside.
Press the cottage cheese through a strainer into a small bowl. Rap the strainer against the top of the bowl to get all the cottage cheese into the bowl. You could also put the cottage in a small blender, but the texture is kind of nice if you use a strainer. Add the feta cheese to the cottage cheese and mash up with a fork (or pastry blender). Set aside.
Cook and stir the pine nuts and garlic in a small amount of olive oil in a pan large enough to hold the entire finished dish. Cook until the pine nuts are lightly golden – watch carefully as it doesn't take very long. Then stir in the spinach and tomatoes and cook for about 5 minutes, until heated through.
The pasta is probably cool by now, so add it to the tomato-spinach mixture and heat and mix gently until it is serving temperature. Add olive oil and salt and pepper to taste. Finally, add the feta cheese mixture and gently mix. Serve with a little chopped fresh basil, if you wish.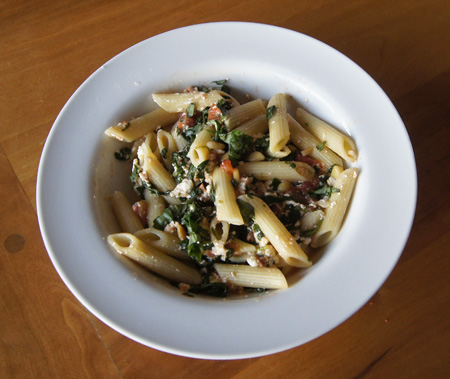 Comments
This was very good, and I'll make it again. My following comments concern only the calorie-cutting suggestions.
The author states that the original recipe had 646 calories per serving, the new version has 365 calories. The calorie value of the original recipe must include a huge amount of butter/oil per serving. The best cutting of calories comes from not tossing the pasta with butter – duh. I think the nit-picking of using non-fat cottage cheese to cut the feta is a little obsessive.
Feta cheese: 4 ounces of feta has 320 calories, 200 of which are from fat. Per serving, that's about 55 calories (33 from fat). If you don't care about an extra few calories per serving, use a little more feta and skip the cottage cheese, because it isn't going to change the overall calorie content very much.
Pine nuts have a lot of calories! But just a few go a long way.
Pine nuts: 2 tablespoons weigh 1/2 ounce, and according to Nutrient Facts this amount has 90 calories (mostly fat-calories). Divided amongst 6 people, that's only 15 calories per serving. I'd say, add more pine nuts if you want.
Spinach
I cooked my own spinach. First, I weighed out the proper number of ounces (I was cooking for one, recall) and put it in a large sauce pan: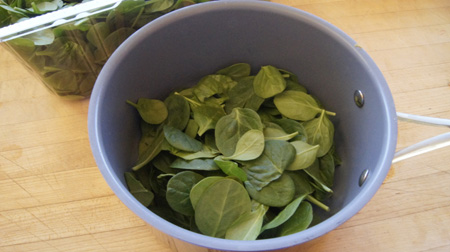 I added about a half-cup of water and set the pan over high heat, covered. When it came to a boil, I removed the pan from the heat, drained and chopped the spinach. Look how much it cooked down: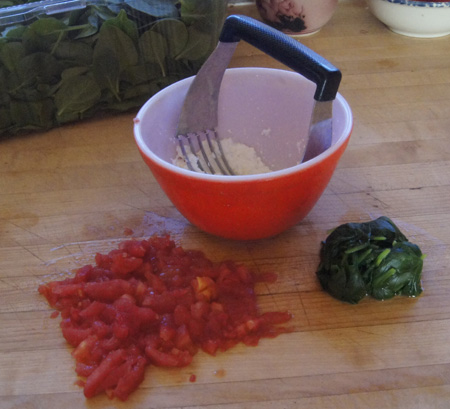 Of course, it's easier to use frozen spinach, but the fresh spinach tasted really good.