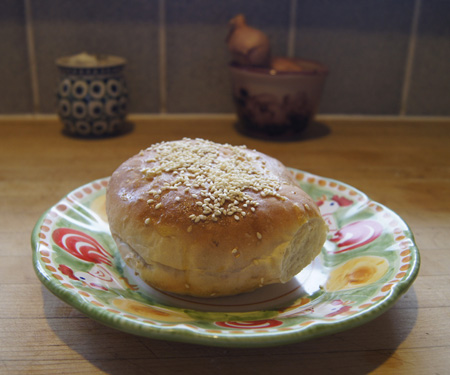 I make my own hamburger buns. I've finally settled on a recipe that consistently yields what I consider the "perfect" bun: just the right size, texture, and taste. These are great for burgers and all sorts of cold and hot sandwiches.
I was wondering what to do with the leftover meat from my Cookbook #2 recipe, Colorado Chuck Steak on the Grill. I should make barbecue beef sandwiches! And they would be best on homemade hamburger buns, and thus I thought I'd share my burger bun recipe.
BBQ Beef Sandwiches
To make the sandwiches, just chop the leftover meat into small chunks, then lay on the sliced burger buns with some barbecue sauce – your own, or bottled – and onions, pickles, and any other condiments you favor.)
Hamburger Buns
My burger bun recipe is essentially from the King Arthur Flour website (accessed 2012), although I did make a few changes. But I always use King Arthur Flours; they are available at both regular and natural foods markets in my area.
I like to use a bun or muffin-top pan to bake the buns. This helps in a couple ways: it makes me flatten the dough to the proper size, and it gives the bottom of the buns a little rim around the edge. Before I had this pan, my burger buns turned out too high. I don't like buying special-purpose cookware, but I made a rare exception in this case.
I always use a breadmaker to knead and rise the dough. You can knead it by hand and let it rise until double before forming rolls, if that is your preference.
Recipe: Hamburger Buns
3/4 cup water
1 egg
2 tablespoons oil
2 tablespoons sugar
2 tablespoons sesame seeds (mix in with the dough)
2 teaspoons yeast
1/2 teaspoons salt
11 1/2 ounces (2 3/4 cup) flour (bread flour if you have it, or all-purpose)
more seeds (such as sesame)
Mix in all ingredients breadmaker on dough cycle. When the cycle is complete, form into 6 buns. Make them pretty flat, because they poof up a lot as they rise and bake. You want them 4 inches in diameter before you let them rise. Use a bun pan if you have one.
Let rise until double, then bake at 375˚ for 10 minutes. Take out and brush the tops with a beaten egg (or egg white or use egg substitute), and sprinkle with sesame seeds (or other seeds). Return to oven and bake 5-8 min more, until golden brown. Take off the pan soon or the egg glaze can cause the buns to stick to the pan.
These can form big pockets, kind of like pita bread, especially if you use a high-gluten flour. I don't think this matters. They are soft and make great sandwiches, not only for hamburgers.