Cookbook #3: The Frugal Gourmet. By Jeff Smith, Ballantine Books, 1984.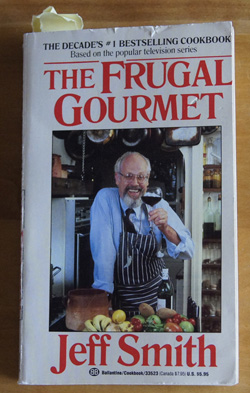 I lied a little in my first 250 Cookbooks post: all 250 of the books are not on the shelf in the photo. The paperbacks and a pile of pamphlets are on the shelf above, the very old cookbooks still above that, and the ones I use a lot are downstairs in my kitchen or next to my computer. The Frugal Gourmet is a paperback and this reminded me that I needed to set things straight. It sits with on the shelf above.
I don't think I purchased this book. I think that my daughter bought it second-hand, and it ended up with me. Maybe, maybe not, I should ask her. Anyway. Jeff Smith hosted a TV show on PBS called "The Frugal Gourmet" from 1983-1997. I may have seen a few of the episodes but could not be called a fan of the show. The cookbook that I own is a paperback version of the first of many books that Jeff Smith authored.
My copy of the paperback version of this book has several pages marked, but not in a way that I usually mark books. A post-it was torn in strips to mark recipes, and the same pages are dogeared. The marked recipes are certainly the type of food I cook – chicken crepes, Cuban black beans, homemade pasta and sauce, chicken stuffed with potatoes and olives, Boston baked beans, barbecued shrimp, red beans and rice, jambalaya, beef in burgundy, cassoulet, stuffed pork roast – but I'm not sure it's me that marked them. The recipes look fine (but not terribly interesting). Searching today for a recipe to try, I can't find much that stands out. I cook similar dishes without using a recipe.
So, basically, my everyday way of cooking overlaps with the author's. A few direct quotes from the introduction, dated 1983:
"Our current economic bind also pushes us to think carefully about what it is we are cooking, and why. I dislike most instant food products not just because they lack flavor and fascination but because they are too expensive. Cooking from scratch is much less costly and is certainly much more fun for everyone in the household. But you must organize yourself and learn to cook seriously one day a week."
I agree. I have always cooked from scratch. When I worked, I spent hours each Sunday preparing meals for the week. Jeff Smith also comments on how there is a growing interest in health and awareness of the dangers of food additives, and "we seem to be taking a much more serious view of our own responsibility for what we put into our bodies." He claims that this is an "era in which most of us are burdened by stress." He recommends a glass of wine and sharing a meal with friends and family. I'm all for that.
Smith states that frugal does not mean necessarily "cheap". "It means that you use everything and are careful with your time as well as with your food products." Gourmet does not mean "food snob", it means a "lover of good food and wine." He closes with "Eat well! I bid you peace." Right on, Jeff Smith!
This is an okay cookbook. But for me, not many of the recipes are different from how I already cook; there are not many fresh new ideas. It is over twenty-five years old, after all. But I would happily recommend this book to someone who is just beginning to cook for family and friends. In fact, I'll give it away to anyone who wants it. Even though the book's recipes are old, they are good and could be added to a new cook's repertoire.
I chose the following because as the days cool into fall, thoughts of soup and grilled cheeses sandwiches on sourdough bread fill my thoughts as I hike through the changing aspens, as I sit under our mountain ash all aglow in gold and red leaves.
Recipe: Beer and Cheese Soup
1 star
This recipe is for the law students at the University of Puget Sound. When I put this on the menu, they shouted, "Relevance at last!" It is delicious. You see, I don't even waste stale beer. [Author's note.]
1 cup carrots, chopped
1 cup celery, chopped
1 cup yellow onions, peeled and chopped
2 teaspoons peanut oil
6 cups Chicken Stock [the author has a recipe for Chicken Stock; I used my own]
1 cup cheddar cheese, grated
2 teaspoons flour
salt and pepper to taste
1/2 teaspoon dry mustard
1/8 teaspoon Tabasco or more to taste
1/8 teaspoon Worcestershire sauce
1 12-ounce bottle beer
parsley for garnish
Polish sausage or knackwurst (optional)
Saute the carrots, celery, and onions in the oil until lightly browned. Bring the soup stock to a boil, add the vegetables, and simmer for 45 minutes.
Dredge the cheese in the flour, and mix into the soup, stirring constantly until the mixture thickens. Keep stirring often until you serve.
Add the salt, pepper, mustard, Tabasco, and Worcestershire. Finally, add the beer, and stir until all is hot. Garnish with parsley, and serve.
You may add sliced cooked sausage to this soup; add just before serving.
Comments on Recipe
Well, when I started this, I told you that I would report my failures as well as my successes. This soup bombed. The flavor of the broth was terrible. But I think it might be my fault in choosing for the recipe a good, flavorful local Boulder microbrewery beer. Jeff Smith notes that he uses "stale beer". I think I goofed by using good beer. I tasted the broth before adding the beer and it was pretty good. Afterwards it had a metallic, bitter, too-hoppy taste.
I think I chose this particular soup recipe because lately I've enjoyed cheese-soups out at restaurants. All is not lost, now I know how not to make a cheese soup. I was able to nearly finish my bowl of soup, but my husband said it "tastes terrible" and just ate the veggies and meat. Oh, forgot to mention, I did add some cooked Polish sausage that I found at Whole Foods. They were good.
If anyone out there decides to try this recipe in spite of my warnings, I suggest choosing a light-flavored beer. And let it go stale first.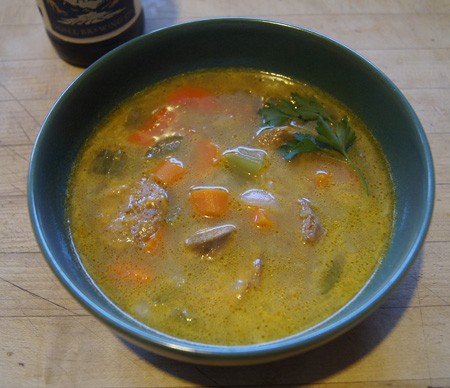 (I am only putting this recipe in this 250 Cookbooks part of this blog, not in the recipe category listings. Only good recipes go there. Just so you know.)