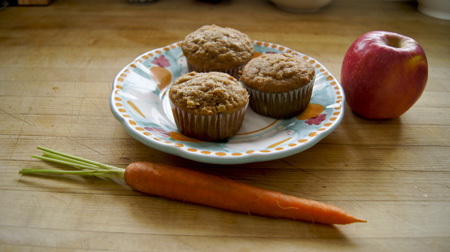 This recipe was in my short-list of muffins in my 1990s blog, as were my Lemon Poppy Seed Muffins. I made them last week and I still really like them. Not only do they taste good, but they have carrots, apples, and whole wheat flour to boost the nutrition, and are low-ish in fat.
Applesauce-Carrot Muffins
1 cup flour
3/4 cup whole wheat flour
1 teaspoon baking soda
1/2 teaspoon salt
1 teaspoon cinnamon
1/2 teaspoon nutmeg
1 egg
1/2 cup sugar
1/4 cup oil
1/4 teaspoon vanilla
1/2 cup milk
1 cup applesauce
3/4 cup grated carrots
Beat egg and sugar until fluffy, then beat in oil, milk, and vanilla. Stir in applesauce. Combine flours, baking soda, salt and spices in large bowl. Stir applesauce mixture into flour mixture only until just blended. Quickly fold in carrots.
Put into 12 muffin-pan cups. Bake at 400˚ for 15 to 18 minutes until lightly browned.
Less-calorie alternative:
As written, these have about 150 calories each. You can shave the calories and still have a pretty good muffin by using 5/8 cup skim milk and only 2 tablespoons oil and using either 2 egg whites or egg substitute for the egg and using a scant 1/2 cup sugar.