Cookbook #33: Simply from Scratch Recipes. Pillsbury Kitchens, The Pillsbury Company, USA, 1977.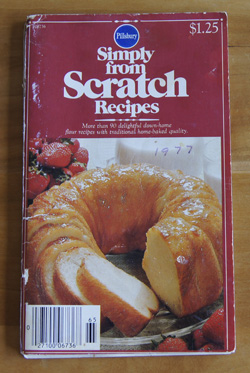 This cookbook is from Pillsbury, the same company that produced the Bake-Off cookbooks/booklets (my entry for cookbook #4 discusses the bake-off concept). My mother was fond of these booklets. I actually have two copies of this small one: my own, and my mother's. It's entered twice in my database of 250 cookbooks, so I will cover it twice in this blog. I'll start with hers.
My mother's copy is about as beat up as my own – it's been used a lot! This booklet does have great recipes. As I page through her copy, I note both my sister's and my mother's writing on many of the recipes.
Simply From Scratch has recipes for yeast and quick breads, pies and cakes, and cookies. My mother marked mostly cookie recipes: Candy Bar Squares, Touch-of-Lemon Sugar Cookies, Peanut Streusel Banana Bars, Salted Peanut Cookies, Crackly Topped Ginger Cookies, and Lemon-Go-Lightly Cookies. On "Blueberry Muffins", she wrote "Delicious" and "Patty" in parentheses. That's because I'm sure I told her to try this recipe, it's one of my favorites. She tried and liked two of my other favorites: Cinnamon-Raisin English Muffins and Potato-Chive Rolls. My sister liked the Applescotch Crisp.
Both my sister and my mother liked "Rocky Road Fudge Bars". My sister wrote "Excellent" and my mother wrote "delicious – very rich". Rocky Road Fudge Bars, why is that so familiar? I didn't mark this recipe in my copy of the cookbook. So, I checked my "cookie" document, and found the recipe there with this note to myself: "I don't think I've made these, but the recipe was carried through several versions of my recipe collection, so I added them to this document." Probably I got the recipe from my mother, not realizing it was in Simply From Scratch.
I'm going to try these cookies! We are having company to help us eat a rich dessert. I'm sure they will be excellent made exactly as written.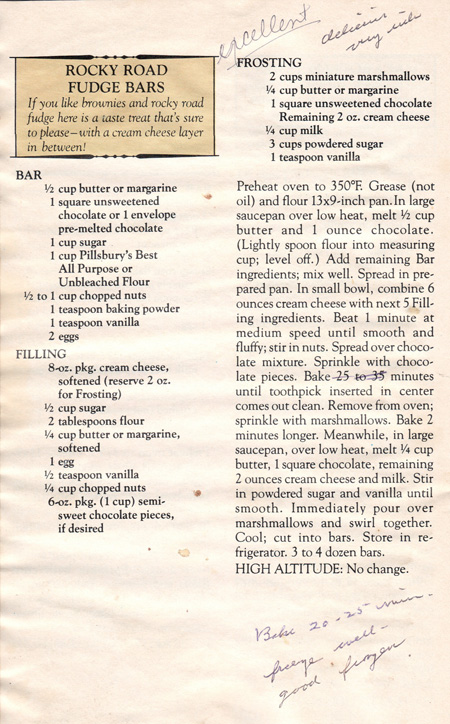 Rocky Road Fudge Bars
Bar:
1/2 cup butter or margarine (I used butter)
1 oz. unsweetened chocolate
1 cup sugar
1 cup flour
1/2 to 1 cup chopped nuts
1 teaspoon baking powder
1 teaspoon vanilla
2 eggs
Filling:
8-oz. cream cheese, softened (reserve 2 oz. of this for the frosting, below)
1/2 cup sugar
2 tablespoons flour
1/4 cup butter or margarine
1 egg
1/2 teaspoon vanilla
1/4 cup chopped nuts
1 cup semisweet chocolate pieces
Frosting:
2 cups miniature marshmallows
1/4 cup butter or margarine
1 oz. unsweetened chocolate
remaining 2 oz. cream cheese
1/4 cup milk
1 lb. powdered sugar (3 cups)
1 teaspoon vanilla
Prepare bars: Combine butter and chocolate in saucepan over low heat until melted. Add remaining bar ingredients; mix well. Spread in a greased and floured 13×9-inch pan.
Prepare filling: In a small bowl, combine 6 ounces cream cheese with the next 5 filling ingredients (sugar through vanilla). Beat 1 minute at medium speed until smooth and fluffy; stir in nuts. Spread over chocolate mixture. Sprinkle with the chocolate chips.
Bake at 350˚ 25-35 minutes, until toothpick comes out clean. Remove from oven; sprinkle with marshmallows. Bake 2 minutes longer.
While the bars are in the oven, prepare the frosting. In a saucepan over low heat, stir together the 1/4 cup butter, 1 ounce chocolate, remaining 2 ounces cream cheese and milk until the chocolate melts. Stir in the powdered sugar and vanilla until smooth.
As soon as you take the bars with the melted miniature marshmallows out of the oven, pour the frosting on top and swirl together.
Cool before cutting into bars. Store in refrigerator.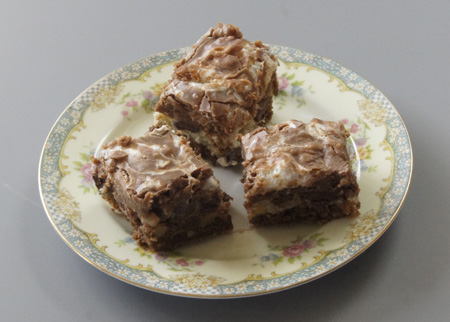 Yes, these are very, very good. Rich. If you have more than you can eat, put them in the freezer. As my mother notes, these freeze well and are good frozen.
I want to share another page from this book, a page with lots of food stains and notes from my mother. (This is purely sentimental!)