Cookbook #4: 100 New Bake-Off Recipes, from Pillsbury's 15th Grand National. From Pillsbury, 1964.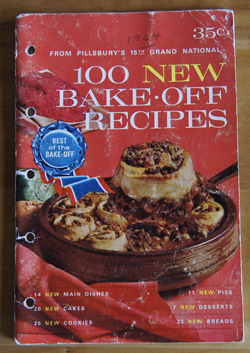 Now we come to one of the cookbooks that I treasure. This small cookbook/booklet was my mother's, and has her notes written on many pages. The booklet is falling apart and food-stained. I turn the pages carefully. Look at the cover: it cost 35¢! I had to search to find the keyboard symbol for this almost-outdated money distinction. Cents!
A lot of my cookbooks were produced by Pillsbury's. A quick search of my database tells me that they make up almost 10 percent of my collection. Most of these Pillsbury cookbooks are these small "Bake-Off" booklets that both I and my Mother collected. Every year home cooks were encouraged to send their favorite Pillsbury flour recipe to the contest, then the finalists gathered to cook and present their dishes. (In 1964, the Grand Prize of $25,000 was presented at an Awards Luncheon at the Beverly Hilton Hotel, announced by Art Linkletter and presented by Mrs. Edmund G. Brown, wife of California's governor at the time.) Flour is in every recipe in this 1964 Bake Off booklet, and thus most are desserts.
What recipe shall I make from this treasure? My dilemma in finding recipes in this and a lot of my cookbooks will be one of calories: I usually forbid myself from baking sweets or cooking with large amounts of oil or butter. And my mother's forte was sweets, from pies to cakes to cookies. She was the best baker I've ever known. Her main dishes were often casseroles, and those did not skimp on butter either. And somehow she managed to keep her weight down in spite of her liberal use of sugar and butter. But not me. I decided in my twenties that I would have to direct my baking to yeast breads, and my main dish recipes to low-fat options. (And that I would have to take up an exercise program so I could eat even that type of food.)
The recipe I would most like to make is "Raspberry Continental". Mother wrote "delicious!" on this one, so I know it would be very good. But I cook for two people, and we just shouldn't eat this. But you can make it: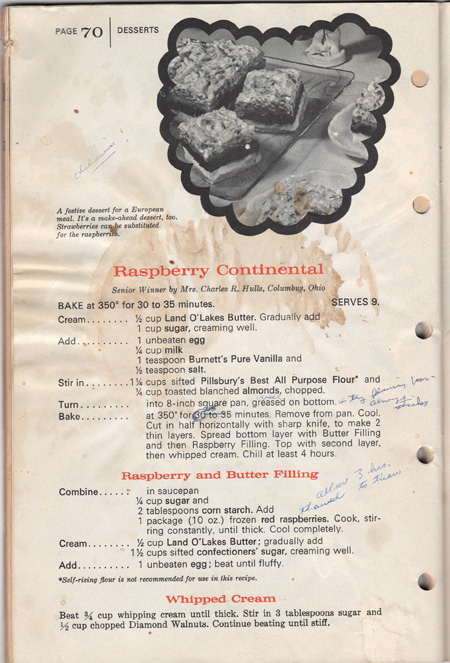 Other recipes Mother notes in this booklet are: Easy Hawaiian Torte ("good but nothing special"), Orange Dream Pie ("delicious"), Macaroonies ("good"), Lemon-y Layers ("good"), Macaroon Polka Dots ("very good"), and Cherry Marble Cake ("delicious"). Oh, and Angel Squares! I remember having these at home! This is an old favorite of mine. In fact, I typed the recipe onto an index card before I left home to go out on my own. So this cookbook is where it originated! Today Angel Squares even fit into my healthy eating plan, because they are basically an angel food cake baked in a 9″x13″ pan. (Of course you are supposed to cut it into squares and frost each square with butter frosting and roll in chopped peanuts and drizzle with chocolate. But that can be skipped for the calorie-conscious.)
My mother's recipes have this curious "rating" system that my sister and I know without thinking. On her recipe index cards and in her books, when she tried a recipe that was worth keeping, she wrote a rating-comment on it. It goes like this, from least favorite to most favorite: good, good, very good, very good!, very good, delicious, delicious, delicious! (Sometimes she would toss in a "swell" or a "yummy" too, when she was having fun.)  It's kind of like one-star to five-stars, in her quite individual way. Makes me smile.
I was going to try one of the main dishes from this cookbook, I even typed it into a draft. But I thought about it overnight, and no, it was a bad decision. That recipe just looked wrong. I don't want another Beer and Cheese Soup entry, if I can help it. So I decided to throw caution to the wind and make cookies. Cookies! We can just eat a couple a night. It's fitting and proper to choose a recipe that my mother tried and liked. I love coconut, so I chose this macaroon-type cookie.
Recipe: Macaroonies
four and a half stars

Junior Third Prize Winner by Judith Ann Carlson, Amery, Wisconsin.

Beat 2 eggs with 1/8 teaspoons salt until foamy. Gradually add 3/4 cup sugar; continue beating until thick and ivory colored, 5 to 7 minutes.
Fold in 1/2 cup Pillsbury's Best All Purpose Flour and 1 tablespoon Land O'Lakes Butter, melted.
Stir in 2 cups flaked coconut [I used sweetened coconut], 1 cup (6 oz. pkg.) [they don't sell this size package anymore] Nestle's Semi-Sweet Chocolate Morsels, 1 teaspoon grated lemon or orange rind [I used orange rind] and 1 teaspoon Burnett's Pure Vanilla.
Drop dough by rounded teaspoonfuls onto lightly greased and floured cookie sheets. Or do as I did: use a parchment-lined half-sheet pan without any oil or flour. (It's easier and it works.)
Bake at 325˚ for 12-16 minutes until delicately browned. (I found that they needed the 16 minutes in my oven.) Cool 1 minute; remove from cookie sheet.
Recipe Comments
These turned out great, yummy and chewy and sweet. They were almost crispy the first day, and were softer and more like a macaroon the second day. I had half-a-one for breakfast-dessert!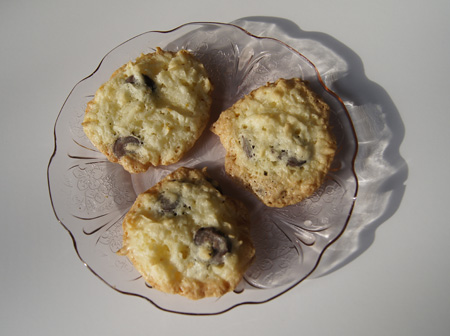 The following is a scan of the inside-front-cover of the booklet. This is how women dressed in the fifties and the sixties, the cute little shirtwaist dress, the white tennis shoes. I remember those days.