Cookbook #40: George Foreman Lean Mean Fat Reducing Grilling Machine Cookbook. George Foreman and Connie Merydith, Pascoe Publishing, Rocklin, CA, 2000. (Salton, Inc.)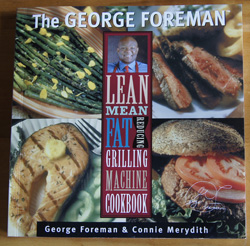 This is another cookbook I thought I'd toss. But it has some good ideas in it. There are about 175 recipes, mostly for seasoning different meats for the grill. A few of those are enticing enough to try. Plus it's a low-fat way to cook, and nutrients are listed with each recipe. So I'll keep this cookbook.
My first big question was: "Did I throw away the George Foreman grill?" I haven't used it in years, and had put it aside to give away. I clomped down the stairs to the basement to search. And, there it was, under a shelf. Yay. And I even found the drip trays that came with it. So I'm good to go for trying a recipe from this book.
Why was I ready to get rid of this appliance? Because it is a pain in the neck to clean. The grill surfaces are not detachable, so I have to prop the whole grill up in the sink and rinse with soapy water. It is non-stick, and that helps, but still, it's awkward to clean. The book says this about cleaning: "Your plastic grilling spatula and a wet sponge will safely remove any food particles." I wish it were that easy. Also, I use my outdoor gas grill a lot for grilling, even in the winter. Clean-up is so much easier.
Why will I keep this appliance? Well, I have the room for it in the basement. And I'd like to try it for panini-type sandwiches. And the recipe I tried (below) took just a couple minutes to cook – such a quick and easy dinner. I'm ready to play with this grill a little, maybe I'll come up with an easier way to clean it. And I'll try a few more recipes from the cookbook, even if I end up using my gas grill to cook them.
I searched today (in 2013) and found that George Foreman grills are still publicized and sold. One model of the new ones has removable grill plates that can be put in the dishwasher. See? I wasn't the only one who complained about clean-up issues.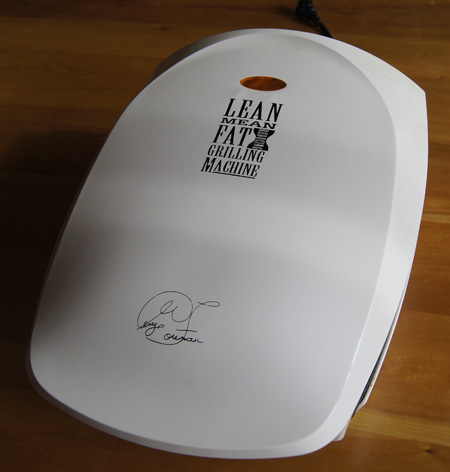 For this blog, I decide to make "Poor Boy Steak Sandwiches". The recipe calls for chuck steak, and I'd just seen it on sale in an ad from a local store. I like the green chiles and tomatoes added to the meat in the second half of the cooking; this will make the sandwich filling tasty and moist.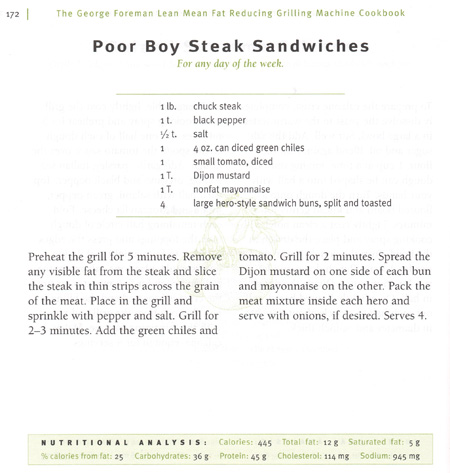 I was able to find some good, whole wheat deli rolls in the Whole Foods bakery section. These made the sandwiches great. You can see them in the photo below. They are probably "club" rolls; they are about 3 inches wide are thick enough to hold up to a big juicy filling.
I cooked one 14-ounce steak for the two of us. There was some left over, and on a hungrier day, my dining partner might have gone back for seconds. But on this night, the doggies loved their dinner a little more than usual.
Poor Boy Steak Sandwiches
serves 2-3; this recipe is intended for a George Foreman type grill

1 large chuck steak, maybe 14 ounces
salt and pepper
1 4-ounce can diced green chiles
1 small tomato, diced
mustard, mayonnaise, and ketchup
2-3 large sandwich buns, toasted
slices of red onion
Preheat a Foreman grill for 5 minutes. Meanwhile, slice the steak in thin strips across the grain and remove any fat.
Place the steak strips in the grill and sprinkle with salt and pepper. Put a drip tray at the bottom of the grill to catch the drippings. Grill for 2-3 minutes. Dump the green chiles and tomatoes on top of the meat and grill another 2 minutes.
Toast the buns and spread them with mustard and mayonnaise to your own tastes. Pile the meat mixture into the bun and top with sliced onions. Serve with ketchup.
Here is the cooked meat mixture: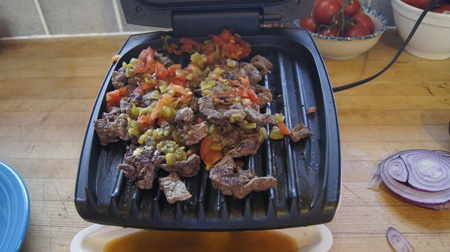 And here is a filled sandwich, served with some cooked baby potatoes: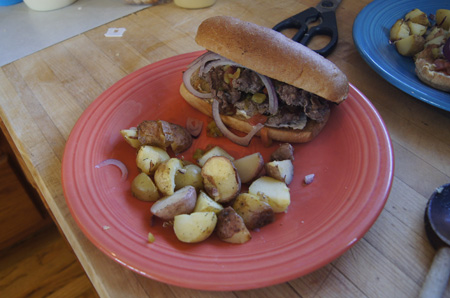 They were good. These would be even better with a New York or ribeye steak, but then the sandwich would no longer be "poor" as those are usually expensive cuts of meat. Sliced thinly, the chuck steak worked fine. It has lots of flavor and maybe fewer calories, and is definitely cheaper.
This is an amazingly fast dinner or lunch to put together. If you slice the steak while the grill heats, the sandwiches will be on the table in less than 10 minutes.