Cookbook #41: Complete Guide to Home Canning, Preserving and Freezing. United States Department of Agriculture, Dover Publications, Inc., NY, 1973.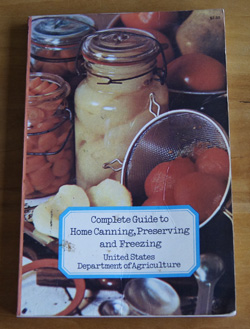 Publisher's note: "This book is made up of seven pamphlets originally published as a consumer service of the USDA. The valuable practical information which they contain is gathered together here for the first time in book form to provide a permanent work of reference which can be distributed among the general public."
This is indeed a great permanent reference, even though it was published in 1973. (It only cost $2.50!) Safe canning facts do not change with the years. I've used this book a lot, you can see the food marks on the cover. The book kind of plops open at "Making Pickles and Relishes at Home", and that's what I am going to do – make dill pickles!
I used to put up tomatoes, hot salsa, jam, and pickles each year. I'd go to local vegetable stands and buy vegetables and fruits by the bushel. Why? So that I'd know the ingredients in my food, and I enjoyed doing it. Believe it or not, in the late 1970s it was hard to find good hot salsa. I used to send jars of canned goods off to family members at Christmas.
But it's been awhile. Nowadays I only put up jam, and usually I only make small batches. (I recently had lots of fun making apple butter for this blog, though.) I got excited when I pulled this book from the shelf. It's August, and Colorado's farmers' markets have so much fresh produce to offer. I now have an excuse to go to the Boulder Farmers' Market – an adventure! You never know what you are going to find, and just watching the people is entertaining.
I need to back step just a bit before I get started on my adventure and the recipe for dill pickles. I want to overview the contents of this book.
The Complete Guide to Canning, Preserving, and Freezing has seven sections:
Home canning of fruits and vegetables (I used this section for tomatoes)
Home canning of meat and poultry (never used)
Making pickles and relishes at home (used a lot)
How to make jellies, jams, and preserves at home (a good reference)
Home freezing of fruits and vegetables (rarely used)
Home freezing of poultry (never used for reference)
Freezing meat and fish in the home (never used for reference)
The freezing sections are the least useful to me. I mean, if I want to freeze a chicken, I buy it from a store and toss the package in the freezer. There are some strange instructions in the poultry freezing section. For instance, they describe how to make chicken sandwiches and freeze them in heavy waxed paper. I'd never do that.
I'll stick to the good parts of this book. Such as, the recipe for dill pickles. I  scanned in the recipe (below), but the section also includes several pages of straightforward information on handling the jars and the cucumbers, a table for adjustment to high altitude, and how to store the pickles. I add necessary details in my own version of the recipe.
The original recipe calls for some sugar; I left it out on purpose. I like sour dills.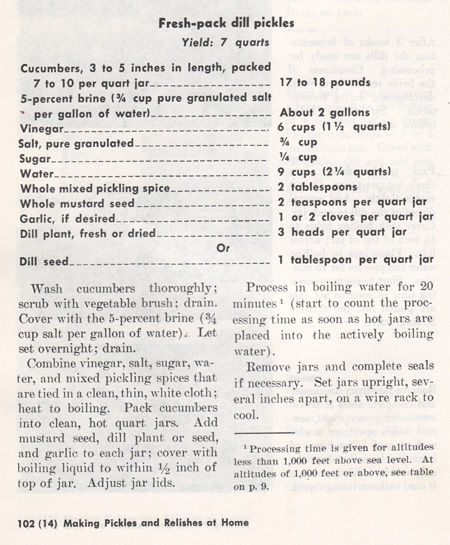 Dill Pickles
this recipe is for a small batch of about 3 three pounds of small cucumbers; yields 3 1-quart jars
3 pounds cucumbers, 3-5 inches in length
5% brine (3/4 cup salt per gallon of water; I made one gallon)
2 cups white vinegar
1/4 cup salt
3 cups water
2 tablespoons whole mixed pickling spice
whole mustard seed: 2 teaspoons per quart jar
dill: 3 heads fresh dill per jar, or 1 tablespoon dill seed per jar
Wash the cucumbers thoroughly, scrubbing with a vegetable brush. Put them in a plastic bucket (or a glass container) with enough brine to cover and let them stand overnight. I covered the bucket lightly with a towel.
Get your jars ready. Bring a very large pot of water to a boil: it needs to be taller than your quart-sized canning jars. Wash a few quart canning jars (I needed 3 but washed 5), then put them in the boiling water for 5-10 minutes to sterilize them. Carefully remove the jars from the boiling water and drain them. I was lucky to find my old jar grabber in the basement, it's in one of the photos below. Keep the water boiling because you need it again.
While the jars sterilize, tie up the pickling spices in a little square of cheesecloth. Combine the vinegar, salt, and water in a pot and drop in the tied-up pickling spices. Bring to a good rolling boil. I let it boil awhile to encourage the spices to release some color and flavor into the mix.
Drain the brine off the cucumbers. Put some dill in each of your sterilized jars, then pack in several cucumbers, add more dill and some mustard seed, then pack until full with cucumbers.
Take the pickling spices out of the boiling vinegar-salt-water mixture, then pour it into the jars to cover the cucumbers.
Close the jars. I use two-piece metal jar caps. One piece is a flat metal lid with rubber-sealer around the bottom rim. The other piece is a metal screw band. Place the flat piece on the jar, then screw the metal band down tight by hand to hold the sealing compound against the glass. This lid has enough "give" to let air escape during processing. They do not need to be tightened further after processing.
Immerse the filled and covered jars of cucumbers in the very large pot of boiling water. My pot was very full, so I had to remove some water as I added the last two jars.
Bring the water back to boiling as quickly as possible. Start to count the processing time when the water returns to boiling, and continue to boil gently and steadily for 20 minutes (sea level) or 25 minutes (5000 ft).
Remove the jars and set them upright to cool.
Here's my cucumbers in the brine for their overnight soak: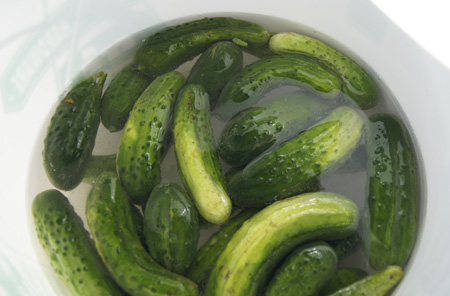 Drained cucumbers and the rest of the ingredients: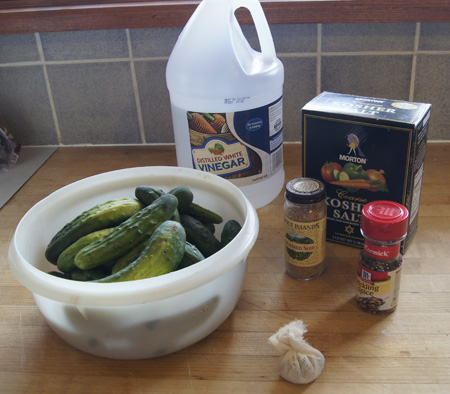 Boiling the pickling mixture: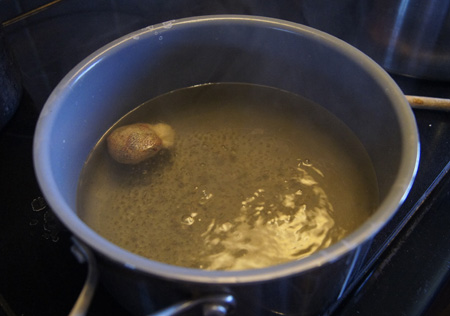 Pickles-to-be packed in the jars with the dill and mustard seed: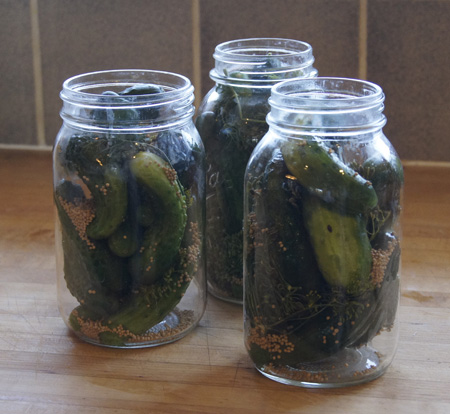 In the photo below, I have poured in the pickling mixture and firmly capped the jars.
Below, they are in the pot of boiling water: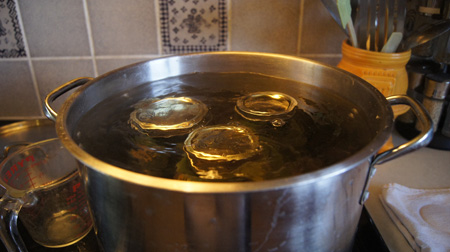 Here, after the hot-bath treatment, you can see that the cucumbers look like pickles now, less bright green and more yellow-olive-green.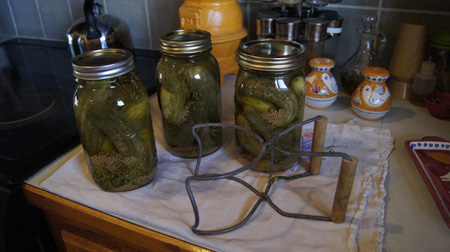 I can't wait to try these. But I have too! They need time for the seasonings to soak into the cucumbers and make them true pickles. I processed these on a Sunday and next Thursday I'll put a jar in the refrigerator and on Friday I'll try them.
It's Friday, and here are the pickles. Yes, these are great! I'll make them again.