Cookbook #58: Michael Chiarello's Flavored Oils and Vinegars. Michael Chiarello, Chronicle Books, LLC, San Francisco, CA, 2006.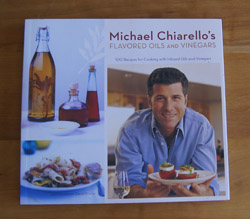 My daughter gave me this cookbook. As a gift, along with a pretty cruet that I use to store olive oil.
This is a wonderful, contemporary cookbook. And a bit different from run-of-the-mill tomes, as it teaches how flavored oils and vinegars can bring bright flavors to meals. I admit that when I first got this cookbook, I made a couple oils then put the book away. But that's before I had time to play with new recipes, and before I learned more about herbs and spices in the cooking classes that I took.
Chiarello presents basic methods for making the oils and vinegars, and shows how to use them in recipes. The techniques are not difficult nor long and tedious. Today, this sounds like a fun project for this ex-chemist!
I'd like to try a lot of the recipes (besides just making the oils/vinegars). Here are a few: Grilled Halibut with Basil Orange Marinade, Grilled Steak with Garlic Smashed Potatoes, Pork Tenderloin with Molasses, Bacon, and Porcini Vinaigrette, Roasted Salmon with Green Beans and Citrus Vinaigrette, and Pickled Shrimp and Vegetable Salad. (Long titles!) Those are the recipes both of us might like; there are a lot of meatless dishes I'd like to try, like a recipe for white beans and pasta, pesto pizza, roasted polenta, and pumpkin ravioli. He includes an interesting recipe for pineapple upside down cake and a peach and boysenberry cobbler.
I choose to make Pasta with Tomato Vinaigrette and Spiedini of Prawns with Pancetta and Oregano Dressing. I'll need both oregano and basil oils for those two recipes. For our salads, I'll make a vinaigrette using a flavored vinegar – my own recipe, I'll share it – and round out the meal with a loaf of my no-knead bread.
(I am not going to scan in or copy any of Chiarello's recipes because of copyright issues. Michael Chiarello is an active chef, author, and entrepeneur. I'll send you to his website instead, and let you know that I highly recommend this book and his methods of cooking.)
I check my pantry to make sure I have plenty of olive oil and good vinegar. At the grocery store, I look for fresh basil, oregano, and tarragon, as well as shrimp and pancetta. (My goal for this spring is to plant at least one herb and learn how to cultivate my own. I have a long history of loss-of-interest in gardens.) Pancetta is a type of Italian bacon. The only pancetta I've used before was thick and sold pre-packaged. At Whole Foods, I find pancetta at the deli counter. They slice it very thin, like prosciutto. It is rippled with meat and fat. I can hardly wait to try it.
I settle into my kitchen and turn on the music. Gathering my ingredients, I take each herb out of its packet and enjoy the aroma. How different fresh herbs are from dried!
Since I've cited my source, I think it's fair to overview Chiarello's techniques. Below are my interpretations of his instructions for herb-flavored oils and vinegars. (And a photo of my way of marking my place in his cookbook.)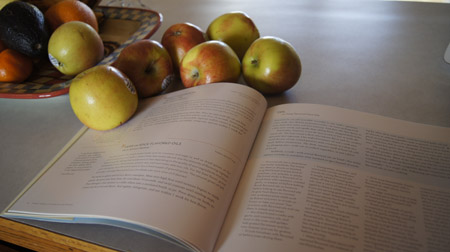 Herb oil: Chop up a half cup of an herb, then put it in a pan with a cup of olive oil. Heat the mixture until it starts to sizzle. It only takes a couple minutes. Then, strain (I used a chinois) and the oil is ready to use, or to store in the refrigerator.
My oil in the cruet and some oregano: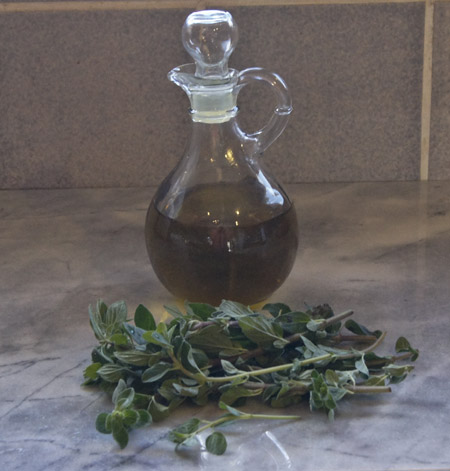 Straining the heated oil-herb mixture through a chinois: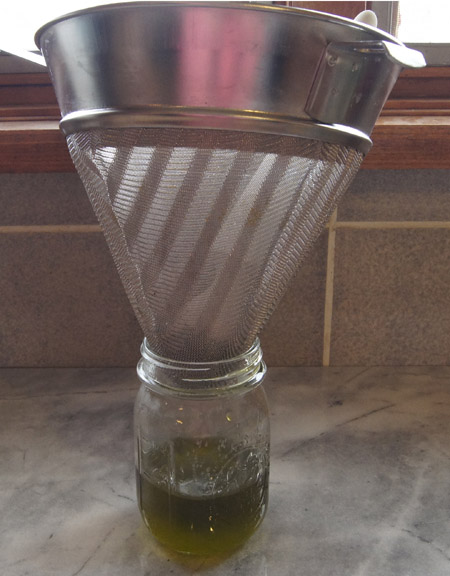 If you like your oils to be less murky, you can strain them through coffee filters. A regular strainer, and maybe cheesecloth, would also work.
Herb vinegar: Chop up a cup of an herb and put it in a cup of vinegar. Chiarello recommends champagne vinegar, because it has an acidity of 6% compared to 5% for plain white vinegar. Process the mixture in a blender or mini-processor, then strain. It's fun to watch the freshly made herb vinegar slowly change in color as the pigments extracted from the herb oxidize.
If you just try these two simple procedures, you will have two great tools in your cooking arsenal. Chiarello expands to variations on methods and the use of many types of spices and peppers in his oils and vinegars. If you are intrigued, find a copy of one of his books, or check online.
Here are three oils that I made: oregano, basil, and annatto seed.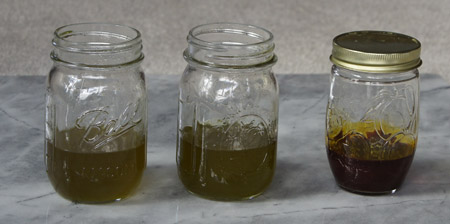 The annatto seed oil is a remnant of my last cooking blog entry. The day I made the Mexican seviche and tortilla ball soup meal, I tried grinding a few annatto seeds. Then I read the annatto seed package: It suggested heating the seeds in oil until they sizzled, then straining the oil. So I did it – and note the method is the same as Chiarello's. The annatto seed oil is richly red, staining everything it touches. It smells earthy and tastes just a bit hot.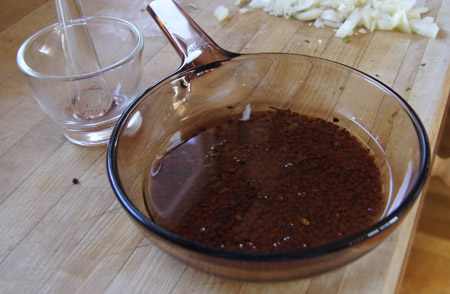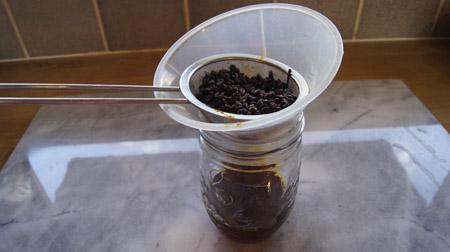 Now to use my oils in the recipes. Pasta with Tomato Vinaigrette is pretty simple. You mix together peeled, seeded, chopped fresh tomatoes, shallots, garlic, parsley, lemon juice, basil oil, and salt and let it rest at room temperature for about a half hour. While it rests, cook some pasta until al dente. Then mix it with freshly grated cheese (like Parmesan) and toss it with the vinaigrette.
The Spiedini of Prawns with Pancetta and Oregano Dressing takes a bit more time to prepare. The prawns are individually wrapped with a "slice" of pancetta threaded onto a wooden skewer. My pancetta was round in shape, and really gooey with fat. I just kind of worked some around the shrimps and threaded them snugged tightly on the skewers. The vinaigrette is prepared from garlic cooked in hot oil until quite brown and then sliced thinly, vinegar, oregano oil, green onions, and red peppers. Then, I grilled the shrimps about 5 minutes total and added them to the vinaigrette.
Here are the two vinaigrettes, some of the browned garlic cloves, the wrapped shrimp (before cooking), and the tarragon vinegar that I made for my salad dressing: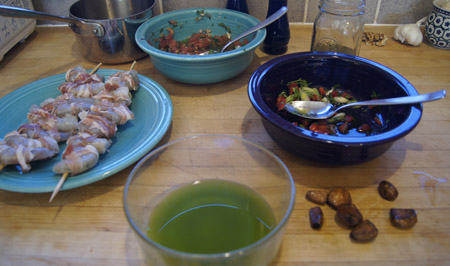 And here are the two finished dishes, the Pasta with Tomato Vinaigrette on the left, and the Spiedini of Prawns with Pancetta and Oregano Dressing on the right.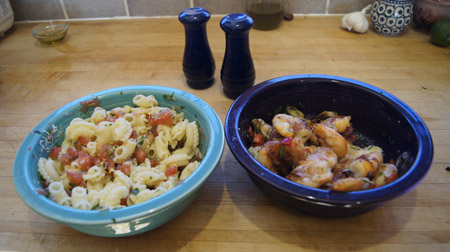 Along with bread and a salad, this meal was a hit, one of the best Saturday-night dinners that I have ever made. The flavors were bright, the shrimp cooked to perfection beneath the tasty pancetta.
Because I am not giving you the exact pasta and shrimp recipes (copyright issues), I will instead share my own recipe for a vinaigrette salad dressing. I learned the basic proportions and how to whisk the ingredients together to make the perfect emulsion in the "Sophisticated Sauces" cooking class that I took at the Escoffier School of Culinary Arts in Boulder.
Salad Dressing Vinaigrette PLF
makes enough dressing for 4-8 salads, depending on tastes
Here is how I make a vinaigrette for a salad. I experiment with different types of vinegars (rice wine, champagne, balsamic, red wine, homemade flavored vinegars) or citrus juice (lemon, lime, orange) and different types of oils (extra virgin olive, canola, walnut, grapeseed, homemade flavored oils). If you don't like shallots or garlic, leave them out. What is important is the amounts of vinegar(s), mustard, and oil, and the constant whisking as you slowly add the oil. This recipe can be doubled.
3 tablespoons of a mixture of vinegar and lemon juice
1 teaspoon honey
1 tablespoon mustard (Dijon or your choice)
1 tablespoon very finely diced shallots (or onion)
1 clove garlic, finely minced
salt and pepper to taste
about a tablespoon of fresh herbs: thyme, basil, parsley, etc.
9-12 tablespoons oil (olive oil or a mixture of olive oil and a lighter oil like canola oil)
I usually chop the shallots, garlic, and herbs together until they are not quite a paste. Put the vinegar/lemon juice, honey, mustard, and shallot-herb mixture in a large bowl (yes, a large bowl).
Have your oil measured out in a pourable measuring cup (9 tablespoons is a little over half a cup, 12 tablespoons is 3/4 cup).
Use a big wire whisk to whisk together the mixture in the big bowl. Keep whisking while you very slowly pour in the oil. Do this drop-by-drop at first! After you have added a couple tablespoons, you can add it in a thin stream. Keep whisking!
After you have added the 9 tablespoons of oil, taste the dressing by dipping a piece of lettuce or a raw vegetable into it. (This is better than tasting with a spoon.) If it is too tart, whisk in more oil. If it needs salt or another seasoning, add it now. If it is too oily, you can whisk in a little vinegar or lemon juice.
This vinaigrette will keep emulsified for 1-2 weeks in the refrigerator.