Cookbook #237: Encyclopedia of Cookery, Vol. 12, Top-Z-Index, Woman's Day, Fawcett Publications, NY, 1967.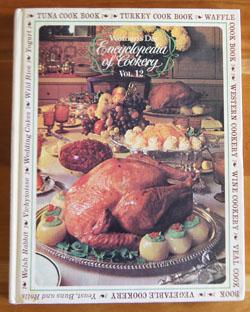 I am on the final 15 cookbooks in my "250 Cookbooks" database! It's time to do the last Encyclopedia of Cookery in my collection. I open the volume and settle in to another discovery of unusual food items and historical trivia. As well as some useful recipes, of course. Encyclopedia of Cookery, Vol. 12, Top-Z-Index covers "topping" to "zwieback".
A very, very useful feature is in this volume: the complete recipe index for volumes 1 to 12.  This 96-page index takes up almost half the book. It is invaluable to search the entire set for foods and recipes. I feel lucky to have the entire, intact set.
What is a torte? It is a rich cake, made with eggs, sugar, jam, liqueur, (very little) flour, and nuts or dry bread crumbs. Often a luscious filling is spread between cake-like layers. Next are recipes for tortillas (I've run across a lot of tortilla recipes in my journey through this blog). Tortoni is an Italian dessert made from liquor- or sherry-flavored whipped cream combined with macaroon crumbs. The mixture is put into little paper cups, sprinkled with crumbs and almonds, and frozen. Yum. Trifle is another dessert; of English origin, it is made from jam-covered, spirit-soaked sponge cake, with a rich custard and whipped cream and fancy almonds and glacé fruit on top. It's also known as a "tipsy cake". I'd love these three desserts, as I wake to a Valentine's Day morning with no hopes of anything but protein and vegetables for the day.
Tripe? I actually bought it once years ago. It's the inner lining of the stomach of beef. I don't like it. But I do like trout, especially the rainbow trout we get in Colorado, and especially if very fresh and wild-caught. (I am not a fisherwoman. Although there are photos of me when young with a fishing pole, happily catching fish in the High Sierras.)
Enjoy with me this entry from Lucy Kavaler on legends of the elusive truffle: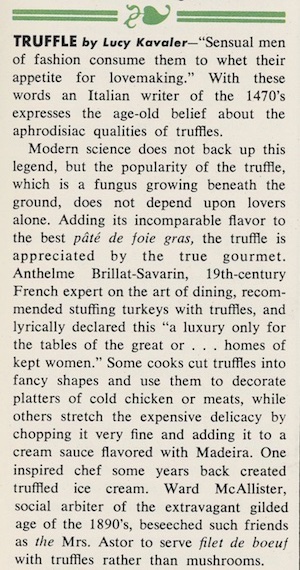 And now from truffles to the lowly can of tuna. I am not surprised to find a "Tuna Cook Book" in this 1960s cookbook. "Tonno con Piselli" is tuna with peas, yes, just canned tuna and peas. The "Tuna-Macaroni Bake" is like the tuna casseroles I remember; this one is topped with crushed potato chips. (I love potato chips on tuna sandwiches.)
Turkeys are native to America. I guess I knew this fact, but it's not the first thing I think of when I think "turkey". They were domesticated by native Americans. Here is Ben Franklin talking about bald eagles and turkeys: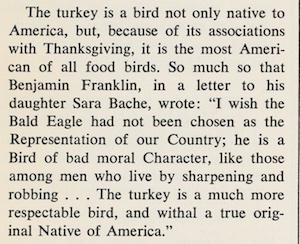 The Turkey Cook Book might be useful because it has a lot of recipes for using leftover turkey. Next come turmeric, turnip, and turnovers. Oh, turtle soup! And if I want to know how to dress a live turtle: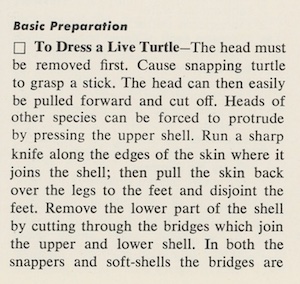 Upside-down cakes include a recipe for blueberry upside-down cake, which I'd surely like to try. "Utensil" gives a check list of utensils needed in a well-equipped kitchen. Let's see, I have beaters and mixers, a blender, cutting boards, bowls, deep fryer, egg poachedr, ice-cream freezer, pressure cooker, rolling pin, teapot, thermometers, toaster . . . looks like I am good to go. Vacherin is a "delicious creamy white dessert cheese" from Switzerland or France. Vanilla is from a plant related to orchids. (And boy, has vanilla gotten expensive lately! I just bought a small bottle yesterday for nineteen dollars!) I am not a fan of veal, but this Encyclopedia has a Veal Cook Book.
James Beard wrote the section on Vegetable Cookery. He and I are like-minded: don't overcook vegetables. I'd like to try his recipe for Braised Leeks and one for Zucchini with Walnuts. Gratin of Greens is suitable for a no-carb diet, and Tangerine Swirls is an interesting take on sweet potatoes. I learn that Vichyssoise is a "very elegant cold leek and potato soup". It has lots of cream in it and is served cold.
A "vinaigrette" need only be a mixture of oil and vinegar, salt and pepper, but can have herbs. While traveling in Paris and London, sometimes there was a bottle of oil and a bottle of vinegar at the table, meant for salads. If it's not mixed, I guess it's not a vinaigrette. (My vinaigrette recipe is here.) Vinegar itself has a long history, stretching back thousands of years. Yeast fell into fruit juice and it turned into wine, and bacteria fell into wine and turned it to vinegar. "Vin aigre" is French for "sour wine". (As a chemist, I know vinegar as containing acetic acid and water.) Here's a section from this book on vinegar: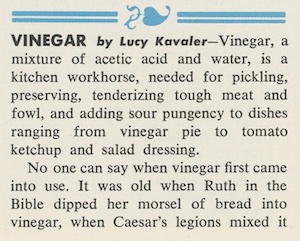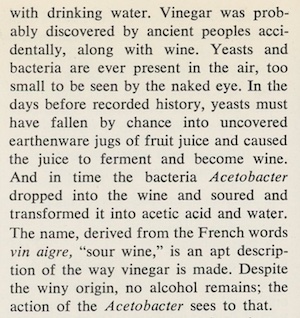 Vitamin, vodka, vol-au-lent (a puff pastry formed into an enormous patty shell). I'd like to try the Old-Colony Gingerbread Waffles. "Water" has it's own entry. Water chestnuts are a "fruit of a water plant", common in Asia, shaped like a tree-chestnut, and crispy in texture. Watercress, watermelon, and welsh rabbit or rarebit (melted cheese on toast, often with beer or wine added to the rabbit).
"Western Cookery" begins with a long essay by Idwal Jones. She describes "western" as the cooking of California, Oregon, and Washington.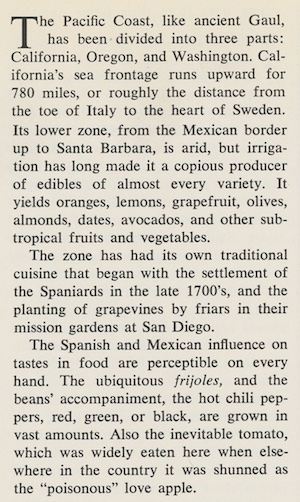 "There is a mystifying phenomenon in the order of courses in the West." Namely, salads are served first. Yay for California for starting this trend! It's the rule at my house, and I learned it from my college roommates.

In the 1960s, one could find frozen whale steaks in local specialty food stores, and I learn that 3 1/2 ounces raw whale has 156 calories. Apparently you could still find whale meat at online specialty shops in the 1960s (and maybe online today). Lots of fish begins with "wh" – white fish, whiting, and whitebait are examples. And of course two of my favorite things begin "wh" – wheat and whiskey. Wild rice is a native American grass that is not directly related to Asian rice.
The wine entry takes up many pages. I skip them. Maybe I'll come back to them another time.
Worcestershire sauce contains garlic, soy, vinegar, anchovies, tamarinds, onions, shallots, molasses, sugar, salt, and spices. It originated in England. Wormwood flavors the "powerful spirit" absinthe. This book states that absinthe is illegal in the US (and I think it still is, although other countries allow its sale).
Yams are tubers grown mainly in the tropics. But what about those "yams" that I see in local stores? There are a few varieties of moist-fleshed yams grown our country. Mostly, though, we see sweet potatoes. "People often think that yams and sweet potatoes are the same thing, but although they resemble each other closely in taste, they belong to entirely different families of plants." (I discuss yams at the end of another post.)
Lucy Kavaler wrote a long article on "yeast", and Helen Evans Brown wrote "How to Cook Superbly: Yeast Rolls and Buns". Yogurt is a "semisolid milk product that has been made acid by the addition of bacterial cultures". Yorkshire pudding is a savory British dish made by baking a batter of egg, milk, and flour in beef drippings.
Zabaglione is an Italian dessert of eggs, sugar, and wine, and zeppole is an Italian doughnutlike pastry. (Yes, I guess doughnutlike is a word, according to Wiktionary.) Zucchini also comes from Italy.
And the last entry, on page 1962 of the entire Encyclopedia of Cooking volumes, is zwieback. These are "a sweet biscuit or rusk which is first baked and then sliced and toasted in the oven to make it into a kind of dry toast. The word comes from the German, and means "baked twice".
I decide to make one of the "West Coast Salads" for this blog: California Parmesan-Walnut Salad.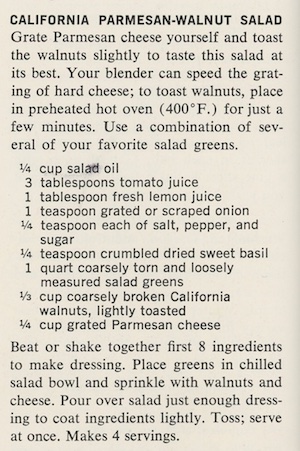 I like this salad for several reasons. I love toasted walnuts in salads. I like Parmesan cheese too, especially when it is freshly grated from a chunk of Parmigiano Reggiano. I like the fact that you make a special salad dressing, just enough for this salad. And, I like using "coarsely torn and loosely measured salad greens". That's my typical way of making salads! I am sure I used a lot more salad greens than one cup per person, though. I like my salads.
If you don't keep small amounts of tomato juice in your pantry or refrigerator, you can use diluted tomato sauce. (I buy single serving cans of tomato juice because I often add just a bit to a sauce.) Or use V-8 juice. Or, use and entirely different salad dressing.
California Parmesan-Walnut Salad
serves 2-4
1/4 cup salad oil (I used extra virgin olive oil)
3 tablespoons tomato juice
1 tablespoon fresh lemon juice
1 teaspoon grated onion (you could use dried onion from a jar)
1/4 teaspoon each: salt, pepper, sugar, and dried basil
about 4 cups mixed salad greens (if you use large leaf lettuce, tear it into pieces)
1/3 cup walnuts (toasted); whole-halves or coarsely broken
1/4 cup freshly grated Parmesan cheese
To toast the walnuts, heat a pan on the stove top, then add the walnuts and stir and watch constantly until they begin to brown – watch them closely because they can burn quite quickly. Or, put them in a 450˚ oven for – again – just a few minutes, watching closely.
Mix the oil, tomato juice, lemon juice, onion, and seasonings in a bowl with a whisk or in a lidded jar.
Plate the greens, sprinkle with walnuts and cheese. Pour just enough of the salad dressing to coat the ingredients lightly. (Or, place the salad ingredients in a bowl, add dressing, and toss lightly.) Serve at once.
This is a great-tasting salad that I will make again. Refreshing, after my usual salads overladen with fresh cut vegetables. Entirely suitable for a special dinner! Note that I used walnut halves. Coarsely broken walnuts might give a slightly different taste to this salad.
I goofed and added 1 tablespoon of grated onion instead of 1 teaspoon. Next time, I'll either finely chop just a teaspoon of fresh onion or shallot, or I'll use a quarter teaspoon of dried onion powder or flakes.
And so I come to the end of my coverage of the set of Woman's Day Encyclopedia of Cooking, begun with "abalone" on November 19, 2012 in the Encyclopedia of Cooking, Volume 1. Abalone to zwieback. A good journey.