Cookbook #5: Beard on Bread, James Beard, 1974. Published by Alfred A. Knopf, NY.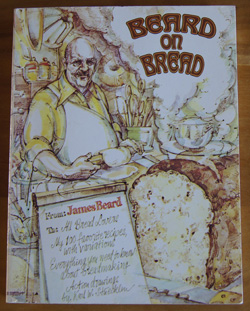 I pulled this book off the shelf and happily tucked into it. Bread is my passion. I have baked at least a loaf a week for twenty-five years. My bread-making techniques have changed over the years, and I have learned from both successes and failures. I am still learning, and am always willing to try something new. But when I try a new yeast bread recipe from one of my 250 Cookbooks, I will not follow the recipe exactly as printed in the book. Instead I will incorporate my hard-earned bread-making knowledge.
Let me explain. First, I include "gluten flour" in all my loaves. This is a high-protein flour that gives a loaf its stretchiness as you knead it, and that gives a cooked loaf the structure to stay together rather than crumble apart. Gluten flour helps tremendously when you want to include whole grain flours in a recipe.
Second, I use a bread machine set on the "dough" cycle to knead my breads and take them through the first rise step. The machine does a great job of kneading, and I can go off and do other things. Maybe this is "cheating" in some people's opinions, but in my years as a working mom, the bread just wouldn't have been made if not for the bread machine. And the machine keeps the temperature perfect for the rising step, so I'll know exactly when to come back and get the loaf ready to bake in my oven.
Reading James Beard's introduction, I don't think he would pooh-pooh bread machines (he wrote it before home bread machines were available). For instance, he writes that using a mixer with a dough hook is okay. I heartily agree with Beard's love of bread: "Good bread is the most fundamentally satisfying of all foods; and good bread with fresh butter, the greatest of feasts." He enjoys ". . . the sensual pleasure in smelling a yeasty loaf baking in the oven, the sense of accomplishment in offering a real bread at a meal – to say nothing of the knowledge that each loaf is full of goodness instead of being just a starchy filler." He writes that including multiple flours and meals just to make a bread more nutritious fails if you end up with a loaf that has a terrible texture. I agree with this too.
I enjoyed re-reading his discussions of flours, kneading, and baking methods. Beard on Bread was one of the books I studied as I developed my own yeast bread techniques in the 70s and 80s. Making bread is an ancient art and most of his information is timeless.
The recipes in Beard on Bread begin with a basic white bread with his observations and notes. If you have never made a yeast bread from scratch, you could learn how to make bread from this book alone. I scanned this book cover-to-cover, lingering on many recipes. I like his historical notes on each type of bread. I noted about ten recipes for my own personal "to try" list. I was pleasantly surprised to find a section of quick breads; I had never thought to look in this book for that type of recipe. This book is a keeper!
I decided to make Sourdough Rye bread. It's a little "out there" from my usual style of bread, so I might learn something. I've made sourdough bread in the past, from home-passed or purchased starter, but it's kind of hard to keep a sourdough starter fed and growing, and eventually I always forget them and they dry up and die. This recipe calls for a simple starter that you begin from ingredients on hand 4 days before you make the bread. I can manage that – and it should be enough to add a touch of sourness to the bread. I also like the good proportion of rye flour in the recipe, and I like the addition of poppy as well as caraway seeds.
Recipe: Sourdough Rye
five stars

"This sourdough rye appeared in the columns of The New York Times several years ago. I tried it, made some changes in it, and discovered that it was one of the best recipes I have ever used. The bread has a nice crumb, slices well, and keeps extremely well. I enjoy it for sandwiches and find that, thinly sliced and well buttered, it's delicious served with smoked fish and oysters or other shellfish." [James Beard's note.]
My note: The recipe below is for half the original recipe: it makes one loaf instead of two. Other changes from the original are the inclusion of gluten flour and the use of a bread machine.
1 package active dry yeast (1 tablespoon)
1 1/2 cups plus 1/4 cup warm water
3 cups all-purpose flour, approximately
1 cup rye flour
1/3 cup vital wheat gluten
1 teaspoon salt
1 1/2 teaspoons caraway seeds
3/4 teaspoon poppy seeds
1 tablespoon melted butter
1 1/2 tablespoon sugar
Cornmeal
1 egg, lightly beaten with 1 tablespoon water
Four days ahead of breadmaking, prepare the "starter". Combine 1 1/2 teaspoon yeast, 1 cup warm water, and 1 cup all-purpose flour in a plastic bowl or container. Cover tightly and let stand at room temperature for 2 days.
Note: I put it in a bowl and covered it with plastic wrap like this: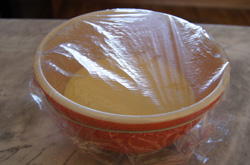 After the 2 days at room temperature, put the starter in the refrigerator for at least another day.
The day before preparing the dough, combine 1/2 cup of starter, the rye flour, and 1 cup warm water in a bowl. Cover with plastic wrap and let stand at room temperature overnight. (Note: You will have more starter than you need for this recipe. If you want to keep it going, replenish with equal parts of warm water and flour, let stand again at room temperature, and then refrigerate. Continue the process each time you use some of it.)
Here's how it looked the next day, just before I stirred it down: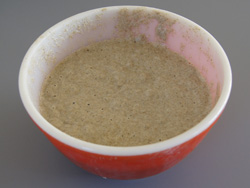 The next day stir down the dough, then put it in a bread machine* and add rest of the yeast (1 1/2 teaspoons), dissolved in 2 tablespoons water, salt, caraway seeds, poppy seeds, butter, and sugar. Add 1/3 cup vital wheat gluten and 1/2 cup all-purpose flour. Set the bread machine to the "dough" cycle. Watch it as it kneads and add more all-purpose flour as necessary to keep the dough from being too sticky. You want it to form a nice, round ball of dough. I added enough flour so that it was still "tacky" feeling but not "sticky". Leave the dough in the bread machine through the rise cycle.
*Hand kneading directions: Add the flour a little at a time, to make a stiff but workable dough. Knead for 10 to 12 minutes, then shape into a ball. Place in a buttered bwol, turning to coat the dough with the butter. Cover and let rise in a warm, draft-free place until doubled in bulk, about 2 hours.
Take the risen dough out of the bread machine (or bowl, if you hand kneaded) and punch it down. Shape into a round loaf and place on a buttered baking sheet generously sprinkled with cornmeal.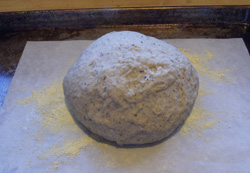 Cover and let rise again until doubled in bulk, about 1 hour (mine rose in 30 minutes in a 73˚ kitchen).
Here's the risen loaf. You can see how much bigger it is compared to the last picture (above).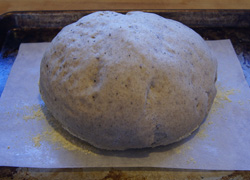 Brush with the egg wash, and bake in a preheated 375˚ oven for 30 minutes, or until lightly browned and the loaves sound hollow when rapped with the knuckles. Cool, covered with towels to prevent the crust from hardening.
Here's the baked loaf. I wish you could smell it too!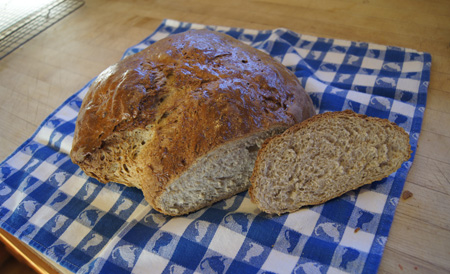 Next time I'll be a little more careful when I form the loaf, you can see that it did not bake perfectly round. If I had been more careful, I would have had a prettier picture! Plus I cut the loaf when it was still kind of hot. But let me tell you, it tasted wonderful. We had it with a good homemade beef barley soup, and slices of cheese that melted into the warm bread.