Cookbook #6: The Complete Oriental Cookbook. Edited by Isabel Moore and Jonnie Godfrey. Published by Marshall Cavendish Books Limited, London, 1979.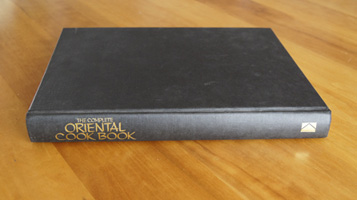 This is a large book with full page photos of many of the dishes. The cuisines of China, India, Japan, and Southeast Asia are each presented first with several pages of introduction, and then with many recipes. Since I threw away the book cover and thus the book looks pretty plain, I'll share one of the pretty inside photos: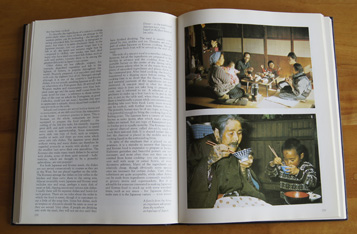 I think that this book was a gift to me, since I had an interest in Chinese cooking in the 1970s and some long-lost friend thought I would like it. I don't think I tried a single recipe from this book in all these years! No recipes are dirty or written on, no scraps of paper mark any pages. Going through the book now, I can see why. The pictures are pretty, but the recipes don't perk my interest. It's like the editors gathered recipes, but never actually tried them.
This is a "coffee table book" and I think I'll let someone else put it on their coffee table!
For the sake of this blog, I picked the following recipe titled "Pork Balls with Ginger". I love meat balls, and especially pork meat balls made from well-raised pork. The water chestnuts and fresh ginger in the meatballs should perk up the texture and taste, and rolling the meatballs in cornstarch before frying should make them nice and crispy.
Recipe: Pork Balls with Ginger
2 stars

The recipe from this book is just too darned long to type into this blog. Plus you will note from my rating that it wasn't that good and I don't plan to make it again. So I scanned in the page. In fact, I might start doing this more often!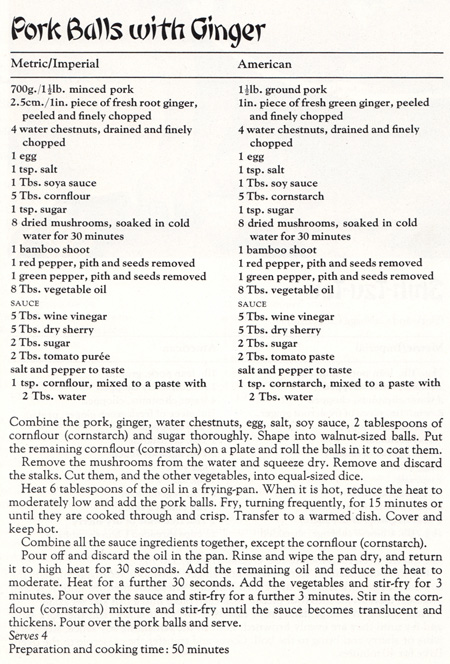 What's wrong with this recipe? The sauce and the vegetables. The sauce had too much sherry and when I tasted it before serving, it was yucky. To make it palatable (we needed to be able to eat the meal!) I poured some of the sauce down the drain and diluted it with soy sauce and water. I should have used fresh shitaki mushrooms — I used some dried ones that I found at the Asian Seafood Market and they tasted terrible. For the "bamboo shoot", I found a can of whole bamboo shoots at the same market. I tried this because the sliced bamboo shoots that stores carry are pretty tasteless. The whole ones had more flavor, but still didn't taste good. (They looked interesting, though.) Fresh vegetables are so much better, and I suggest substituting celery or carrots for canned bamboo shoots.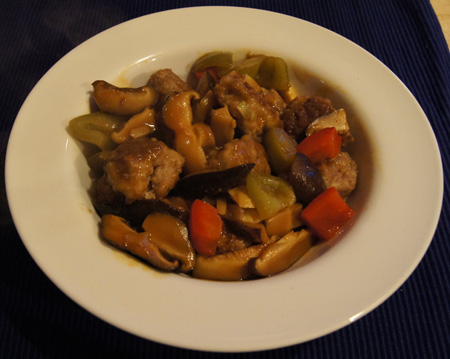 The pork meatballs were very good, though. Here is a recipe for enough meatballs for two people. When I make them again, I'll use the Sweet and Sour Sauce from my own tried-and-true repertoire.
Pork Balls with Sweet and Sour Sauce
4 stars
(serves 2)

3/4 pound ground pork, preferably from a store like Whole Foods
1 tablespoon fresh ginger, chopped into fine dice
1 1/2 tablespoons canned water chestnuts, chopped into fine dice
half of a whisked egg, or use 1 egg white
1 tablespoon soy sauce
1/4 teaspoon salt (optional)
1/2 teaspoon sugar
1 tablespoon cornstarch
Sweet and Sour Sauce (see below)
Combine all the above ingredients and make meatballs about the size of an in-shell walnut. Heat a non-stick pan and put maybe a quarter cup of oil into it. (That's kind of a lot of calories, but you want the meatballs crispy, and when you are done frying, the oil is left in the pan.) Once the oil is hot, set the temperature at about medium to medium-high.
Put a couple tablespoons of cornstarch on a dish. Roll each meatball in the cornstarch, then add to the hot pan. Fry the meatballs for about 15 minutes, turning frequently. You want them "cooked through and crisp". Remove with a slotted spoon to paper towels.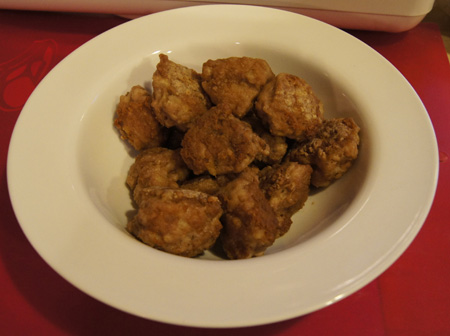 Sweet and Sour Sauce
(serves 2)
Here's a sweet and sour sauce that I use a lot, albeit usually with a chicken dish. I'm sure it would work great with the Pork Balls with Ginger.
3 tablespoons red wine vinegar
1 small can pineapple chunks in juice, drain and save the juice
3 tablespoons sugar
1 1/2 tablespoons ketchup
1 tablespoon cornstarch
vegetable oil
1/4 of an onion, cut into largish chunks
red and/or green bell pepper chunks, to taste
(any other fresh veggie you like!)
2 cloves minced garlic
1/2 tablespoon grated fresh ginger
Whisk vinegar, reserved pineapple juice, sugar, ketchup, and cornstarch in bowl.
Wipe the oil from the pan that you used to cook the pork balls (or use a different pan). Add a little oil and the vegetables cook until softened, 4 to 6 minutes. Add pineapple chunks, garlic, and ginger and cook until fragrant, about 1 minute. Add vinegar mixture  and simmer until sauce is thickened, about 2 minutes. Serve over the hot Pork Balls with Ginger.