Cookbook #70: Cooking Through the Year. Shirley Gill, Smithmark Publishers Inc., NY, NY, 1994.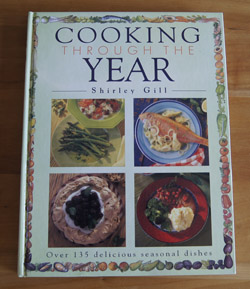 Cooking Through the Year is a beautiful cookbook. Over the years that I have owned it, I have often left it out on a coffee table, leisurely paging through the glossy photos and interesting recipes. At the time of this blog, it had been shelved too long – time for it to come back out and be enjoyed again.
A gift from my daughter, I will definitely keep this cookbook!
This book has no preface, no introduction, and no personal information at all about Shirley Gill, the author. I like to know about the authors of my books! I resorted to a Google search and found this on Amazon:
"Shirley Gill graduated with a diploma in Home Economics before starting work in publishing, first for the Food Magazine, and then for Cook's Weekly. She worked as Cookery Editor of the successful Taste magazine, then later moved to Essentials. Since then Shirley has worked as a food writer and home economist, contributing to many books and magazines."
Shirley has also authored or co-authored several other cookbooks, including recent ones on wok and pizza cooking.
Cooking Through the Year is a great resource for Saturday night and company dinners. Each recipe is just a little fancier than my usual fare. Everything I have tried from this book has been great. Many are a little rich for our calorie budget, but in moderation, they can fit into a sensible eating strategy. These titles exemplify the variety of recipes in this cookbook: Spiced Eggplant with Mint Yogurt, Skate with Lemon and Capers, Venison with Cranberry Sauce, Spiced Sweet Potato Turnovers, Spaghetti with Herb Sauce, Smoked Trout Pilaf, Cod with Spiced Red Lentils, Onion and Gruyère Tart, and Rhubarb Meringue Pie. There are over 135 recipes in all in this 8 1/2 x 11-inch book.
I chose to make "Chicken Parcels with Herb Butter". The scan below illustrates both the recipe style and Karl Adamson's  photography.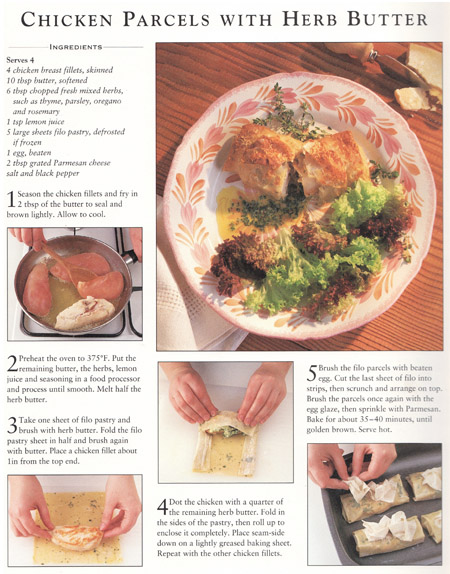 The instructions are clear, and the photos are very helpful. I will cut the recipe in half, and use fresh herbs from my own garden: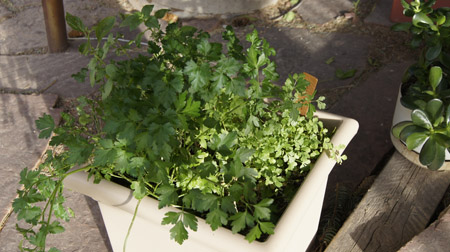 I harvested a mixture of basil and thyme and a little parsley. I like the way the recipe is "open-ended" in the choice of herbs.
To go with the Chicken Parcels with Herb Butter, I made "Spinach Salad with Bacon and Shrimp" on page 10 of this cookbook. It was a good variation of one of our favorites: wilted spinach salad. I used only the lean part of strips of bacon to lower the fat. The shrimps added a nice flare! I'll make it again.
Chicken Parcels with Herb Butter
adapted from Shirley Gill's Cooking Through the Year
serves 2
2 boneless chicken breasts, about 4-6 ounces each
5 tablespoons soft butter, divided (I used unsalted butter)
about 3 tablespoons chopped fresh herbs: basil, thyme, parsley, oregano, rosemary, cilantro – your choice!
1/2 teaspoon of lemon juice, if you have it
3 sheets of filo pastry (available frozen in most supermarkets)
1 beaten egg
1 tablespoon grated Parmesan cheese
salt and pepper
Fry the chicken breasts in a tablespoon of hot butter until lightly brown. This step seals the outside of the breasts; the inside will be cooked later. Sprinkle the breasts with a little salt and pepper as they cook.
Chop up the fresh herbs by hand or use a food processor. Mix them with 4 tablespoons butter, salt and pepper, and a little lemon juice (optional), then melt half of this herb butter.
Take a sheet of the filo dough and brush it with the melted herb butter. Fold the filo sheet in half and brush again with herb butter. Place a chicken breast just below the top of the prepared sheet.
Dot the chicken with half of the unmelted herb butter. Fold in the sides of the pastry, then roll up to enclose completely. Place on a greased or parchment-lined half sheet pan. Repeat with the other chicken breast.
Brush the filo-wrapped chicken with the beaten egg. If you like, use the third sheet of filo dough to decorate the parcels: cut into strips, then scrunch up and arrange on top.
Brush the parcels again with beaten egg, then sprinkle with Parmesan cheese.
Bake at 375˚ for 30-35 minutes, until golden brown.
Comments
These are great! I'll make them again.