Cookbook #71: Cookie Book #1. Covina Woman's Club, Covina, California, March 1980.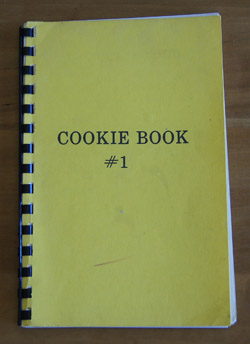 This community cookbook was a gift to my mother from Betty, a good friend of hers and of my aunt's. My mother and father, both born in 1916,  grew up in Covina, California, and my Aunt Werdie still lives there. Both Betty and my aunt contributed a few recipes to this cookbook. Betty's contribution of "Santa Claus Cookies" has this comment: "My favorite cookie in the whole-wide world!" Werdie's contribution "Cookies" states "That's the only name I have for them".
Wow, all of these recipes are great! They are just the type of cookie that I grew up with. Werdie contributed her "Snowballs" recipe, those buttery-nutty-powdered-sugar-covered round cookies that she always made – and shared – at Christmas time. One of my favorites, Chocolate Chews, is in this book, contributed by Werdie.
I noted several recipes I'd like to try: Persimmon Oatmeal Cookies, Pumpkin Bars, Anna Banana Squares, Lemon Squares, Cornflake Peanut Butter Bars, Applesauce Bars, and Fresh Ginger Cookies (fresh ginger!). I consider some of the recipes classics of that era: Forgotten Cookies, Unbaked Cookies, Hermits, Brandy Balls.
I grew up on cookies. I love this little community cookbook!
My mother made notes on several recipes in this book. And inside the front cover she has written "from Betty Fletcher Christmas 1979". See where I get my organizing genes? Those genes led me to do this crazy blog, going through and organizing 250 old cookbooks, some of which should have been thrown away years ago.
I decided to try Lemon Refrigerator Cookies for this blog. Refrigerator cookies are great: you mix them up, roll them into a log, chill them, then slice off individual cookies to bake. Not only are they convenient, but they bake up in a characteristically flat shape, browning nicely around the edges. Generally, these cookies are a bit more shortbread-y than drop cookies. A refrigerator cookie with lemon? Oooo, yum, sounds good.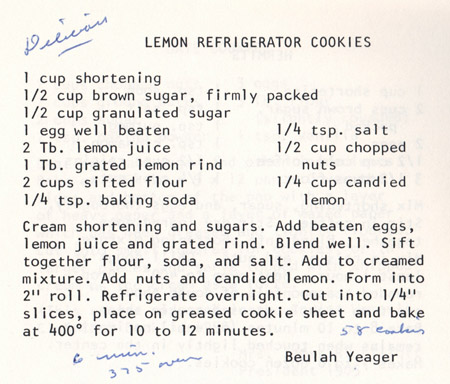 The recipe calls for "candied lemon". That's a stumper: where can I find this ingredient?
I looked up "candied lemon" in my book, Food Lover's Companion by Sharon Herbst (2001). Candied fruits, also called glacé fruits, are prepared by boiling the fruit in sugar and then drying it. In the case of citrus fruits, it is the rind that is used, not the fruit itself. So, I know I am on the right track if I ask for "candied lemon peel". Candied fruits are generally used in cakes, breads and other sweets.
I googled "candied lemon peel" and came up with several sources. But, I wanted to make the cookies this week, rather than waiting for an ingredient to be shipped. So I took to the stores in Boulder.
First, Whole Foods. A worker at the store helped me search, first pointing out a jar of preserved lemons to which I shook my head "no". We kept looking. He said they used to carry candied lemon peel, or perhaps "citron", but could no longer find a source that did not have unacceptable ingredients. "Citron" is an ingredient I used to put in fruitcake. According to Food Lover's Companion, citron is a semitropical citrus fruit with a lemon-perfumed peel. It is not a lemon, although "citron" is the French word for lemon. (No wonder we get confused.) I eventually gave up the search for candied lemon peel at Whole Foods.
I went downtown and asked for candied lemon peel at the Savory Spice Shop. Nope, they had none, although they do carry some candied items. But they did have a wonderful lemon extract and dried, minced lemon peel. I figured these ingredients would help give the lemon cookies the zip I wanted, so I bought them. Then I walked to Peppercorn.
Peppercorn is chock-full of unusual stuff, although I didn't have a lot of hope by the time I got there. Perhaps candied lemon peel is an outdated item in 2014. But then – I found it! Yay!
Here are the three lemon products I bought that day: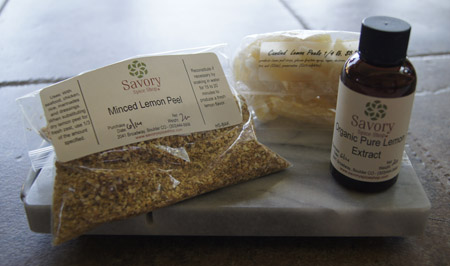 I think the candied lemon peel is important in these cookies because it will add the sensation of chewy bursts of lemon flavor. I will ramp up the lemon zing with the lemon extract and dried lemon peel. If you can't find any of these ingredients, I suggest you just use lemon juice (2 tablespoons) and grated lemon peel (1 tablespoon). The cookies will still taste great!
Lemon Refrigerator Cookies
makes about 4 dozen
1 cup vegetable shortening (7 ounces)
1/2 cup brown sugar, firmly packed
1/2 cup granulated sugar
1 egg
1 3/4 tablespoons lemon juice (fresh)
1 teaspoon lemon extract
1 teaspoon lemon rind
1 teaspoon minced, dried lemon peel
2 cups flour
1/4 teaspoon baking soda
1/4 teaspoon salt
1/2 cup chopped nuts (I used walnuts)
1/4 cup chopped candied lemon peel (if you can find it)
Cream shortening and sugars. Add the egg and beat well, then mix in the lemon juice, extract, rind, and dried peel.
Mix together the flour, baking soda, and salt. Add to creamed mixture and mix in. Add the nuts and candied lemon peel.
Form into 2 rolls, each about 2 inched in diameter. Wrap with plastic and refrigerate several hours or overnight.
To bake, cut into 1/4-inch slices and bake on parchment-lined (or greased) baking sheets. Bake at 375˚ for about 10 minutes, or until the edges of the cookies begin to brown.
Comments
I ended up making 45 cookies, as opposed to my mother's 58 cookies. It all depends on how big you make the cookie rolls and how thick you slice them. I used a ruler and found my slices were about 3/8-inch.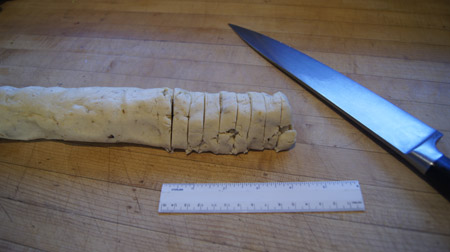 I like to use parchment-lined baking sheets: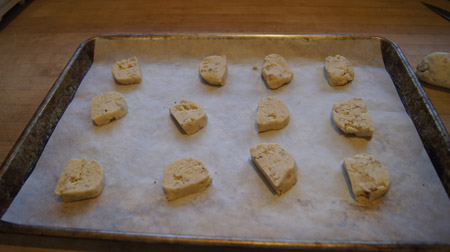 Here the cookies are, nicely cooked and a little brown around the edges: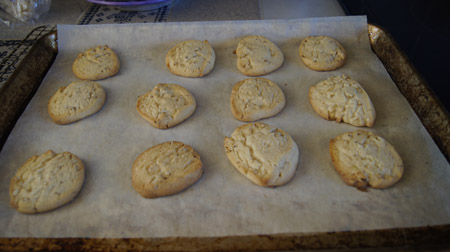 And here they are in the pig!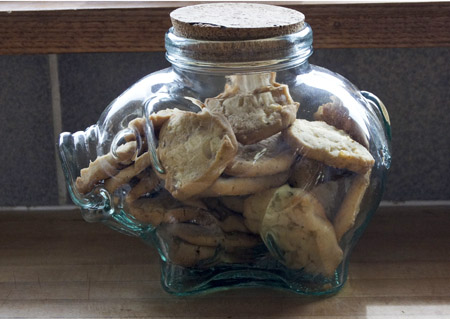 These are excellent cookies. I broke one cookie in half the next morning to see how they tasted after sitting overnight, and I wanted more more more! They are that good.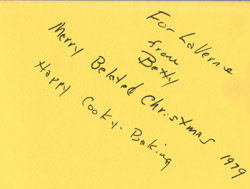 Happy Cooky Baking to all!