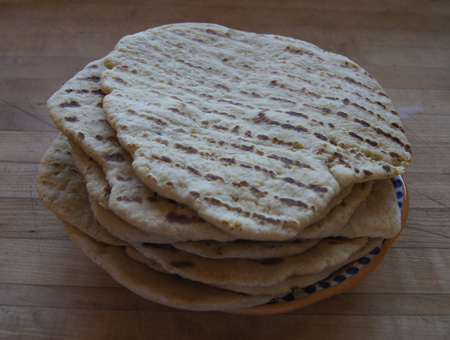 Several years ago I ran across an interesting recipe in a King Arthur Flour catalog for yeast-dough tortillas. At the time, I had just taken a class in Middle Eastern cooking where I had learned a great way to make flat bread pizzas by cooking them on an indoor grill pan. The King Arthur recipe could be adapted to grill pan cooking, I thought. I just had to try it!
Now, a little bit about King Arthur Flour. This is a company that specializes in ingredients for baking. I learned about them through a "user group" in the late 90s. User groups preceded listserves and I guess, now, Facebook as a way of people with like interests to share ideas. Anyway, the consensus at that time was that King Arthur flours are the best for baking. I ordered them through the catalog, liked them, and eventually found that this brand of flour is sold at Whole Foods and now even Safeway. Today I only buy this brand of flour.
There are drawbacks to King Arthur flour recipes, though. This a company that sells baking ingredients (and related cookware), so their recipes often have a long list of different types of flours. They are, after all, trying to sell their products. I can forgive them for that. The take-home lesson is: Substitute when necessary. Feel free to use all-purpose flour for any of the specialized flours called for in a recipe.
Some of the specialized King Arthur flours or ingredients I have tried and now keep on hand. For instance, I like their "Hi-maize® Natural Fiber" because it adds fiber and lightness to loaves. In the recipe below, free to substitute it with all-purpose flour. I am a huge fan of gluten flour, but you can use all-purpose flour. I also have their Salsa Seasoning.
Cooked on a grill pan, these tortilla flat breads come out thick, unlike any tortillas that you find in stores. They are more like pita or naan bread. But the mixture of cornmeal, all purpose and whole grain flours, dry milk, and seasoning make these into a sensory sensation. They do take a bit of time to prepare, but if you are cooking for two you will have extras to freeze away, or if you have company you could make them ahead of time.
I usually serve them topped with beans and taco meat and cheese, popped into the microwave for a minute. Then lettuce and tomatoes and salsa. You can pick them up like a little pizza, or roll them like a taco, but they are soft so they are also cut-able with a fork.
This recipe makes 10 flat breads. They freeze wonderfully, and you can pull out a few for a very quick and impressive meal.
Tortilla Flat breads
This recipe is based heavily on the King Arthur Flour recipe for tortillas. I've written this for the bread machine; if you don't have one, refer to the original recipe for kneading and rising instructions.
1/2 cup cornmeal
1 1/2 cups boiling water
1 1/2 cups all-purpose or white whole wheat flour (or a mixture)
1/2 cup barley flour or oat flour (I rarely keep oat flour around, so I process oatmeal in the food processor and measure a half cup)
1/2 cup Hi-maize® Natural Fiber (from King Arthur Flour)
2 tablespoons vital wheat gluten (I swear by this, but use all-purpose if you have to)
2 tablespoons vegetable oil
1/3 cup dry milk
3/4 teaspoon salt
1 1/2 teaspoons yeast
1 1/2 teaspoons salsa seasoning, optional (from King Arthur Flour)
A good substitute for the salsa seasoning:
1 teaspoon oregano (preferably Mexican oregano)
1/2 teaspoon basil
1/4 teaspoon chili powder
a few shakes of garlic and onion powders, maybe a few shakes of cumin
Place the cornmeal in the bucket of a bread machine. Pour the boiling water over it and stir a little. Let it cool for about 10 minutes.
Add the remaining ingredients and set the bread machine to the dough cycle (this should include both kneading and rising). Peek a few times as the bread is kneaded, and add a little flour if it is too sticky (looks wet), or a little water if it is too dry (if it is just a bunch of unconnected bread clumps). The dough should become elastic, but stay quite soft.
When the bread machine cycle is finished, take the dough out onto a floured bread board. Divide it into 10 balls.
Heat a grill pan to medium-high heat. While it heats, start rolling the balls of dough into rough circles about 7-8″ in diameter. I usually start cooking the tortillas as soon as I have a couple rolled, then work rolling and cooking at the same time. If you want to roll them all out before you start cooking, you should cover the rolled ones to keep them from drying out.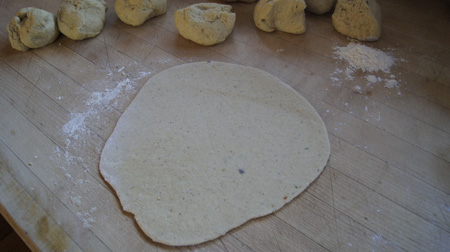 Your grill pan is ready when you hold your palm an inch above its surface and feel the heat coming off it. Don't heat it until it smokes. Drop a little oil on the surface (I prefer olive oil) and brush it across the surface. Then put a tortilla on it and let the first side cook about a minute. The first side is done when you peek and see nice grill marks.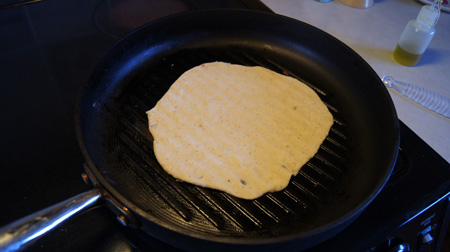 Flip the tortilla and cook the other side. Note the great grill marks!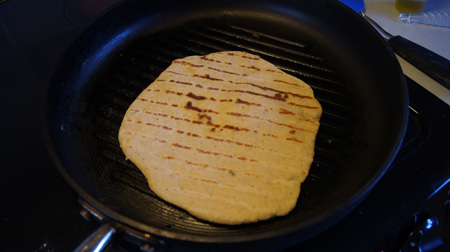 Continue rolling and cooking until all the tortillas are cooked.
Used these topped with beans, spicy meats, cheese, lettuce, and salsa, like a tostada. Or wherever your imagination takes you!