Cookbook #94: Holiday Cook Book, by the editors of Sunset Books and Sunset Magazine, Lane Publishing Co., Menlo Park, CA, 1988.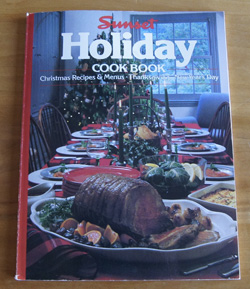 Christmas is coming! A good time to look through Holiday Cook Book. I enjoyed turning the pages of recipes and looking at the photos of gorgeous holiday meals. This cook book has ideas for entertaining on Thanksgiving, Christmas, and New Year's Day. Decorating ideas abound. (I'm kind of lame at decorating.)
This was a fun book to look through, but I really don't need any more holiday recipes. This cookbook was my mother's and even she didn't mark any of the recipes. I will recycle this book. But not before making Black and White Squares! These chocolate and vanilla refrigerator cookies have just a touch of flare, perfect for the holiday season.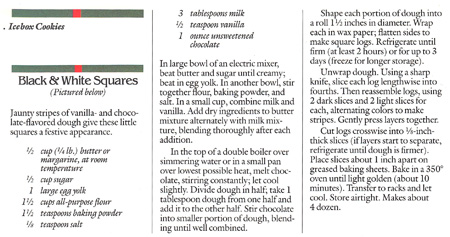 Black and White Cookies
makes about 2 1/2 -3 dozen
1/2 cup butter
1/2 cup sugar
1 egg yolk
1 1/2 cups flour
1 1/2 teaspoons baking powder
1/8 teaspoon salt
3 tablespoons milk
1/2 teaspoon vanilla
1 ounce unsweetened baking chocolate
Cream the butter and sugar in an electric mixer, then mix in the egg yolk. Stir together the flour, baking powder, and salt. Mix the vanilla and milk. Add dry ingredients to butter mixture alternately with the milk mixture.
Melt the chocolate (I microwaved it). Divide the dough in half and add the melted chocolate to one half. I kind of kneaded the chocolate in by hand.
Form each half of the dough into a log about 1 1/2-inch in diameter.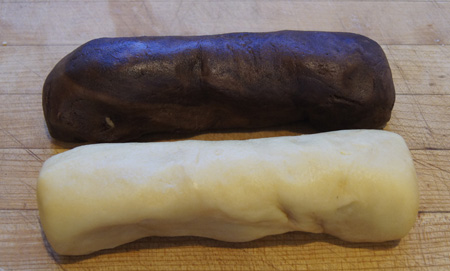 Wrap each in plastic and refrigerate at least two hours.
When you are ready to bake the cookies, cut each log in half lengthwise. Stack a white layer, then a chocolate layer, and repeat. Press together and square up the sides a bit. Slice 1/8-inch cookies.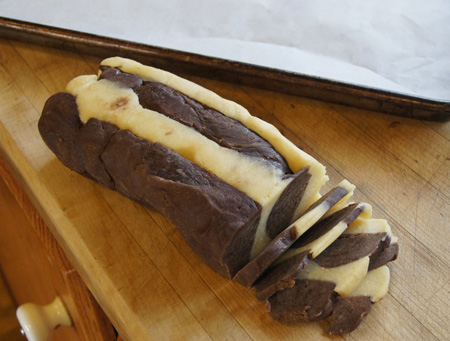 Place on parchment-lined or lightly greased cookie sheets.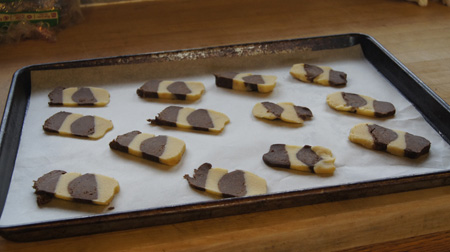 Bake at 350˚ for 10 minutes.
Comments
We liked these a lot!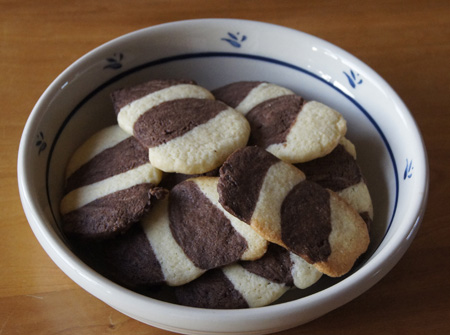 A couple cookies got a little brown; these were ones that I had sliced a bit thinner. I only baked one batch and put the rest of the dough back in the refrigerator – that's what I like about refrigerator cookies, you can bake up just a few at a time and always have fresh cookies.
Note added in proof: These cookies are really really great. Subtly rich, subtly chocolate, we kept going back for more. I want to make them again already!