Cookbook #93: The Cooking of China, Emily Hahn and the Editors of Time-Life Books, Time-Life Books, NY, 1968. Foods of the World series; fifth printing, revised 1976.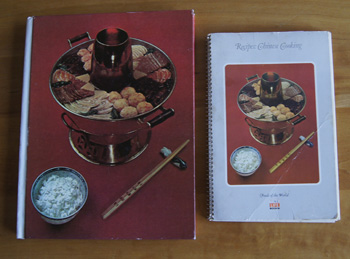 Mickey was a young woman from Missouri living in Shanghai in the late 1930s. She had an affair with a Chinese poet, took her pet gibbon to dinner parties, became addicted to opium ("though I had always wanted to be an opium addict, I can't claim that as the reason I went to China"), moved to Hong Kong in 1940 and had an affair with the local head of British Army Intelligence. Way before all those happenings, she was the first American woman to earn a degree in engineering, a pursuit she chose only after being refused permission to take a chemistry class. After college graduation she drove across the US with a woman friend, and they were both disguised as men. All during her adventures, she was writing: 52 books and nearly 200 articles and stories.
And who was Mickey? Emily Hahn, the author of this book! The statements above are all from an article about her on Wikipedia. I am so intrigued that I am going to search the University library for one of her books – China to Me: A Partial Autobiography.
The writing in The Cooking of China reads like a gathering of stories. It is fascinating. At the end of each chapter are recipes, written by Florence Lin and Grace Chu, teachers at the China Institute in New York. The Foods of the World series editor Michael Field was responsible for recipe and food presentation. Michael Rougier, a Life photographer, did the stunning photos in this cook book.
The main theme of this book is the Chinese people's reverence for good food. "Food is not only pleasurable but a good deal more. It is a truism that food is life, but with the Chinese it is also health and a symbol of other good things such as luck and prosperity. Heaven loves the man who eats well. At each meal a Chinese adds to his virtue, strengthening resistance to the ills of body and mind, curing ailments or, possibly, rendering himself capable of better work. He is also, of course, staving off death, but so are we all."
Emily Hahn covers the history of Chinese cuisine and the different cooking styles of the main four regions. She presents diverse cooking ingredients and methods, supported by photographs. Her opinion of the Red Guards who appeared in the late 1960s is quite clear. And she describes great dinner parties, ones she attended or imagined ones from the past.
I love this book. It's been my reference for Chinese cooking for over thirty years. Granted, some of the recipes are just too much work to follow, and some of the ingredients are difficult to find (bird nests? shark fins?). But to me, it is the source for Chinese cuisine. Now that I discovered Emily Hahn's personal story, I like the book even more.
The Cooking of China is actually a set of two books: the large hardcover book, and an accompanying spiral bound collection of the recipes. I counted these as one book in my database. The recipe that I have used the most is the one for Pearl Balls. For this blog, I decide to try Steamed Buns with Roast Pork Dumplings. I have wanted to make steamed buns ever since a graduate student from China brought them to a dinner party way back in the seventies. But: the work! Now I have the time and experience to try these. It involves making the roast pork, the yeast dough, and finally assembling the rolls and steaming them. And since it's a Chinese meal, I will also be making pearl balls and egg rolls as well as a soup and rice. So it will be a project. I look forward to this adventure in my kitchen!
To make the dinner-day easier, I prepare the roast pork a couple days ahead. Here is the original recipe for Roast Pork Strips.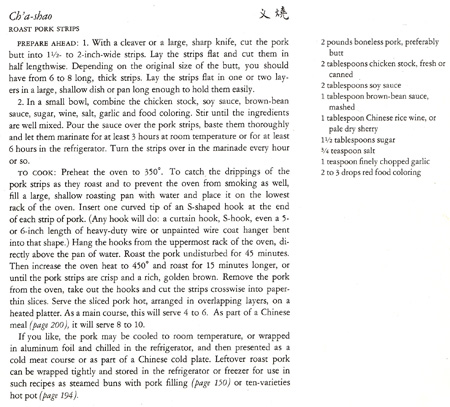 I don't have brown bean sauce, only hot bean sauce (see my Asian ingredients reference). A trip to the Asian Seafood Market! I have to ask the lady in the market, and she assures me that "bean sauce" is what I want.
The marinade step is easy, but roasting? They direct me to hang thick pork slices off hooks in the oven above a pan of water. Well, I did that, using skewers, and it worked. But I think it could be cooked on a rack in any roasting pan instead. I'll include both methods in my version of this recipe.
pork butt roast, boneless, 2-3 pounds
2 tablespoons chicken stock
2 tablespoons soy sauce
1 tablespoon bean sauce, mashed (substitute with a tablespoon of soy sauce or hoisin sauce if you don't want to search the stores for bean sauce)
1 tablespoon dry sherry (use Chinese rice wine if you have it)
1 1/2 tablespoons sugar
1 teaspoon minced garlic
a few drops red food coloring
I gather my ingredients: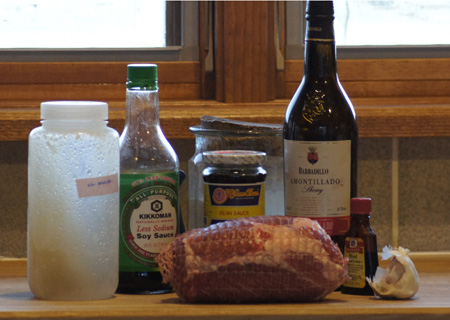 Cut the roast lengthwise into 3 or 4 thick slices (1 1/2-inch – 2-inch slices).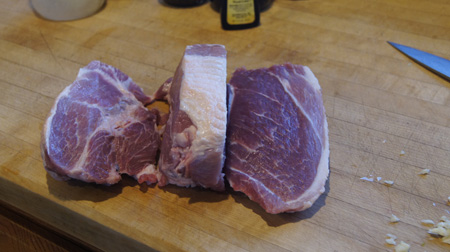 Then cut each slice in half lengthwise so that you have 6 or 8 long, thick slices.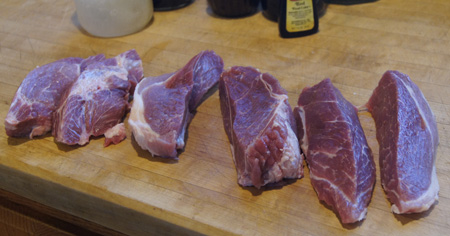 Combine the marinade ingredients in a bowl. Put the meat and marinade in a large ziplock-style bag and carefully close it, eliminating as much of the air as you can.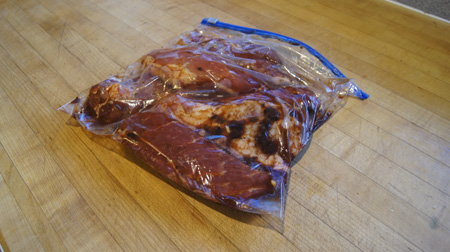 Set in the refrigerator for at least 6 hours. If  you remember, turn it over from time to time.
To cook the roast strips, you can probably place them on a rack over a parchment or foil lined pan, or a pan with a couple inches of water in it, and bake first for 45 minutes at 350˚, then for 15 minutes at 450˚.
I cooked it more according to the original recipe. If you want to try my way, set a large flat pan of water, a couple inches deep, in a cold oven. Thread one end of a pork strip on a long metal skewer. Hold the skewer in the oven and put the pork strip through two rungs of your oven rack. Carefully thread another pork strip on the skewer and put the new strip through two different rungs of your oven rack (wherever it fits). Continue until all the pork strips are hung. Here, a photo will help: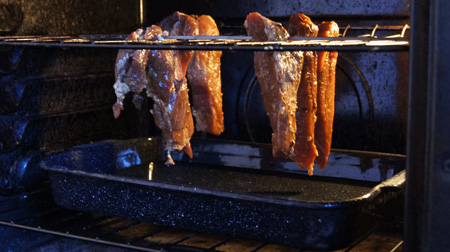 Turn on the oven to 350˚ and bake 45 minutes, then increase the temperature to 450˚ and cook another 15 minutes. Carefully remove the skewers and pork from the oven and cool.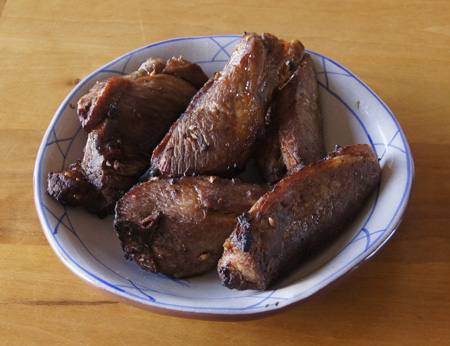 Store the pork in the refrigerator until you are ready to cook the rolls. Traditionally, these pork strips are sliced into paper-thin slices for serving as part of a meal.
Here is the original recipe for Steamed Buns with Roast Pork Dumplings.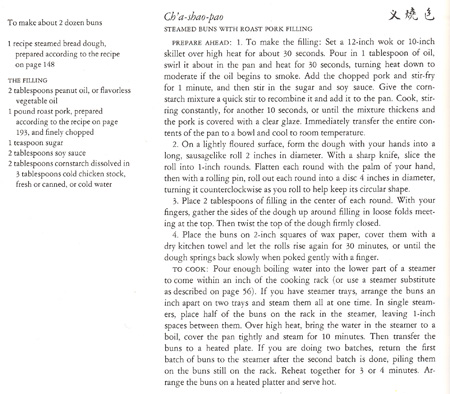 I made a half-recipe and used my bread machine to prepare the dough. I steamed them in Chinese style bamboo steamers set in a pan of boiling water. I lined the steamer trays with parchment for easy cleaning.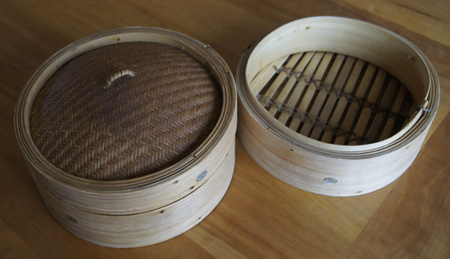 My version of steamed buns follows.
Steamed Buns with Pork Filling
makes 12

for the dough:
1/2 cup milk
2 tablespoons water
1 1/2 teaspoons yeast
1 1/2 teaspoons sugar
2 cups flour
for the filling:
1 pound roast Chinese pork strips, prepared as in the above recipe
1 teaspoon sugar
2 tablespoons soy sauce
2 tablespoons corn starch dissolved in a little water
Put the dough ingredients in a breadmaker set to the dough cycle, or knead the dough by hand and let it rise until double.
Prepare the filling while you wait for the dough. First, chop the pork strips into small pieces. Cook in a small amount of hot oil for a minute or so, then add the sugar and soy sauce and stir for a minute. Add the corn starch mixture and stir for about 10 seconds, until the mixture thickens and the pork is covered with a clear glaze. Take it off the heat and transfer to a bowl to cool.
When the dough has risen, punch it down and roll into a long cylinder about 2 inches in diameter. Cut the cylinder into 12 sections. Roll each section into a circle about 4 inches in diameter.
Put the filling on the dough circles. Gather the sides of the dough up around the filling in loose folds meeting at the top. Then twist the top of the dough firmly closed.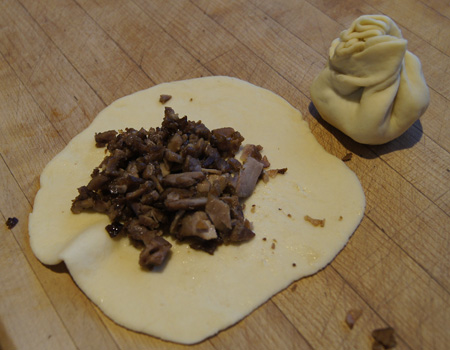 Place the filled buns an inch apart in parchment-lined steamer trays and let rise about 30 minutes. (Those are my Pearl Balls in the front steamer.)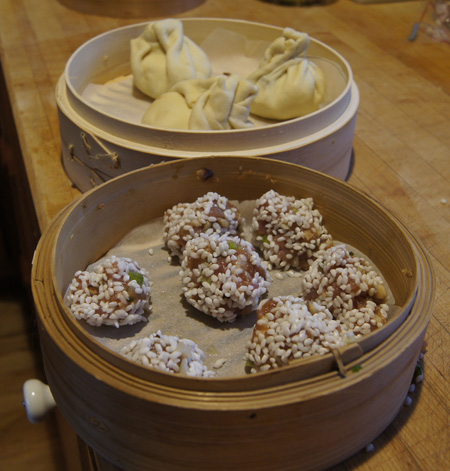 Steam the buns for 10 minutes.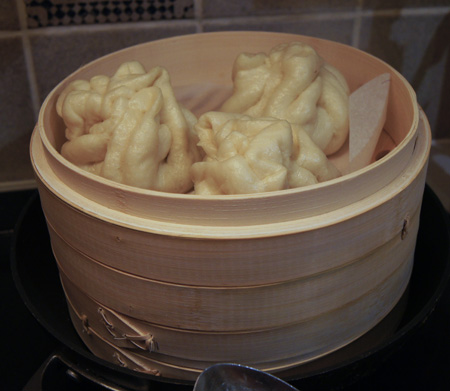 The buns I made had more dough than I like. I followed the recipe in the book carefully, measuring the size of the dough cylinder and the size of each round. But, I only made 9 buns from all the dough. I should made 12! Next time I will make them as I wrote in the above recipe and I am sure they will be perfect.
I served these with egg rolls and pearl balls and fried rice and sour-and-hot soup. I had sweet and sour sauce on the table and also a bottle of "banana sauce" that I picked up at the Asian store. These sauces were good with the steamed buns.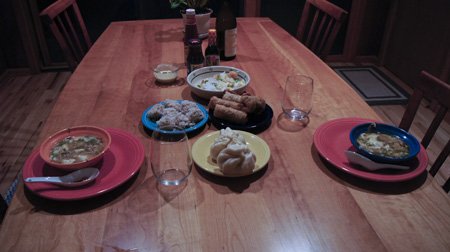 Success! I finally made steamed pork buns and they are great. I now have another Chinese recipe to add to my repertoire.