Cookbook #118: Baker's Best Chocolate Recipes, General Foods Corporation, 1932.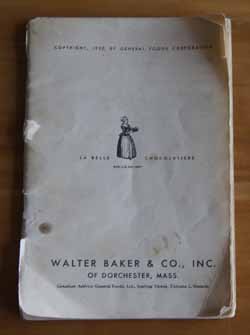 This small cook book had me totally fooled. Piled in a messy stack of booklets, I thought it was just another manufacturer's cookbook from the sixties or seventies. The cover is missing. The recipes read "modern", not dated. I find my mother's notes on a few of the cake recipes, so it wasn't mine. Finally I think to ask: "when was this published?" OMG, it's from 1932! It should have been shelved with the vintage cookbooks.
I have found another treasure, albeit a little one.
Here is a photo of the cover that I got on the internet: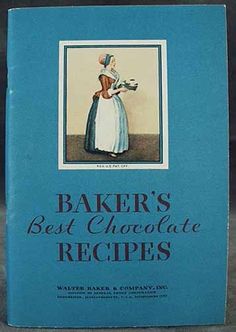 In a previous on the Mexican Cookbook, I wrote about the South American origins of chocolate. "The Spaniard ships that returned to Europe were laden with seeds and cuttings, which flourished in various climates." By 1932, chocolate had been a part of American cuisine for four hundred years. Here's a quote from the introduction of Baker's Best Chocolate Recipes:
"Four hundred years of popularity. Few flavors have ever had the widespread popularity of chocolate. Rich . . . smooth . . . fragrant . . .  its delightful flavor has appealed to everyone wherever and however it has been served."
And about chocolate milk:
"Foamy, creamy-rich cocoa is a wonderful food with which to woo finicky child-appetites – an easy and delicious way of helping to include the daily quart of milk in their meals. Grown-ups welcome cocoa, too, as a way of building up run-down systems. And in this day of slimmer waists, cocoa is popular because it provides nourishment that is satisfying but not fattening."
According to this book, the first chocolate mill in the US was built on the banks of the Neponset river in Dorchester, Massachusetts. In 1780 it became the establishment of Walter Baker and Company. We can still buy Baker's chocolate today, although it is currently owned by Kraft Foods.
This excerpt from the book gives the story behind the logo: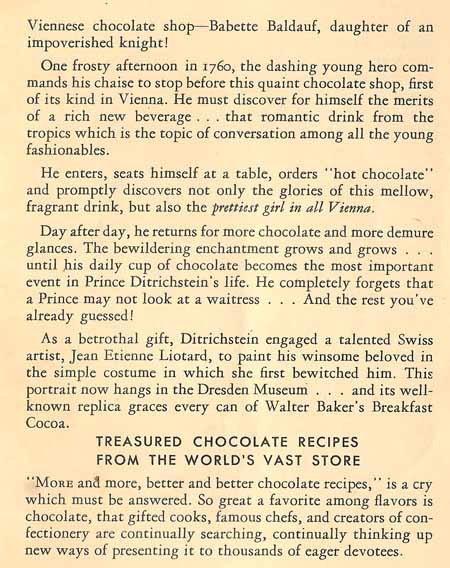 I will definitely keep this cookbook. Not only because it is old, but because it has good basic chocolate recipes, like for a cocoa syrup if I run out of the bottled kind, and cakes and chiffon pie and eclairs and on and on. I decide to make the brownies for this blog. Sure, I have dozens of recipes for brownies, but this one is from 1932! I think one of my older cookbooks has the original brownie recipe, but that will be the subject of a later blog post.
Here is a scan of the brownies page and the facing page, just to show you the condition of this book: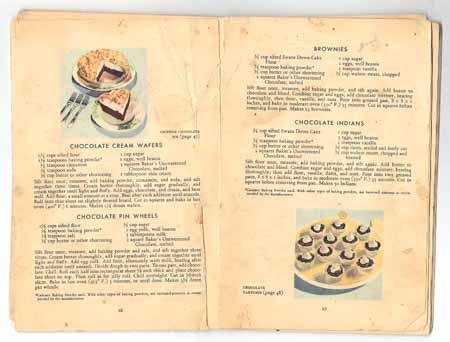 Here is a larger version of the recipe: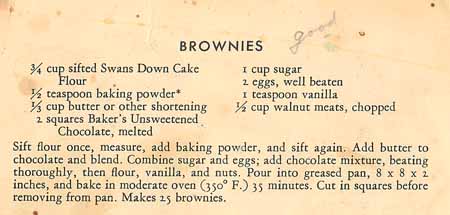 That's my mother's "good" on the recipe. The photo of these brownies is on another page: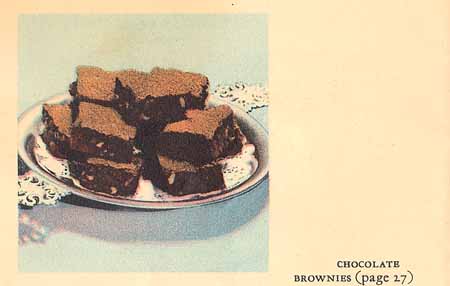 I made these just like the recipe, except I cooked them a little less. I even used Baker's chocolate: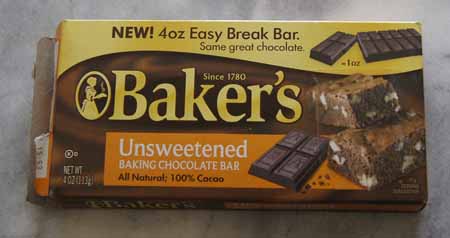 Brownies, 1932 Baker's version
3/4 cup flour
1/2 teaspoon baking powder
1/3 cup butter
2 ounces Baker's Unsweetened Chocolate
1 cup sugar
2 eggs
1 teaspoon vanilla
1/2 cup chopped walnuts
Stir together the flour and baking powder.
Melt the butter and chocolate in a saucepan and let cool a bit.
Beat the eggs, then add the sugar and beat it in. Add the chocolate mixture, beating thoroughly, then add the flour mixture, the vanilla, and the nuts.
Bake in a greased 8-inch square pan for 30-35 minutes, until they test done with a toothpick.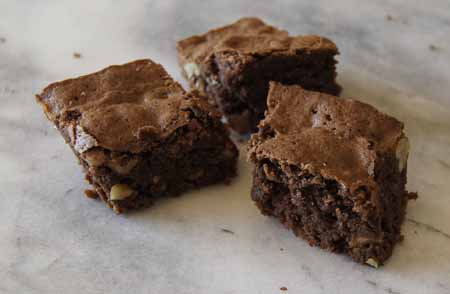 Perfect brownies!