Cookbook #119: The Bread Basket, Standard Brands Incorporated, 1941.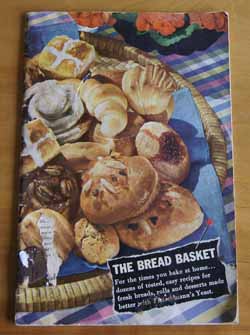 "'Baking day' isn't on the American housewife's calendar any more. For at her bakery or grocery . . . fresh every day . . . is a profusion of breads, rolls, cakes and pastries that's one of the world's wonders.
"How tempting they are . . . how delicious . . . how cheap . . . and what a world of work they save!
"But there are times when women like to run up a batch of rolls of their own, or try their hand at a coffee cake, just to see if they can still do it!"
So begins this delightful 1941 cookbook. I smile as I turn the pages.
The breads in this cookbook are all yeast breads, and Fleischmann's yeast is specified in every recipe. (Standard Brands was formed in 1929 by J. P. Morgan by a merger of Fleischmann's and four other companies. In 1981, Standard Brands merged with Nabisco to form Nabisco Brands, Inc.)
The copy right has expired on this cookbook, so I am going to share with you a few of my favorite pages. Let the book speak for itself!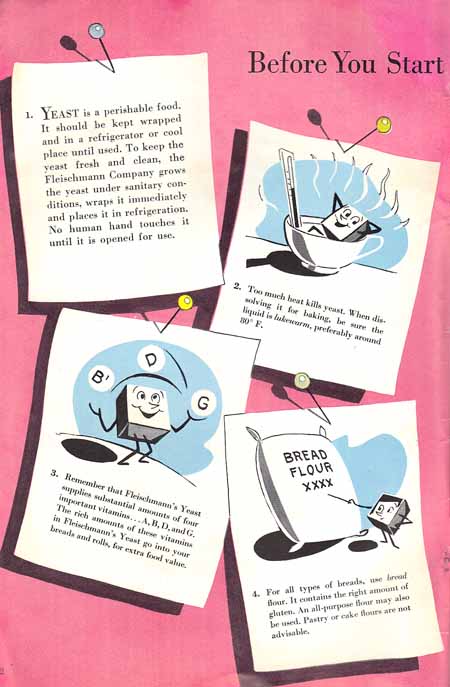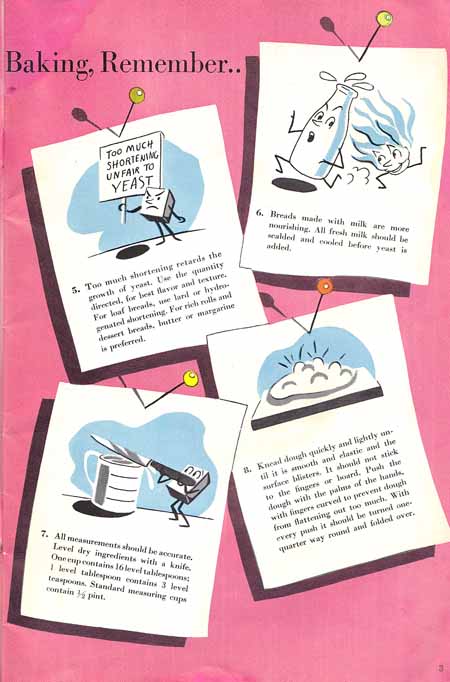 Bagles! And yes, the recipe below is for "bagels", as we spell it.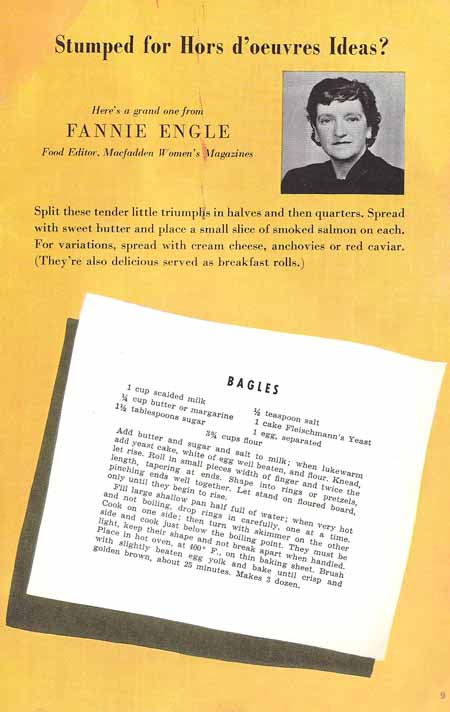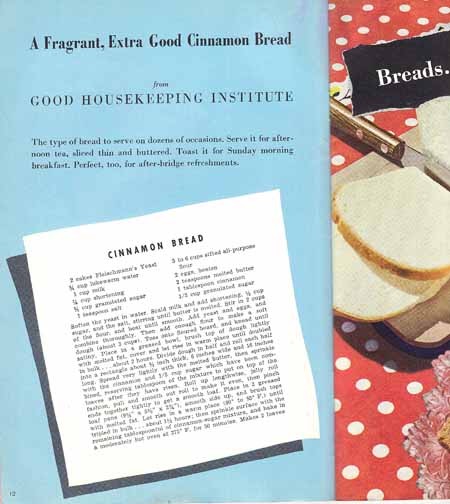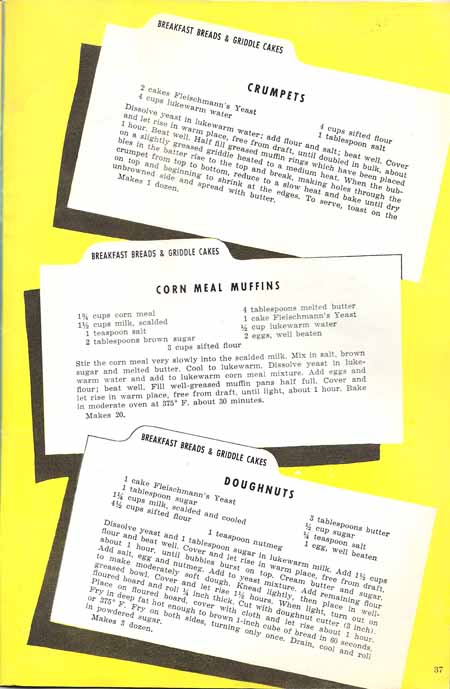 I always google my cookbook titles. This time I find the Fresh Loaf website has reproduced a later version of The Bread Basket. The cover is the same, the layout is the same, but the content is different and refers to war rationing.
This was one of my mother's cookbooks, but she didn't make any notes in it, nor are their food stains. She must have got it soon after she was married.
I decide to make "Corn Meal Muffins" for this blog. The original recipe is in the picture just above. I think it might be interesting to use yeast as the leavening in corn muffins instead of baking powder! I hope they turn out.
A couple notes. The recipe calls for "scalded milk". This is simply milk heated to just below boiling. This kills any bacteria that might interfere with the yeast and/or the taste of the bread. With today's pasteurized milk, most (but not all) cooks consider this an unnecessary step.
"1 cake of yeast" probably means a 2 ounce cake of wet, compressed yeast. Although caked yeast is supposedly still available, I haven't seen it in years, so I will use my usual active dry yeast. According to the Red Star website, 1/3 of a 2 ounce yeast cake is equal to 2 1/4 teaspoons of dry yeast. I am making a half recipe, so I should use 3 3/8 teaspoons of dry yeast. (I actually used 1 1/2 teaspoons yeast but would use more next time.)
1 cup milk
2 tablespoons butter
7/8 cup cornmeal
1 tablespoon brown sugar
1/2 teaspoon salt
2 1/4 teaspoons dry yeast (note added later: too yeasty, so 1 1/2 teaspoons is my suggestion)
1 egg
1 1/2 cup flour
Scald the milk, then stir in the butter until it melts, then stir in the cornmeal. Add the brown sugar and salt. Let cool to lukewarm, then stir in the yeast, egg, and flour.
Grease a muffin pan (you will only need 10 of the muffin cups). Fill each muffin cup half full. Let rise one hour, until light.
Bake at 375˚ for 22 minutes (or until they test done).
Comments
These turned out great! Unlike baking powder muffins, these did not crumble and fall apart a lot as we ate them. They were rough and chewy! The flavor was perfect. I think these might also be good with some cooked corn off-the-cob stirred into the batter. (Maybe with green chiles and chopped red bell pepper too.)
Here are the muffins just after I put the batter into the muffin pan: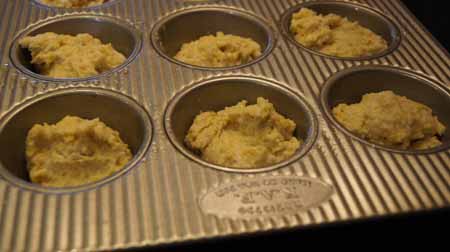 Here they are after an hours' rise. They look a little lighter or higher: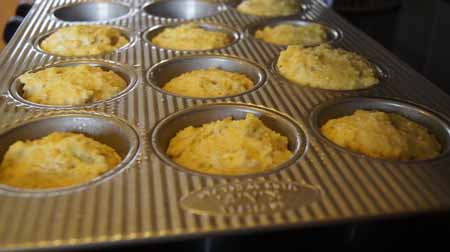 And here they are baked: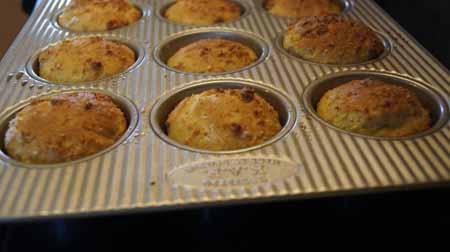 These weren't really tall muffins, but this might be my mistake. I made a slight calculation error and only used 1 1/2 teaspoons yeast instead of 2 1/4 teaspoons. Next time they might turn out higher – but they were dang good as is! I liked them split and toasted and spread with cream cheese and jam: