Cookbook #122: Weeknight Grilling with the BBQ Queens, Karen Adler and Judith Fertig, The Harvard Common Press, Boston, Massachusetts, 2006.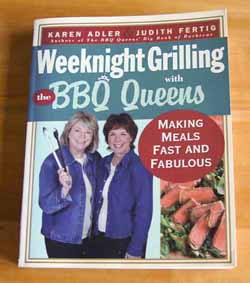 I love this cookbook. Weeknight Grilling with the BBQ Queens pulls me out of my cooking doldrums – I can't count the times I have flipped through its pages for ideas. Such fresh tastes! "Grilled Pork Tenderloin Salad with Steamed Baby New Potatoes and Anchovy Caper Vinaigrette" is one of our favorites. Fresh herbs and interesting spice combinations abound in most of the grilling recipes. Polenta, orzo, couscous, hearts of palm, jicama, fennel, capers, endives, hummus, curry . . . vegetarian, pork, beef, chicken . . . sandwiches, meats, salads . . . variety galore in this cookbook. I especially like the summer salad recipes. The only type of recipe I haven't tried are the grill stir-fries.
Weeknight Grilling with the BBQ Queens is also practical. I can easily find how to grill a pork tenderloin, for instance. It's easy to mix and match ideas from different recipes. Instructions are always clear.
So this book's a keeper!
Note that this cookbook was published in 2006. The authors, Karen Adler and Judith Fertig, are "The Barbecue Queens" (with the tiaras to prove it) and currently active in the commercial cooking community. Besides authoring numerous books, they have appeared on the Food Network, Better Homes and Gardens TV, PBS, and more. I plan to the BBQ Queens website for more grilling ideas.
I decide to make "Blackened Beef with Thai Chile Noodles, Mushrooms, and Baby Bok Choy" for this blog. Below is a scan of the recipe in spite of copyright issues (I think it's okay) to show you the layout and style of this cookbook.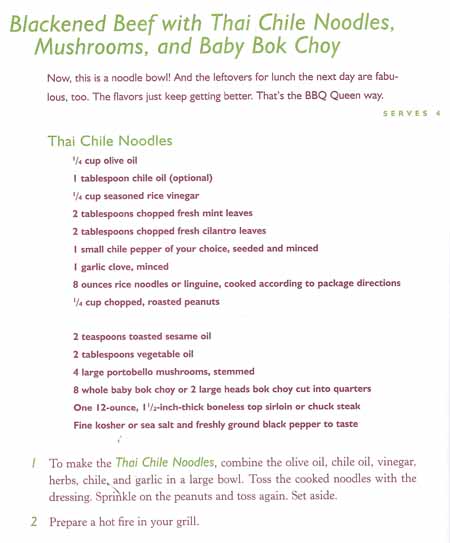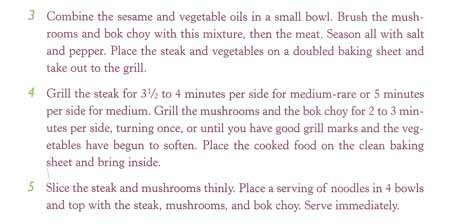 I'm going to vary this just a bit. For one, I think we want a little more meat. For three adults, I will use close to a pound of beef. The sirloin I have in the freezer is only about three quarters of an inch thick, but I'll use it anyway. I want more garlic, but less hot chile.
I miss-read the recipe and added a couple drops of sesame oil to the noodles, and I liked it that way. When I served this, it begged for soy sauce, so we passed it at the table.
So. Below is my version (with a shortened title!).
Steak and Thai Noodles
serves 3-4
Noodles
8 ounces Thai-style rice noodles, cooked
1/4 cup olive oil
a few drops of chile oil (if you have it)
a few drops of (toasted) sesame oil
1/4 cup rice wine vinegar
2 tablespoons chopped fresh mint leaves
2 tablespoons chopped fresh cilantro leaves
2 cloves garlic
part of a small chile (like a jalapeno), chopped fine – use an amount suitable to your personal taste
1/4 cup dry roasted peanuts, chopped lightly
For the grill
sirloin steak, about 1 pound, thick-cut if possible
portobello mushrooms, about 4 large, stemmed and wiped clean
4-6 baby bok choy (leave them whole)
2 tablespoons vegetable oil
a few drops of sesame oil
salt and pepper
soy sauce (optional; pass at the table)
For the noodles, combine the oils, vinegar, herbs, garlic and chile for in a large bowl. Add the cooked noodles and toss. Sprinkle the peanuts on top. You can do this before you start grilling, if you wish.
Combine the vegetable oil with the sesame oil, brush some of this mixture on the mushrooms and bok choy, then on the meat. Salt and pepper everything.
Heat your grill (in your usual way) and then set the burners to medium high. Grill the steak over direct heat for 3-5 minutes per side, until medium-rare or medium, as per your own preference. At the same time, grill the mushrooms and bok choy over direct heat for about 2-3 minutes per side. As stated in the BBQ Queens original recipe, you grill: "until you have good grill marks and the vegetables have begun to soften."
To serve, slice the steak and mushrooms into thin slices and the bok choy into bite size pieces and put on top of the noodles.
Serve! We liked a little soy sauce on top.
Here are my ingredients: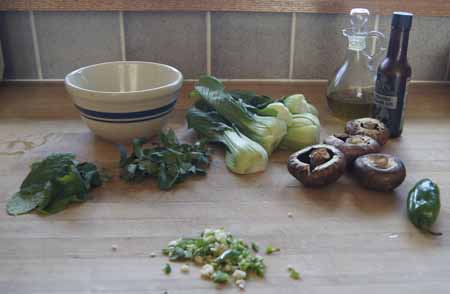 And serving: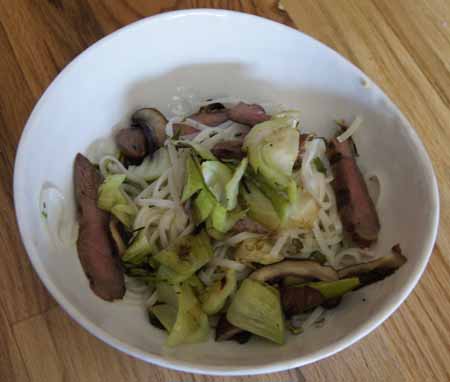 This was a definite hit and I will make it again!