Cookbook #123: Bon Appétit Tastes of the World, Bon Appetit, The Condé Nast Publications, Inc., NY, NY, 1996.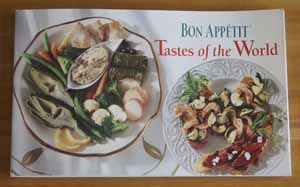 This little cookbook has lots of interesting ideas for spicing up my cooking. I am pretty surprised at this! It's just one of those "free gifts" that one gets when they subscribe to a magazine. I covered another such Bon Appetit cookbook in a previous post and wasn't impressed. But this one – almost every page has a recipe I could try.
I decide to make Paprika Pork Patties for this blog. A nice change on ordinary hamburgers! First, pork instead of beef. And then, bacon! Since my daughter is visiting I decide to splurge on some bacon calories. How can one go wrong? And then, lots of paprika. Finally, chopped sauerkraut is mixed into the patties. Nice for both moisture and taste. Here is the original recipe: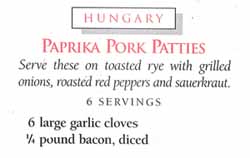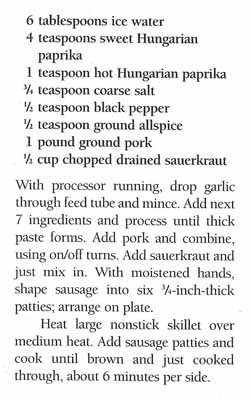 I can't find hot Hungarian paprika so I substitute a little hot chile powder. (But next time I am at Savory Spice Shop in Boulder I will look for it because I am curious.) I decide to grill these because it's summer and we have company and it's nice being outside with lots for my toddler grandson to do (like chase bubbles!). Below is my version of the recipe.
Paprika Pork Patties
serves 3-4
6 cloves garlic
1/4 pound bacon, diced
6 tablespoons water
4 teaspoons sweet paprika
1/2 teaspoon chile powder
1/2 teaspoon salt
1/2 teaspoon pepper
1/2 teaspoon allspice
1 pound ground pork
1/2 cup chopped drained sauerkraut
garnishes such as more sauerkraut, onions, roasted red peppers, pickles, mustard, whatever are your favorites
Set up a food processor. With the motor running, drop the garlic through the feed tube until it is minced. Then, add the bacon, water, paprika, chile powder, salt, pepper, and allspice and process until a thick paste forms. Turn off the processor, add the pork, then pulse a few quick times until all is combined.
Remove the pork-spice mixture from the processor and stir n the sauerkraut. Form into six patties.
Heat a grill and set to medium high. Cook patties about 4 minutes per side. (You can also cook these in a skillet on the stove top.)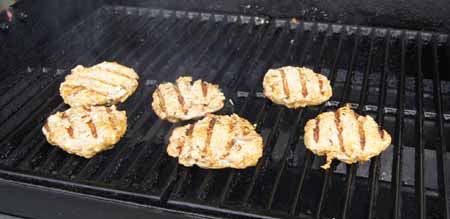 Serve on toasted rye bread with the garnishes of your choice.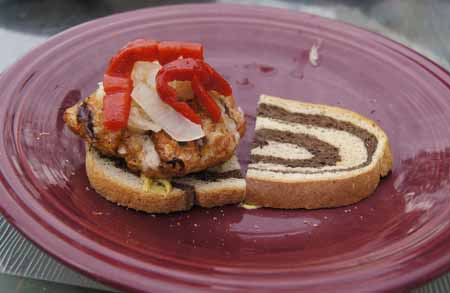 These were enjoyed by all! I will probably make them again, although I tried a pork sliders recipe a few weeks ago that my husband and I liked a little better.