Cookbook #149: Soup and Crock-Pot Recipes, The Pillsbury Company, 2000.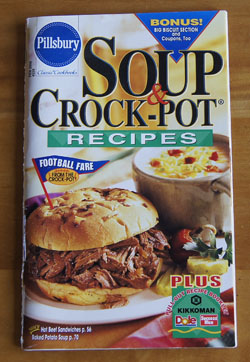 This is one of the series of "Classic Pillsbury Cookbooks" – I discussed their history in a previous post.
Soup and Crock-Pot Recipes has three main chapters: Quick 'n Easy Soups, Hearty Crock-Pot Meals, and Slow-Simmering Soups. The recipes in the Quick 'n Easy Soups chapter call for brand-name convenience foods: packaged au gratin potatoes, rotini tomato soup, purchased cole slaw blend, instant rice, canned spaghetti sauce, and even ramen noodle mix. Far, far from my love of from-scratch cooking!
So I turned to the "Hearty Crock-Pot Meals" chapter with some trepidation. Will I be able to find something to cook from this book? To my pleasant surprise, the recipes in this chapter are more up my line of cooking. I jot down "Jerked Chicken Sandwiches" and "Hot Beef Sandwiches au Jus" to try. Between chapters, I find a recipe I like for a yeast bread called "Wild Rice Batter Bread".
The "Slow-Simmering Soups" chapter yields a couple more recipes. I note "Pork and Tortellini Soup" (because I often find pork loin on sale and tortellinis are good) and "Chicken Soup with Cornbread Dumplings" (because I love dumplings and it uses leftover chicken). Finally, "Roasted Vegetable Soup" looks interesting – you roast zucchini, onions, red bell pepper, whole mushrooms, and garlic in the oven, then add them to a broth and cream mixture for a short time on the stove top. Might not get this soup past my meat-eating husband, but us girls would probably like it.
Will I keep this cookbook? No, I will recycle it. But first I will scan in the recipes I want to try. For this blog, I will make the "Jerked Chicken Sandwiches".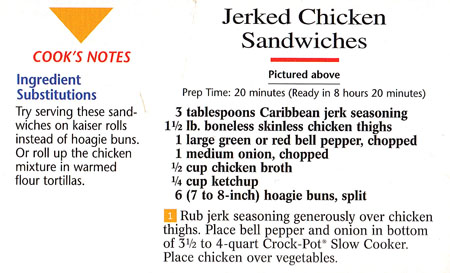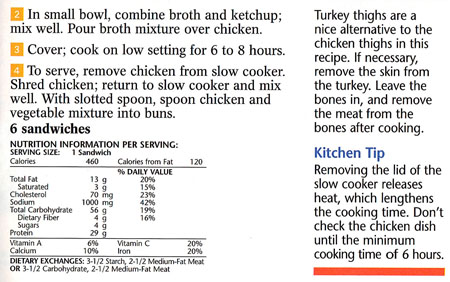 It's a crock pot recipe, but I plan to simmer the jerked chicken on the stove top instead. For the rolls, I will make my own from a King Arthur Flour recipe.
Jerk seasoning is usually easy to find in a market, and often it is called "Jamaican" rather than "Caribbean" jerk seasoning. Each brand will vary, but most are made from a combination of hot pepper, onion and garlic powders, and the spices cinnamon, nutmeg, and allspice. You can make your own jerk seasoning too – just search online. In my own spice cabinet I found the two jerk seasoning jars in the photo below. I combined them to get 3 tablespoons, finishing one jar in the process.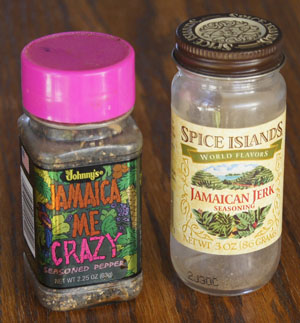 Jerked Chicken Sandwiches
makes about 6 sandwiches
3 tablespoons jerk seasonings (see my notes in the above paragraph)
1 1/2 lb. boneless skinless chicken thighs
about 1 cup chopped mild peppers: I used half a green bell pepper and half a pablano pepper
1 medium onion, chopped
1/2 cup chicken stock
1/4 cup ketchup
sandwich or hoagie buns (I made Philadelphia-Style Cheesesteak Sandwich rolls, a King Arthur Flour recipe)
sandwich garnishes like mustard, sliced onions, tomatoes, lettuce
Rub the jerk seasoning into the chicken thighs.
Put the peppers and onion in a large pot (for stove top cooking) or in a slow cooker. Add the chicken thighs, broth, and ketchup. Mix.
If you are cooking on the stove top, simmer about 2 hours, or until the chicken is tender. In a slow cooker, cook 6-8 hours on the low setting.
Remove the chicken pieces from the cooking pot, shred them, then put them back in the pot.
Slice the sandwich rolls in half. Spread mustard on the rolls if you wish. Remove the jerked chicken mixture with a slotted spoon (too much of the liquid can soak the rolls) and pile it high on each sandwich. Garnish as desired, and serve!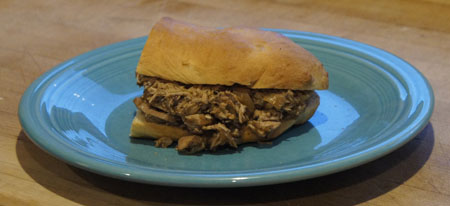 These were a hit. I took the photo before I added the garnishes. The lettuce-tomato-onion was a last minute idea on my part, and it was a great idea – these sandwiches were delicious! Hubbie added mustard to his second sandwich. Yes, he went back for seconds. That's why I give a thumbs up for this recipe.
The pablanos were a good idea too. They are flavorful and just a bit spicy hot. You could go hotter with fresh green chiles or even jalapenos.
My homemade rolls were great. Really great! Soft but tough enough to hold together, not too tall, not too flat, had a delicious flavor . . . these may just become a standby in my kitchen repertoire. I baked two of the rolls in a baguette pan and one on parchment and found that the parchment method worked best.
Note: This jerked chicken recipe would adapt well to an electric pressure cooker. Also, you could double the batch and freeze leftovers for later quick meals.