Cookbook #150: Encyclopedia of Cookery, Vol. 7, Kid-Moc, Woman's Day, Fawcett Publications, NY, 1966.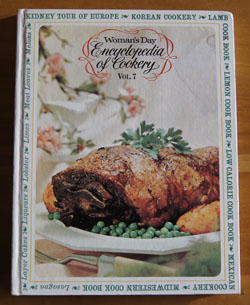 I have a set of twelve Encyclopedia of Cookery volumes and this is the seventh of that set – I covered the first six in previous posts. I've enjoyed all of them so far, and I happily open this one to learn curious and helpful information about foods from kid(ney) to moc(ha).
The entry for kidney begins with a story by of a woman who traveled through Europe with her kidney-loving husband. He believed the worth of a restaurant is revealed by how well they cook this organ meat. Well, I'm not a fan of kidneys as food. I used to eat this meat because some health food authors of the day touted its nutritional value (like Adele Davis). I gave up that idea long ago, although I used to make a decent "Steak and Kidney Pie". Below is my own recipe card, written sometime in the 1970s.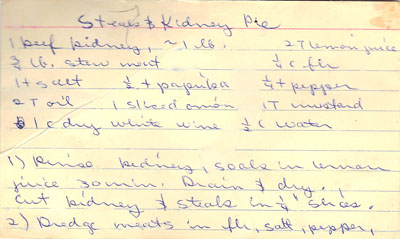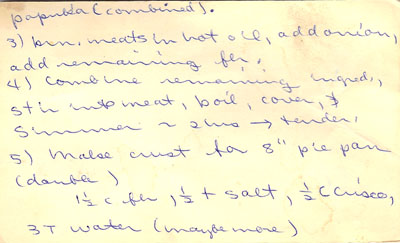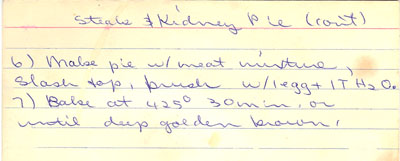 The next entry that catches my eye is "kiss". The Encyclopedia defines a kiss as "a small chewy mound-shape confection prepared with egg white and sugar". A kiss also refers to a bite-size piece of candy, including commercially producte chocolate, usually wrapped in paper or foil. Yup, Hershey's Kisses™!
One of my husband's favorite meals is knackwursts (or knockwursts). He likes them served with sauerkraut and mustard. According to the Encyclopedia, "The name is of German origin, knack meaning 'to crackle' or 'to make a noise when breaking', and wurst means sausage". Knockwursts are made from a recipe similar to hot dogs, except they have more garlic and are a lot bigger. Sadly, I've only rarely been able to find these in local markets since the 1970s.
I continue through the K's and L's. Korean cookery (Mother tried a recipe for "Korean Broiled Short Ribs" and didn't like it), kumquat (these grew in our yard in Southern California where I grew up), Lamb Cook Book, lard. Lard is pork fat from "fat backs, clear plates, and leaf kidney fat which has been rendered [melted away from connective tissues] and clarified". The Encyclopedia gives a recipe for lard pastry – I might try this someday, since "lard is particularly desirable in making flaky texttures in biscuits and pastry."
I am not surprised that my mother lingered on the "layer cake" section. She tried the "Orange Gold Layer Cake" and declared it "delicious". This is a cake with 8 egg yolks, orange juice, and orange rind in the batter, and a butter frosting made with orange juice, lemon, butter, egg yolk, and powdered sugar. Sounds good, and rich.
Lebkuchen (a spicecake of Germa origin and one of the oldest of cakes) and Lemon Cookbook. Lentils are one of the first plants whose seeds were used for food. "The lentil is extremely nutritious and is one of the staple foods of the Near East, where a dish called 'Esau's Dish of Lentils' is still a favorite." The story goes that Esau sold his birthright for bread and a "pottage of lentiles".
Lobsters – the first English settlers to America bought lobsters for as little as a penny apiece! I learn that mace, a spice, is made from the arillode that covers the nutmeg seed. The mango tree is considered sacred in India. (I love mangoes but my body responds to them with a food allergy.) The manioc is a tropical plant also known as cassava, mandioc, or yucca. Maraschino cherries are made from sweet cherries that are "bleached, pitted, and steeped in a syrup made of sugar, water, a touch of oil of bitter almonds, and food coloring."
Mother liked the "Basic Meat Loaf" on page 1125. I like the meat balls! This volume has a section on Midwestern Cookery that kind of intrigues me.  Mirepoix is the culinary term for a concentrate of diced carrot, onion, and celery cooked in butter – I use this mixture of vegetables a lot to begin sauces, now I have a fancy name for it. Mincemeat pies were a family tradition when I was a little girl. Those pies began with purchased mincemeat; this book has an 18th-century recipe for mincemeat from ground beef, apples, candied lemon and orange peels, citron, raisins, currants, orange and lemon juice and rind, beef suet, brown sugar, allspice, cinnamon, cloves, coriander, mace, nutmeg, bourbon, and rum.
The last entry is mocha. We know this as a mixture of chocolate and coffee, but it originally referred to a kind of coffee grown in the Yemen district of Arabia and exported from the port of Mocha on the Red Sea.
And what shall I make for this blog? I decide to make "Lentil Salad".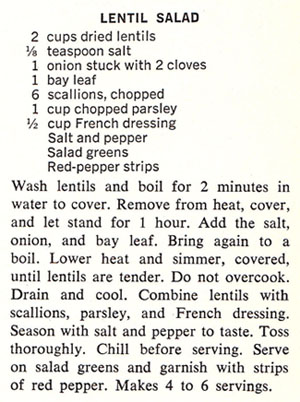 I've cooked lentils before, but not very often. I think this salad sounds tasty and fresh, and nutritious!
Lentil Salad
serves 2-4 as a side salad
1 cup dry lentils
1/4 teaspoon salt
1/2 of a medium onion, chopped
1 bay leaf
2-3 green onions, chopped
1/2 cup fresh parsley, chopped
1/4 cup French dressing (bottled or *home made)
salt and pepper to taste
garnishes, such as lettuce, red pepper strips, chopped tomatoes
Wash the lentils, then put in a pot with the salt; cover with water and boil 2 minutes. Remove from heat, cover with a lid, and let stand for about an hour.
Add the onion and bay leaf and bring again to a boil. Lower heat and simmer, covered, until the lentils are tender, about 15-20 minutes. Check often – do not overcook! You want them tender but not mushy.
Drain the lentils (I used a strainer). Place them in a bowl and add the green onions, parsley, and French dressing. Season iwth salt and pepper.
Serve chilled or at room temperature. If desired, plate over salad greens and garnish with strips of red pepper.
*Keeping on the alphabetical theme of Kid-Moc, I used the Lemon French Dressing from page 1053 of this cookbook. Briefly, shake together 1/2 cup fresh lemon juice, 1 1/2 cups vegetable oil, 1 teaspoon dry mustard, 1 teaspoon paprika, a dash of cayenne, 1/2 teaspoon salt, and 1/4 teaspoon pepper.
Comments
I served the lentil salad alongside grilled lamb (keeping with the "L" theme!). Even my dining partner liked it! Not something I could serve every day, but it's a good salad and nice to have in my repertoire.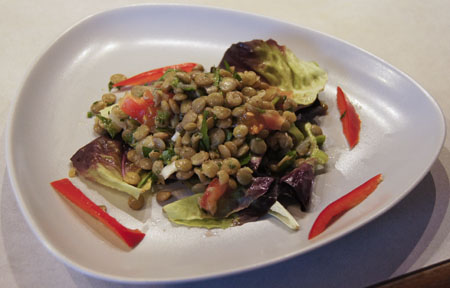 I liked the cooking method for the lentils because it didn't get them too done. Note that I left the cloves out and used chopped onion, changes from the original recipe. This basic lentil salad could be varied tons of ways with different seasonings, vegetable additions, and dressings.